COURTESY ST. LOUIS POLICE
Officer Katlyn Alix was killed early Thursday morning.
An off-duty St. Louis police officer was fatally shot early this morning in south city by one of her fellow cops, authorities say.
Police say it was an accident. Chief John Hayden told reporters during an early morning news conference the 24-year-old female officer was shot in the chest in the home of another officer in the Carondelet neighborhood.
In a news release provided later in the morning, police identified the 24-year-old Officer Katlyn Alix, who graduated from the police academy in January 2017. She is survived by a husband, mother, father and sister, police say.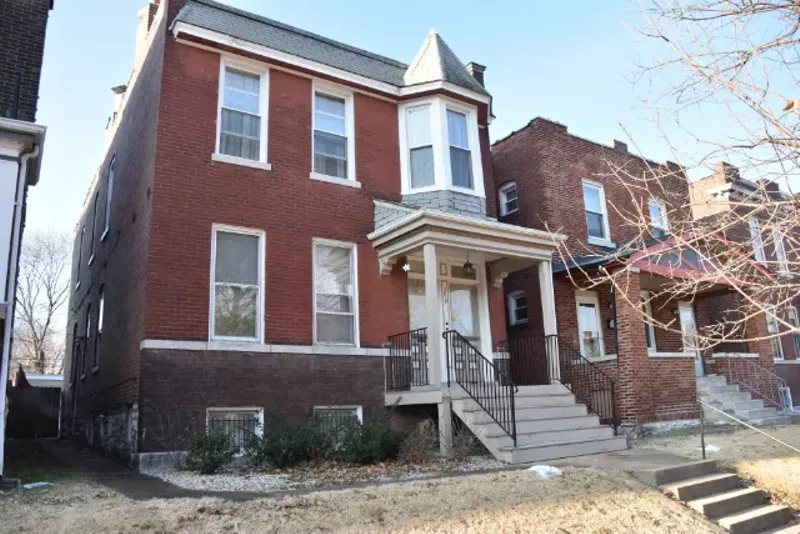 DOYLE MURPHY
The shooting happened at this house on Dover Place.
The chief said two male officers, both 29 years old, were on duty when they went to a home where one of them lived,
Fox 2 reported
. Alix also stopped by and was shot about 1 a.m. when one of her colleague's guns went off.
In the news release, police say one of the male officers "mishandled" a gun while sitting in the living room of the apartment and shot Alix. The third officer called in the shooting and told a dispatcher that Alix had been shot and they were taking her to the hospital. She died shortly after arriving.
Investigators later recovered the gun at the scene. Police say the case is still under investigation. They have not said why the three officers were at the house while two of them were on duty.
A prosecutor and two investigators from the St. Louis Circuit Attorney's Office also responded to the scene this morning and have opened their own investigation into the shooting. This afternoon, Circuit Attorney Kim Gardner added that she has enlisted the Missouri State Highway Patrol to assist in the investigation.
"The family of officer Alix deserves a complete, objective and thorough investigation of this incident," Gardner said in a news release. "My office is approaching this criminal investigation with the highest level of seriousness and urgency."
She added that such investigations were now part of the protocol for officer-involved shootings and cautioned reporters and the public against speculating about the facts of the case.
Hayden called Alix's death "tragic."
"Officer Alix was an enthusiastic and energetic young woman with a bright future ahead of her," the chief said in a written statement. "On behalf of the Metropolitan Police Department, I extend my deepest sympathies to the Alix family during this extremely difficult time. I ask the St. Louis community to keep the Alix family and the entire Metropolitan Police Department in your thoughts and prayers as we mourn this tragic loss."

Editor's Note: This story was updated after publication with additional information.

We welcome tips and feedback. Email the author at doyle.murphy@riverfronttimes.com or follow on Twitter at @DoyleMurphy.