COURTESY MANCHESTER POLICE
Zachary Forbes was booked on multiple charges, including assaulting an officer.
After a lunch-hour fender bender yesterday, Zachary Forbes took the tiniest step toward handling things normally and then reversed course in a bizarre and frightening way.
The 28-year-old Fenton man spoke to the other driver, which is normal. But Forbes allegedly grew angry quickly at the woman, and the customary exchange of driver's license info and insurance was not to be. Manchester police say he instead returned to his Ford F-150, rammed the offending vehicle, backed up and rammed it again.
He then sped east on Manchester Road. He blitzed through Ballwin and on into the city of Manchester, where a local cop saw him smack into another vehicle, police say.
The officer tried to get him to pull over, but Forbes kept going, banging his pickup into the Manchester patrol car as he went, police say.
More officers joined the chase as the pickup weaved around traffic, going on and off the shoulder. As Forbes drove past one of the Manchester cops, he allegedly gave what police described as a "friendly wave."
The pursuit turned south onto Highway 141, continuing until Forbes lost control of the pickup, sending it spinning into a retaining wall at the Briarhurst Drive exit, police say.
Forbes then hopped out and dashed 100 yards before officers caught him.
"The suspect was extremely combative and appeared intoxicated when taken into custody," police said in a news release.
He was taken to the hospital for examination, police say. He was later booked on charges of assaulting an officer, resisting arrest, leaving the scene of an accident, failure to yield to an emergency vehicle and imprudent driving, police say.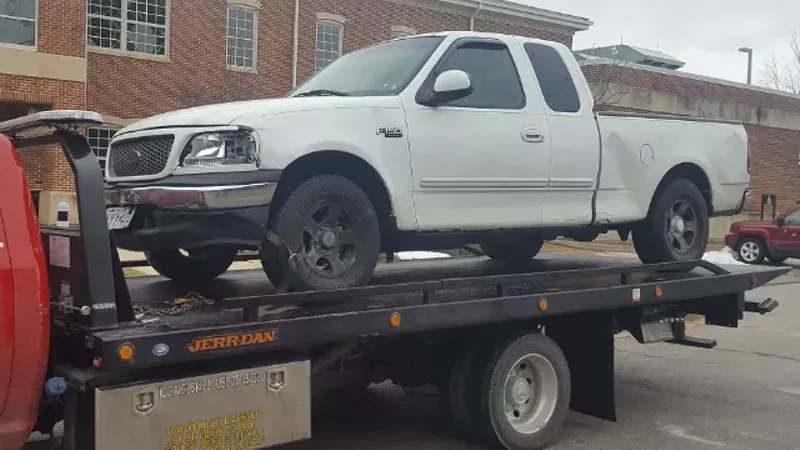 COURTESY MANCHESTER POLICE
Zachary Forbes' Ford F-150 looks pretty well after collisions with three vehicles.
Editor's Note: This story was updated after publication with additional information.

We welcome tips and feedback. Email the author at doyle.murphy@riverfronttimes.com or follow on Twitter at @DoyleMurphy.