DOYLE MURPHY
Suspended SLMPD Officers (From L) Dustin Boone, Randy Hays, Bailey Colletta and Christopher Myers outside court.
An undercover St. Louis cop who was pummeled by police during a protest told investigators that his fellow officers "beat the fuck out of him like Rodney King."
Detective Luther Hall was working on September 17, 2017 during the demonstrations that followed the
acquittal of ex-cop Jason Stockley
in the killing of Anthony Smith.
When riot police swarmed in to arrest protesters, he claims, officers picked him up, slammed him to the ground and wailed on him with fists, boots and batons. He later described it as a "free for all."
Disturbing new details of the incident —
first reported by the St. Louis Post-Dispatch
— have been unsealed in a partially redacted affidavit filed in support of search warrants.
Four city cops were indicted in November 2018
as part of the case. Officers Dustin Boone, Randy Hays and Christopher Myers are accused of assaulting Hall. A fourth officer — Bailey Colletta, who dated Hays — was accused of trying to help cover it up.
In the affidavit, FBI Special Agent Darren Boehlje writes that Hall was working undercover with a partner, filming and photographing protests, but the two were separated when officers began firing "numerous rounds of pepper balls, mace, and bean bag rounds into the crowd from their vehicles."
Hall told investigators he never heard an order to disperse before the onslaught began. When he was ordered by a female officer to get to the ground, he began to lower himself onto his knees, holding his Nikon camera in his left hand and his cell phone in his right, the document says.
Even as he followed orders, he was picked up and slammed face first into the ground, and then it happened again, he says. Blood began gushing out of his nose and lip.
"Although the officers were telling him to put his hands behind his back, he was unable to comply because officers were standing on his arms," Boehlje writes.<!—————EndFragment—————>
One cop pulled the Nikon from around his neck, unloaded the battery and smashed the camera on the ground. Hall suspects the officer thought the battery was the memory card.
His cell phone, which was actively recording, was also smashed, according to the affidavit. Hall told investigators the shattered screen had a circular imprint, as if it had been hit with a police baton.
The beating described in the affidavit
mirrors the abuse alleged by actual protesters and others
arrested during the demonstrations. But while they were locked for hours in city jail cells, begging for medical attention, Hall was soon spirited away.
The detective, who has 22 years experience, was still trying to maintain his cover, so he looked around and caught the eye of an officer he knew. That officer, with the help of two SWAT officers, picked up the injured detective and took him to a tactical vehicle, where he was treated until he could be transported to headquarters and, eventually, a Missouri State Highway Patrol facility for more medical attention.
He received three layers of stitches to sew up a hole in his lip and has since been diagnosed with multiple herniated discs. A jaw injury made it so hard to eat, he lost fifteen pounds, the affidavit says.
He identified all four of the officers during interviews with investigators, authorities say.
Previously released text messages
showed Boone and Hays eagerly chatting about brutalizing protesters in the days leading up to Hall's arrest.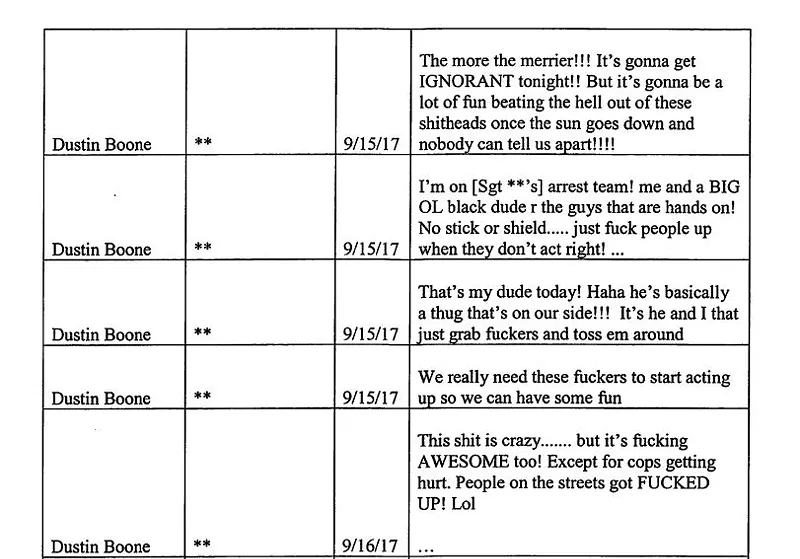 VIA INDICTMENT
Of the thirteen text messages released, most involved Boone.
The newly released affidavit describes not only the beating but also includes additional text messages as the cops scrambled to apologize to Hall in hopes of keeping him quiet.
Boone sent Hall a long-winded text after he apparently tried to contact him through commanders.
"I feel like an apology will never be enough but I would really like to speak to you in person so I can apologize face to face as a man and not through a text message," Boone wrote, adding, "I hope you are healing both physically and mentally. I can't imagine what you have gone through this past week."
But text messages between Boone and Hays showed less remorse than fear of getting in trouble.
"I'd just like to apologize to the man before someone gets in his ear and true to turn this into something more than it was," Hays wrote on Sept. 22, 2017, five days after the beating.
Boone replied, "EXACTLY! That's my biggest fear now that it's getting around. Somebody puts money or race in his ear and he listens for some reason and it's over before we get to say a word."
Three months later, on December 22, 2017,
the St. Louis American newspaper reported a scoop
about then acting Chief Lawrence O'Toole promoting an officer who beat Hall. The story identified for the first time Boone, Hays and another officer, Joseph Marcantano, as being under investigation for assaulting Hall.
Hays texted Boone: "Did you see we all made the St. Louis American. All of us except Meyers[sic.]"
Boone replied: "Yeah not my proudest moment what they r saying isn't even true or remotely accurate i have a feeling its gonna get ugly."
Hays: "I haven't heard anything until that article came out. I don't think anything will happen."
In another exchange, the two rationalize their actions under the logic that other cops acted worse. Hays texted that "the ass whooping can be explained. The camera thing can't and we weren't apart of that."
Boone: "Yes, trust me, I am WAY more alright with what u and I did than what the others did! I don't like that we put our hands on another cop, but the situation was a little fucked up too, wasn't JUST us."
Hays went on to blame the department and even Hall himself, before concluding that the real problem was that the target was a cop and not a protester.
Hays: "Wasn't just us, I don't like the beating the hell outta a cop, but the department put him in that spot, he could've announced himself at any time. And he wasn't complying. The camera thing is just ignorant, nothing we all haven't done and if it was a protester it wouldn't be a problem at all."
We welcome tips and feedback. Email the author at doyle.murphy@riverfronttimes.com or follow on Twitter at @DoyleMurphy.