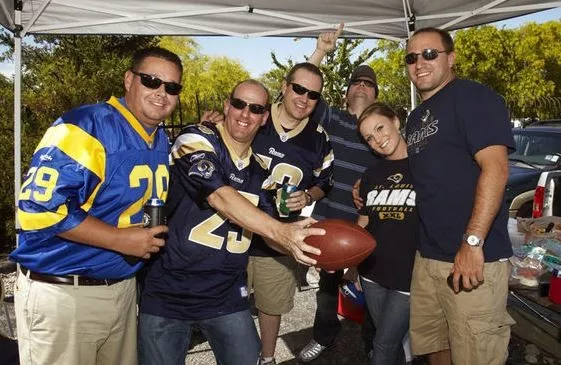 STEVE TRUESDELL
St. Louis football fans are in an emotionally distressing bind.
It took a blown call and a tragic overtime in which Kansas City phenom Patrick Mahomes never touched the ball, but it is a fact that the (ugh) Los Angeles Rams will face the (goddammit) New England Patriots in the Super Bowl on February 3.
This noxious truth is making life hell for fans of the former St. Louis football squad.
The manifold ways in which this arrangement sucks for St. Louis can't be understated — and after the final whistle blew on the Patriots-Chiefs game last night, St. Louisans
did
state it, taking to Twitter to comment on the upcoming Super Bowl matchup like a patient who'd just been told she needed a double root canal on her eyeballs.
Similarly, here's former U.S. Senator Claire McCaskill (D-Missouri), who prefers to consider some happy little trees rather than watch Rams owner and
guy-who-still-deserves-a-box-of-shit
Stan Kroenke take the team to a Super Bowl.
And on
Watch What Happens Live
, St. Louis native Andy Cohen again
had some choice words
(and a gesture) for Kroenke.
This might all sound like sour grapes (and, OK, it definitely is), but it's worth acknowledging that if there was a way to rig a Super Bowl matchup to maximize the psychological torment of St. Louis sports fans,
this would be precisely it.
For one thing, Super Bowl LIII will function as a rematch of the 2002 Super
Bowl in which the heavily favored St. Louis Rams — the Greatest Show on Turf — lost to the Patriots. That defeat would signal the end of the Rams' hopes for dynasty, even as it became the first chapter of Patriots quarterback Tom Brady's insufferable and ongoing dominance of all things football.
And with Brady still at the helm, and the Rams back in it, the past suddenly isn't the past. It's just some warped version featuring Los Angeles instead of our home team.
Heck, even Kurt Warner, who quarterbacked that 2002 Super Bowl loss for St. Louis, can't keep it straight.
Oh, and thanks for the reminder, ESPN.
To make matters even more emotionally fraught, the actual members of St. Louis' Greatest Show on Turf are now
enthusiastic fans
of the Los Angeles team.
For St. Louis, it's like running into your ex at the supermarket, finding out he's not living on his mom's couch anymore, and that he's also dating your worst enemy and stole all your best friends.
That's not to say the former Rams greats ignored St. Louis completely. Former Rams wide receiver Issac Bruce gave us a shout-out via hashtag and a photo of the Super Bowl ring he won in 2000.
But many St. Louis fans aren't that gracious, and the Super Bowl has put them in a tough spot. That spot is known as: Rooting for the Patriots.
On the other hand, many fans can't bring themselves to root for the Pats simply out of spite. For them, perhaps, the prospect of witnessing the crushing 2002 Super Bowl loss finally corrected — and seeing Tom Brady beaten into the ground — far outweighs the added douchebaggage of Kroenke and the team's sordid departure from St. Louis.
Across Twitter and other platforms, the mental gymnastics demonstrated by former and current St. Louis Rams fans continues
to generate discussion
. Although a significant chunk of it reflects the anti-Kroenke camp, some fans are clearly trying to work through some 2002-related trauma.
Nowhere was this tension demonstrated better than by KMOV Cardinals reporter Brenden Schaeffer, who in a Sunday night tweet described a scheme to bet on Rams while rooting for both teams to simultaneously win and lose.
Brenden, buddy, don't do this to yourself. Maybe it's best just skip this year's Super Bowl. We hear you can catch
The Joy of Painting
on Hulu.


Follow Danny Wicentowski on Twitter at @D_Towski. E-mail the author at [email protected]