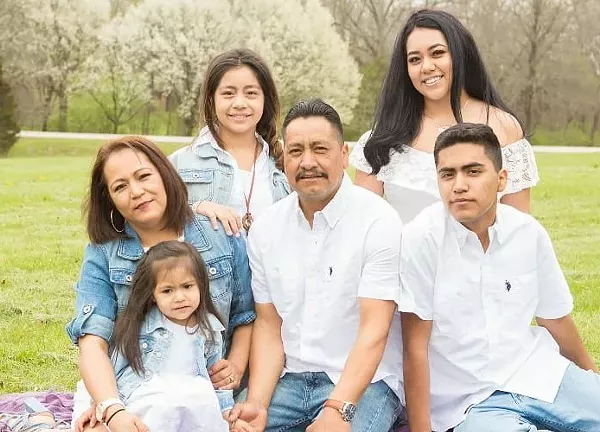 COURTESY OF RAMOS LANDSCAPING LLC
Wilian Ramos, center, with his family.
More than a decade ago, Wilian Ramos immigrated to the U.S. from Guatemala. He jumped through all the necessary hoops — he's currently a naturalized citizen — and started a small landscaping company in Wentzville. The business grew, and developed an expertise that allowed it to score contracts for everything from lawn mowing to retaining walls.
There was just one problem, according to Ramos' lawyer, Evan Howard of Clayton: "It's hard to find Americans who want to do jobs like this, and do it full-time."
And so Ramos Landscaping LLC relied on the federal H2B temporary work visa program. Every year, Ramos hires lawyers to follow the onerous process of legally hiring migrants from his native country. So long as he's awarded the work visas, his company can bring a handful of workers to the U.S. during its busy season, where they earn $14.52/hour, plus overtime, to sculpt the lawns of suburban St. Louis. Then the workers go back home.
That system, while not particularly easy (or cheap), worked just fine for Ramos until last fall, Howard says. That's when Howard says the
St. Louis Post-Dispatch
bungled a key part of his application — and, in the process, cost him virtually his entire livelihood.
By law, companies vying for work visas must first advertise the jobs to U.S. residents. For Ramos, that meant placing an ad in a local newspaper on two consecutive days at least two weeks before applying. And not just in the "help wanted" section — companies like Ramos' had to use a more costly section for legal services, Howard says. Only with proof of placement can they then apply for visas.
Ramos' immigration lawyer placed the ads in the
Post-Dispatch
last November — a $2,186.05 order, the lawsuit says. Weeks later, the company was awarded visas for ten workers, just as it had asked for.
The problem came after that, when the immigration lawyer sought proof that the ads had been placed. At that point, according to a lawsuit Howard would file last month in St. Charles County Circuit Court, the newspaper's rep admitted that the ad had only run one day, not the two required by law.
Ramos' immigration lawyer had no choice but to confess the omission to the federal government, says Howard. And, with that, the company's work visas were no longer in play.
Because the visas are awarded competitively in two set cycles annually, there will be no chance for Ramos to apply again in time to get the workers to the U.S. for the full season, Howard says.
"He is practically wiped out of business," Howard says. Without the extra workers, "the only people he has working for him are himself and his sixteen-year-old son, who's in high school." Because of that, Ramos has had no choice but to drop clients, Howard says.
And, yes, to file suit. That's when Howard got involved, and the suit he filed December 7 accuses the paper of breach of contract and negligence. It claims, "As a direct and proximate cause of Defendant's breach, Ramos has been damaged and is unable to staff his workforce for the end of the 2018 year and 2019 year." It seeks more than $25,000 in damages.
A spokeswoman for the
Post-Dispatch
says the newspaper does not comment on pending litigation.
The daily's attorney, Joseph Martineau of Lewis Rice, got the suit moved to federal court earlier this week. He also filed a response suggesting any error had been caused by Ramos' immigration lawyer, blaming "failure to exercise reasonable care and due diligence to review the published newspaper and to notify Defendant that the requested advertisement was not placed." Martineau notes that nine days elapsed before the lawyer asked for proof the ad had run.
Not surprisingly, Howard says his client is preparing to apply for the work visa program again in the next cycle, which begins in March. But this time, the company won't be placing ads in the legal section of the
Post-Dispatch
. This time, it's got a cheaper option.
As of January 1, the work visa program's requirements have changed to allow online options like Craigslist instead.
We welcome tips and feedback. Email the author at sarah.fenske@riverfronttimes.com