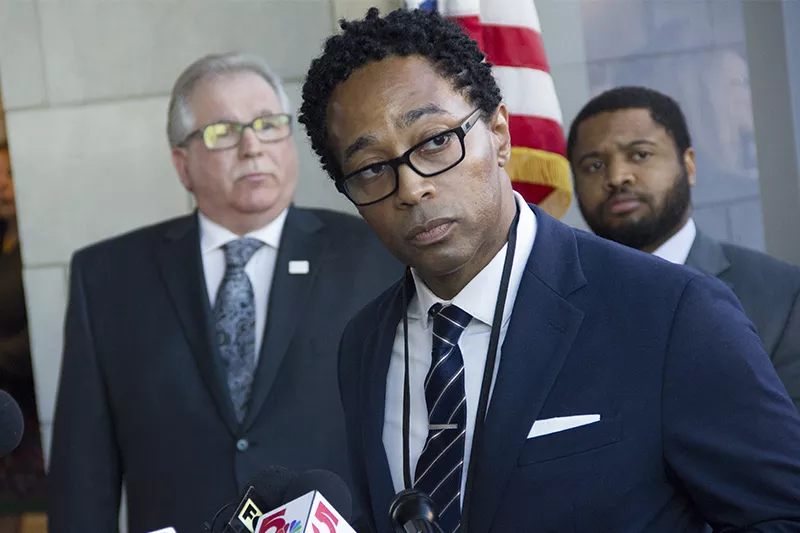 DANNY WICENTOWSKI
St. Louis County Prosecutor Wesley Bell.
Staging his first press conference as St. Louis County prosecutor, Wesley Bell addressed supporters this morning to announce the "Bell Plan," which aims to expand the county's diversion programs for criminal defendants with addiction and mental health issues.
But during the press conference, Bell's audience — or at least, the reporters in that audience — seemed more interested in the tensions inside an office being dramatically reshaped after more than two decades under Bob McCulloch.
It didn't help that Bell declined to offer much in the way of dollars-and-cents details, instead telling the crowd that today's event was simply "the announcement, the beginning," and adding that the plan's various partners need to work out the specifics.
Generally, though,
Bell's proposal
calls for increasing the capacity of the county's diversion programs. That goal, Bell said, will ultimately reduce the prison population and resource drag on law enforcement.
To do that, Bell believes the county can forge partnerships with organizations and companies that can provide resources in areas like medical services, drug treatment and housing aid. To that end, Bell was joined at the press conference by representatives from Affinia Healthcare, Beyond Housing, Mallinckrodt and Better Family Life.
"When nonviolent offenders receive treatment, they are less likely to reoffend," Bell said, "which can help break the cycle of escalation that so often starts with addiction or mental illness and ends in violent crime or death by drug overdose."
The county's existing diversion program was founded by McCulloch,
whom Bell beat
in a stunning electoral victory in August. During the campaign, McCulloch told
RFT
that protests in Ferguson and the grand jury investigation into the killing of Michael Brown delayed the program's full roll-out until 2015. But since then, McCulloch said, it had accepted 100 participants, of which around 30 to 40 graduated.
At the time, Bell's campaign charged that McCulloch
was never really committed
to the diversion program. Now that Bell is actually in charge, how much larger will that program get?
"Everything has a cost to it," Bell said today, declining to offer specifics. "With the investment that these community partners can make, we'll be able to treat more individuals with more individualized treatment. This is the start of something that we think is really going to make a major impact in this region."
In the vacuum of details, Bell faced additional questions about
an array of new policies
he set last week, including the end of issuing warrants on class D and E felony cases and no longer treating marijuana possession and failure to pay child support as matters worthy of prosecution.
When asked about the recent policy change around class D and E felonies — a change
that's enraged
the St. Louis County Fraternal Order of Police — Bell said his office still intends to "aggressively prosecute serious and violent crimes." Low-level and nonviolent offenders, he said, should be given "the tools in the toolbox so that they don't become violent offenders."
Bell also refused to define his position on the often-whispered-about possibility of re-opening the case against ex-Ferguson officer Darren Wilson. When questioned about Wilson's case, Bell sidestepped.
"We're here to talk about expanding the diversionary programs, which was a promise that we made during the election," he said. "I don't have any other comments on any other issues at this point."

Follow Danny Wicentowski on Twitter at @D_Towski. E-mail the author at Danny.Wicentowski@RiverfrontTimes.com