DANNY WICENTOWSKI
The federal government actually likes us! Well, the Arch. It likes the Arch.
For many national parks, the ongoing federal shutdown means getting trampled by the public's
incredible capacity to trashify the natural world
. Not so at the Gateway Arch National Park, which looks pretty damn good right now. The grass is neatly mowed. Garbage cans have been recently emptied.
How is that possible when the stalemate over a border wall means federal functions are, well, non-functional? At first, our attempts to get to the bottom of just who was maintaining the Arch grounds came up empty. A federal ranger declined to comment, and representatives from both the city of St. Louis and Gateway Arch Park Foundation said they had no idea who was doing the maintenance work.
But the answer, as it turns out, is a simple one: It is, in fact, the National Park Service that continues to ensure the Arch's surroundings are looking their best. Sarah Clarke, director of operations for the Gateway Arch, says that the Service is allowed to utilize "excepted personnel" for health and safety purposes — and that encompasses "the basic care of the grounds" in downtown St. Louis and services for trash and snow removal.
Although access to Arch itself and its visitor center — as well as the Old Courthouse across the street — remains barred, the surrounding grounds are still open to the public. On Monday afternoon, small groups of people milled around the Arch's legs, tilting smartphones to grab that perfectly vertigo-inducing shot.
Several approached the closed visitors' area and museum. The entrance is currently blocked with a sign that reads, "Because of a lapse in federal appropriations, the Gateway Arch is closed for the safety of the visitors and park resources."
As for the grounds, they were looking downright spiffy. Aside from a stray bag of chips and small pieces of trash, there was nothing remotely close to the conditions found
in other, more remote national parks
, some of which are
overflowing with trash
and (ugh)
human waste
.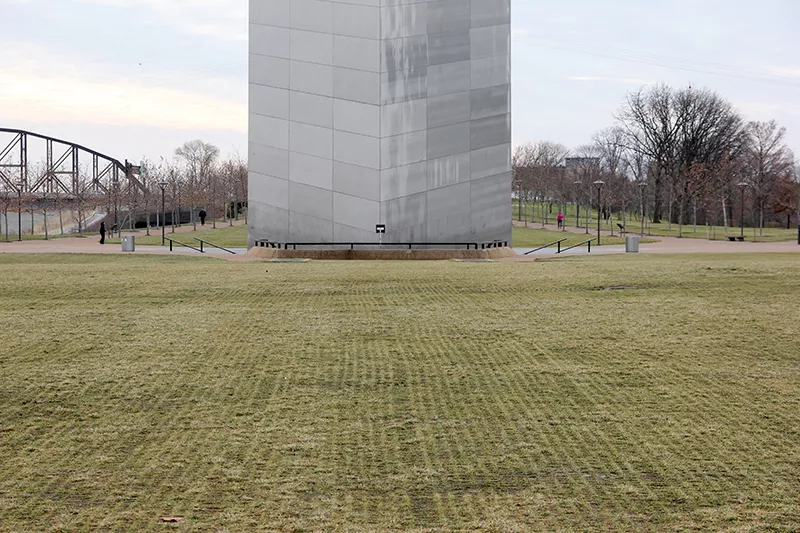 Of course, the Arch benefits in this case from being comparably small and nestled against a large urban center. But it also reflects the monument's recent official
designation as a national park
. The Arch may be big on its own, but now it's bigger than just itself. The proof, perhaps, is the fact that it's not standing arms-deep in trash right now.
So, thank you federal government. There's no denying the grounds provide gorgeous framing, and the Arch is looking good at every angle.

Follow Danny Wicentowski on Twitter at @D_Towski. E-mail the author at Danny.Wicentowski@RiverfrontTimes.com