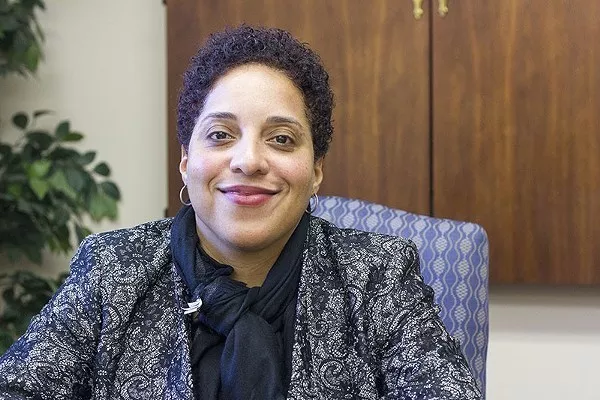 DANNY WICENTOWSKI
St. Louis Circuit Attorney Kim Gardner violated campaign finance laws, according to the Missouri Ethics Commission.
St. Louis Circuit Attorney Kim Gardner repeatedly violated campaign finance laws, dating back to her time as a state representative,
according to the Missouri Ethics Commission
.
Gardner used campaign money to pay rent on an apartment, misreported donations and expenses and never reported others, according to the allegations. She signed a joint agreement on December 28 with the commission, admitting there was "probable cause" to support the accusations.
The housing costs totaled $2,855 between April 2015 and July 2016. Gardner paid them with campaign money and was then personally reimbursed by the House for the same expenses, the agreement says.
As part of the deal, she and her campaign treasurer were assessed a $63,009 fine, but the commission agreed they would only have to pay $6,314 if they send the check within 45 days and commit no other violations for the next two years. Gardner is up for re-election in 2020. Any further violations would force her pay the remainder of the fine, according to the agreement.
In a statement, Gardner told the
St. Louis Post-Dispatch
,
which first reported the agreement
, she had already paid the fine and said the audit was sparked by a Republican party operative. We have reached out to Gardner's spokeswoman for comment.
Update: Gardner's spokeswoman provided a news release about the violations. Read it below. And if you'd like to read the agreement with the Missouri Ethics Commission click here.
Kimberly M. Gardner announced today that she has signed a Consent Order for administrative errors identified by a Missouri Ethics Commission audit, which was initiated after a campaign finance complaint was made by a Republican political operative during the former Governor Greitens' criminal investigation earlier this year.

The Missouri Ethics Commission's audit began in the spring of 2018. The Commission conducted its inquiry with the full cooperation of the CITIZENS TO ELECT KIMBERLY GARDNER CAMPAIGN COMMITTEE. The Commission's in-depth audit identified issues that were clerical in nature only. Upon disclosure, all such issues have been properly addressed. There were no allegations of misappropriation, missing money or any other criminal violations. Every dollar has been accounted for, and corrections will be made on all appropriate campaign reporting moving forward.

"I take full accountability for my Campaign Committee's reporting errors identified by the Commission," said Gardner. "Before any formal findings by the Committee, I reimbursed my Campaign Committee for the following oversites and accounting errors: a $16.16 charge mistakenly charged to the wrong credit card and some housing expenditures during my time as a State Representative that the campaign accounted for in error." These payments were paid immediately after the Campaign Committee was made aware of these discrepancies.

"I know my opponents and those guardians of the status quo will attempt to use this to slow or stop my approach to make our city safer through expanding alternatives to incarceration for first-time, low-level offenders, my efforts to work closer and smarter with federal prosecutors to take more violent offenders off our streets, and other much-needed reforms," Gardner explained. "However, as a public servant elected by the voters of the City of St. Louis, I will not allow this to serve as a distraction to the important work required to make our city a safer and more just place for everyone."

The Gardner's Campaign Committee plans to replace its treasurer with an individual with an in-depth understanding of accounting and campaign finance reporting.

Gardner paid the $6,314 fine Friday, and she has 45 days from Friday, December 28, 2018 to modify her campaign finance reports.

Count I
Gardner was registering for a fitness club membership and was asked to provide two forms of identification. She didn't have her driver's license in hand, so she used the common practice of using two debit/credit cards as proof of identification. One card belonged to the campaign. The fitness club employee mistakenly charged the campaign card for $16.16 once for the monthly memberships fee. Subsequent monthly fees were not charged to the card. The Campaign Committee was reimbursed immediately after being notified about the issue.

Count II
Between April 2015 and July 2016, Gardner reported on her campaign report that she used her apartment in Jefferson City to live while on state business. She also made campaign calls from her apartment, which was completely legal. It was an administrative violation for the Campaign Committee to claim some of the cost of the apartment at the same time Gardner was being reimbursed by the Missouri House of Representatives. In June 2018, upon learning of this issue, the Campaign was immediately reimbursed $2,855 for the housing expenditures.

Count III
On August 2, 2016, the Campaign Committee needed to pay several hundred election-day workers for their work at the polls. In an effort to document payment to individual poll workers and provide a no-cost method to cash their checks, the Campaign Committee used cashier checks to pay workers with the agreement with the bank that the workers would not be charged the customary check-cashing fee charged to those who do not have an account at the bank. Given a large number of election-day poll workers for the Gardner campaign were unbanked, the fee would have significantly impacted a large number of hardworking persons. Consequently, the bank advised the campaign to use cashier checks to eliminate the burden placed on these workers. However, the campaign was unaware that cashier checks (that contained "check" numbers on them) were considered cash by campaign finance rules. As a result, they required a specific reporting method to be included in campaign finance disclosure reports. The reporting will be corrected and amended in the Campaigns Committee's modified campaign reports.

Counts IV-VIII
The remaining issues included the failure to timely or accurately file campaign finance disclosure reports. These reports will be modified and amended.
We welcome tips and feedback. Email the author at doyle.murphy@riverfronttimes.com or follow on Twitter at @DoyleMurphy.