Jarred Gastreich
The Silver Ballroom landed in the middle of a south city political spat.
Pinball is getting political in Bevo Mill.
Tony Pecinovsky, a candidate for alderman in the 14th Ward, had planned to start meeting voters on Thursday nights at the Silver Ballroom. But shortly before the first "Pints and Pinballs" event was to take place last week he was notified that the bar was pulling the plug. The reason? His opponent, incumbent Alderwoman Carol Howard, contacted the bar's owner.
"I think it's a misuse of power," Pecinovsky says. "It's a misuse of authority."
Howard acknowledges she made the call, but she says she in no way pressured Silver Ballroom owner Steve "Doc" Dachroeden to cancel the event. As the south city ward's representative since 2010, she has built a good relationship with the bar owner, supporting his efforts to add parking across the street and a crosswalk. When she learned his place was hosting an event for her opponent, she says she called up to see if she had inadvertently done something to tick him off.
"I thought, 'You know, I've worked with these guys. Did I step on his toes?'" Howard says.
She denies asking Dachroeden to cancel and says if he had decided to host it, that would have been fine with her. She says she did not do anything anyone in her situation would not have done.
"If it was Mr. Pecinovsky and he had developed a relationship, he wouldn't have done the same?" she asked. "I have a hard time believing he wouldn't."
She says she has been turned away from hosting fundraising events at venues in the past because of political conflicts.
"That's politics," she says.
Dachroeden says he doesn't know much about neighborhood politics and when a manager had told him someone wanted to schedule a political event, he figured a party was a party and didn't look any further into it. But when he learned later it was in support of Howard's opponent, he immediately decided to scrap it.
"She's done so much for me," he says, adding, "I didn't want to host a party that was going to go against her."
He insists she never asked him to cancel Pints and Pinballs, and he made the decision on his own out of loyalty to her, not malice toward Pecinovsky.
"I didn't realize what I was doing was going to cause a big thing," he says.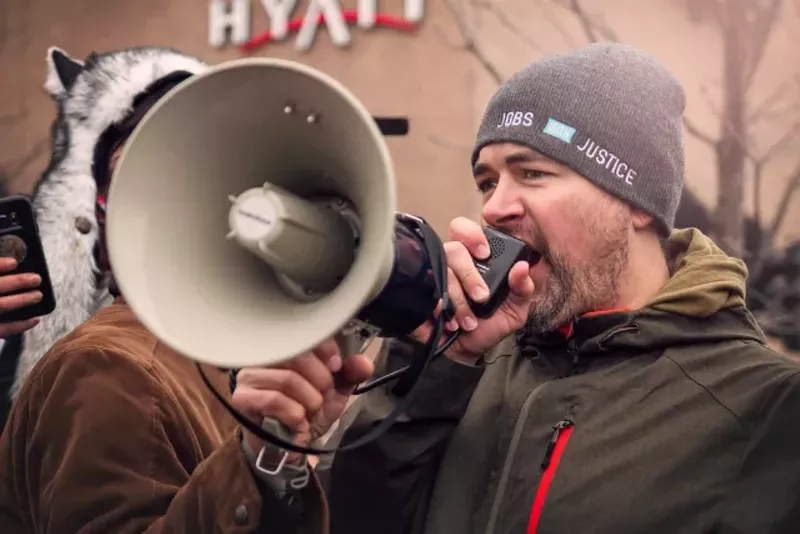 COURTESY NILES ZEE
Tony Pecinovsky says calling the bar was an underhanded tactic.
On December 4,
Pecinovsky posted on Facebook
news of the cancellation.
"I would just like to say that it is unfortunate that bullying tactics are being used by Carol Howard and her campaign," he wrote. "I sincerely wish her and her team the best of luck in this campaign. I hope we can set aside such distasteful actions as we move forward."
The comments on the post quickly turned into a heated back and forth with defenders and critics typing away. A flame war on a neighborhood Facebook page soon caught fire, too.
Pecinovsky says he wants to make it clear that he likes the Silver Ballroom and is not asking his supporters to boycott. He lives about two blocks away and drops by to play pinball (he likes the machine with the
X-Files
theme) on occasion.
"I think the Silver Ballroom is a great bar," he says. "I want to encourage people to continue to patronize it. I want to encourage people to spend their beer money there and spend their pinball money there."
He says he does fault Howard and thinks calling the bar, even if she didn't explicitly ask Dachroeden to cancel, was shady.
A longtime labor activist, he says he decided to run for alderman because Howard voted against raising St. Louis' minimum wage in 2015, a core issue for him. The ordinance passed and briefly raised the minimum to $10 per hour before the state legislature and then-Gov. Eric Greitens derailed it with a law forbidding cities from setting a higher wage than the state minimum. (
Howard did later support
the much more modest increase of Prop B.)
Pecinovsky says he figured a weekly meet-and-greet at a popular neighborhood bar would be a good way for people to get to know him and his stance on city issues, such as airport privatization (opposed) and supporting workers.
In the end, he moved the event a few blocks south, and just across the ward boundary, to the Heavy Anchor. He's now calling it Pints and Policy.
We welcome tips and feedback. Email the author at doyle.murphy@riverfronttimes.com or follow on Twitter at @DoyleMurphy.