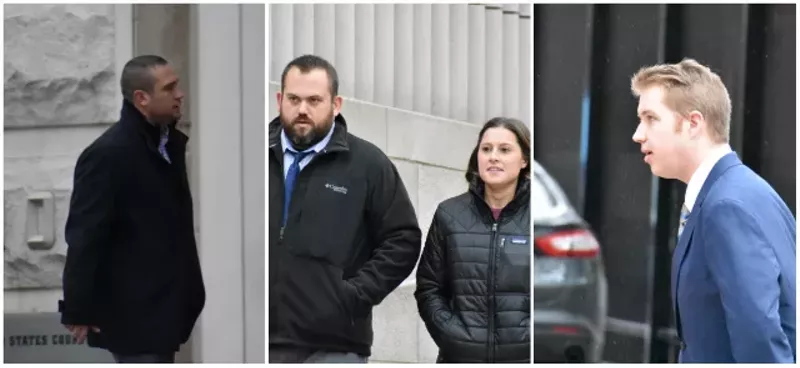 DOYLE MURPHY
Suspended SLMPD Officers (From L) Dustin Boone, Randy Hays, Bailey Colletta and Christopher Myers outside court.
Four St. Louis cops pleaded not guilty this morning to federal charges connected to the beating of an undercover officer who posed as a protester.
Officers Dustin Boone, Randy Hays and Christopher Myers
are accused of kicking and baton-clubbing Officer Luther Hall on Sept. 17, 2017. A fourth officer who is dating Hays — Bailey Colletta — lied to a grand jury to cover for them, according to an indictment.
All four appeared this morning at the Thomas F. Eagleton Courthouse in downtown with their attorneys to formally enter not guilty pleas to felony charges.
Prosecutors from the U.S. Attorney's Office say the four were on the streets the night of the beating as part of the mass police response to the protests following the Jason Stockley verdict. Stockley, a white former cop, was acquitted of murder in the 2011 shooting death of Anthony Lamar Smith, a black man he suspected of dealing drugs.
On the third night of protests, police arrested more than 120 people. Most of the arrests happened in a downtown intersection where cops trapped people — including journalists — and blitzed them with pepper spray during rough arrests.
About two dozen people have since sued the city and police, alleging widespread abuse by officers against people who were complying with their orders. The accusations include descriptions of officers beating people, trying to smash their cameras and lifting their heads off the ground so they could blast them directly in the eyes with pepper spray.
Attorneys for those people have said
they are cautiously optimistic more indictments naming additional officers are on the way.
Boone, Myers and Hays injured Hall so badly he remains in a neck brace more than a year later and has not returned to work. A police source told the
RFT
its possible his 22-year career could be over.
Myers is additionally accused of trying to destroy Hall's cell phone. Myers had sent text messages shortly after the verdict was announced, gleefully preparing to take on protesters.
"Let's whoop some ass," Myers texted to an unknown recipient on Sept. 15, 2017.
In court this morning, the baby-faced 27-year-old arrived with his father, wearing a baggy blue suit, the fabric from the too-long pants pooling around his ankles as he stood in front of the judge to enter his plea.
Hays and Colletta sat together in the same row with Boone and Myers, quietly talking to each other. In the text messages recovered by federal investigators, Boone had repeatedly bragged about beating protesters.
"A lot of cops gettin hurt, but it's still a blast beating people that deserve it," he wrote. "And I'm not one of the people hurt, so I'm still enjoying each night..."
None of the officers made any public statements this morning.
The court proceedings were quick. Assistant U.S. Attorney Reginald Harris told the judge the amount of discovery to turn over to the defendants would be "voluminous" including electronic records, witness interviews and investigative reports.
All the attorneys are expected to return to court in 45 days to check the progress.
We welcome tips and feedback. Email the author at doyle.murphy@riverfronttimes.com or follow on Twitter at @DoyleMurphy.