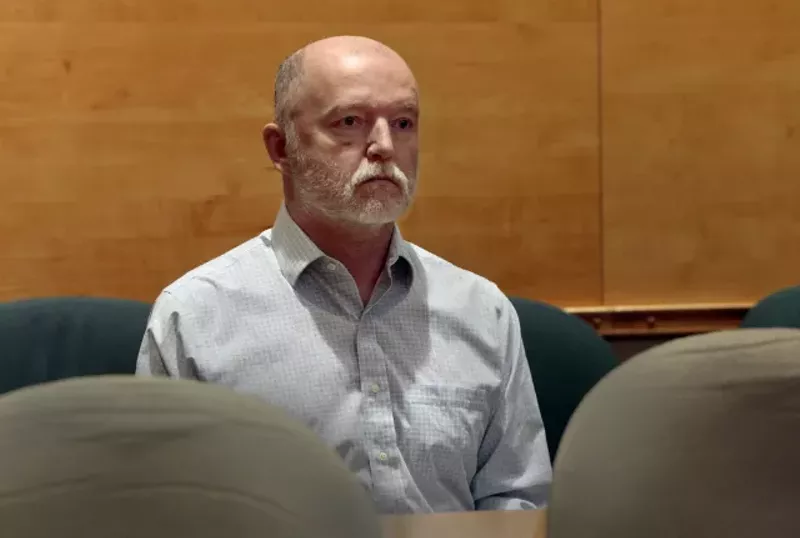 ROBERT COHEN/ST. LOUIS POST-DISPATCH VIA POOL
Thomas Bruce appears December 5, 2018 in St. Louis County Court.
The Catholic Supply store that was the
scene of a violent attack last month
reopened today following a blessing yesterday from St. Louis Archbishop Robert Carlson.
The timing was poignant. As employees opened for the business this morning, the man suspected of carrying out the nightmarish ambush appeared in St. Louis County court.
On November 19,
Thomas Bruce
, 53, entered the Manchester Road location of the store, posing as a customer before forcing two store employees and a shopper into a storage room with a handgun, police say. He is accused of sexually assaulting the employees at gunpoint before shooting 53-year-old customer Jamie Schmidt, who later died in the hospital.
The west county store, which is near Ballwin, had remained closed since the shocking attack. Two other locations were closed after the incident as well but reopened on Nov. 21.
Carlson and the Rev. Byron Watson visited Catholic Supply on Tuesday morning to bless the store, praying in response to the tragedy that occurred at the store.
In a Facebook post
, Watson wrote, "reopening the store was very important to send a message of hope and strength" so as not to give in to fear. "Darkness and light can't share the same room. The darkness that hung over this store and over the family has been uplifted and replaced by the Light of our Father in Heaven."
Schmidt's family members and St. Louis County Police Department detectives were also present for the blessing.
"The recent events at our Manchester store have been devastating to the Catholic Supply family," Dan Stutte, company president, said in a written statement. "This location is now reopened so we can continue to fulfill our mission and help our staff, customers and community cope with this senseless tragedy and begin the healing process. We thank the community for your outpouring of prayers, love and support."
Bruce is charged with seventeen felonies, including first-degree murder, kidnapping and sodomy. He is being held without bond and made a brief appearance in St. Louis County court this morning for a scheduling hearing. He is due back in court in January.