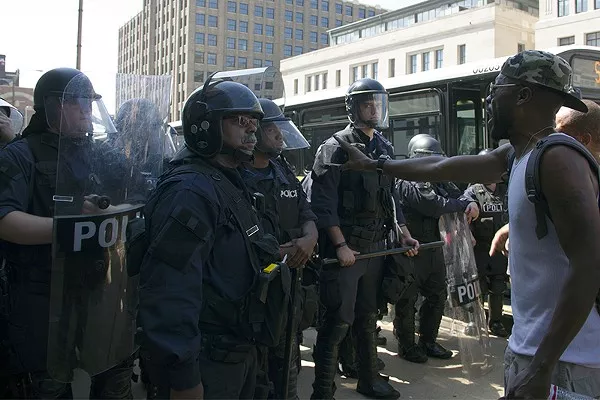 DANNY WICENTOWSKI
Officers in riot gear respond to a protest in September 2017.
Four St. Louis city officers are facing multiple federal felonies for beating an undercover cop whom they mistook for a protester — and then conspiring to cover it up.
The officers, Dustin Boone, Bailey Colletta, Randy Hays and Christopher Myers, were named in a federal indictment unsealed this afternoon. Their actions, which took place on September 17, 2017, are being revealed two months after twelve plaintiffs
filed lawsuits over mass arrests
that took place three days after a jury acquitted ex-St. Louis cop Jason Stockley on charges of murder.
According to the indictment, the four cops detailed to police protests instead targeted one of their own, an undercover 22-year veteran identified as L.H., who himself was mixed in with the crowd.
"In doing so, the defendants threw L.H. to the ground and kicked and struck L.H. while he was compliant and not posing any physical threat to anyone," the federal complaint alleges. The indictment also notes that the officers beat their victim with weapons, specifically their armored boots and riot batons.
Remarkably, the indictment includes transcripts of some of the officers' text messages, sent two days prior to the September 17 demonstration
.


These text messages, the indictment states, showed "disdain for the Stockley protesters and excitement about using unjustified force against them and going undetected while doing so."
The text messages are really something. On September 15, Myers texted an unidentified officer regarding a protest detail, writing "[L]et's whoop some ass."
That same day, Boone texted someone, "[I]t's gonna be a lot of fun beating the hell out of these shitheads once the sun goes down and nobody can tell us apart!!!" Boone also seemed giddy at the prospect of taking on the protesters alongside a fellow cop — someone he described as "a BIG OL black dude" — and boasted that he intended to forgo his baton and shield "just to fuck people up when they don't act right!"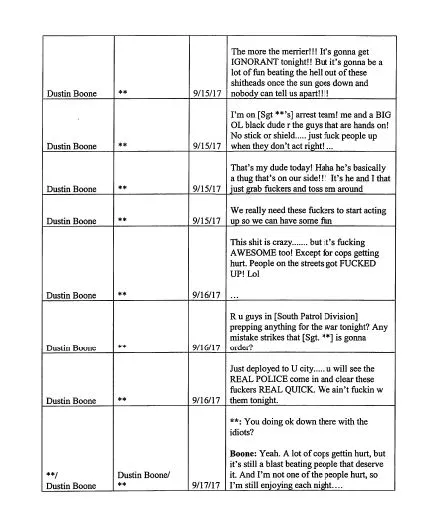 VIA INDICTMENT
Of the thirteen text messages released, most involved Boone.
The second page of text messages ends with an absolutely jaw-dropping exchange between Boone and and Hays, in which the latter advises the other officer about "going rogue" and admonishes him to "make sure you have a white dude as a witness." The explicit meaning of this advice isn't explained in the text message.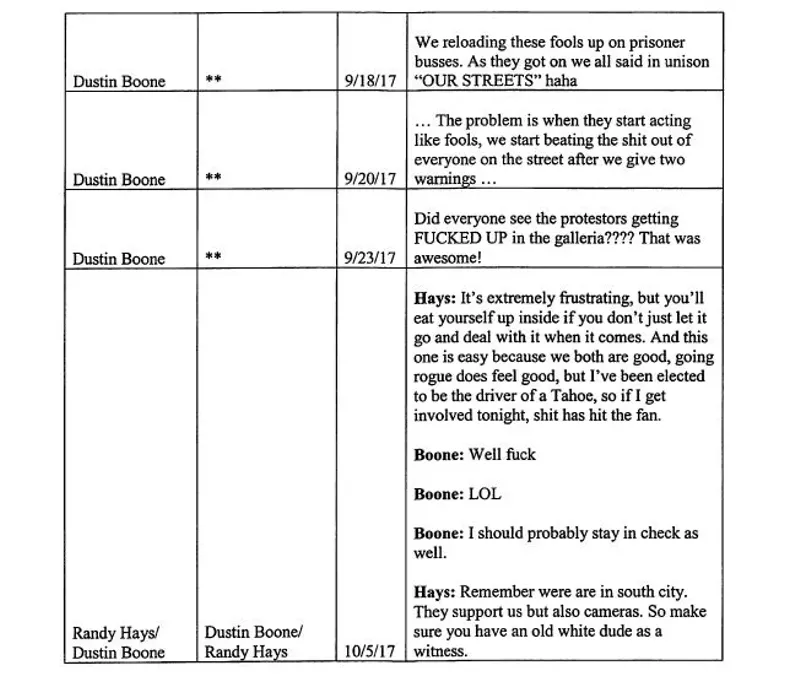 According to the indictment, Officers Hays and Colletta were in a romantic relationship at the time of incident. All four defendants were among the 200 cops assigned to the department's Civil Disobedience Team.
Meanwhile, L.H., had been assigned to an undercover role, to "record and document criminal activity so that other SLMPD officers could lawfully arrest individuals who were committing crimes."
Although the indictment refers to L.H. only by his initials,
a December 2017
St. Louis American
story
identified him as SLMPD officer Luther Hall
.
Three defendants — Boone, Hays and Myers — face separate charges of conspiracy to mislead investigators. The indictment alleges that they made false statements in order to justify arresting L.H., including claims that L.H. resisted arrest and was not compliant.
"Despite the fact," the indictment states, "that L.H. was an experienced undercover officer who specifically wore a shirt that revealed his waistband so that he would not be mistaken for being armed during the Stockley protests."
Myers is also charged with one felony count of destroying evidence for purposefully destroying L.H.'s phone.
The charge against Colletta's is not directly connected to L.H.s' beating, but rather to her statements to a grand jury on June 27, 2018. During testimony that day, Colletta allegedly claimed that L.H. was taken to the ground "very gently," even though she knew that was a lie.
In a statement, St. Louis Metropolitan Police Chief John Hayden said he is "deeply disappointed in the alleged actions of these individual officers," adding, "however, it is in no way reflective of the hard work and dedication exhibited by the men and women of our Department who serve the community on a daily basis with integrity and honor."
What a difference an indictment makes. On the morning of September 18, 2017, hours after the officers who were charged today beat and arrested one of their own, Acting Police Chief Lawrence O'Toole boasted about his officers' work the previous night,
which resulted in the arrest of more than 80
, including those of an Air Force officer
and Post-Dispatch reporter
.
"I'm proud to say the city of St. Louis and the police owned the night," O'Toole said at the time. "Our officers are doing outstanding work."
Read the full indictment here:

Follow Danny Wicentowski on Twitter at @D_Towski. E-mail the author at Danny.Wicentowski@RiverfrontTimes.com