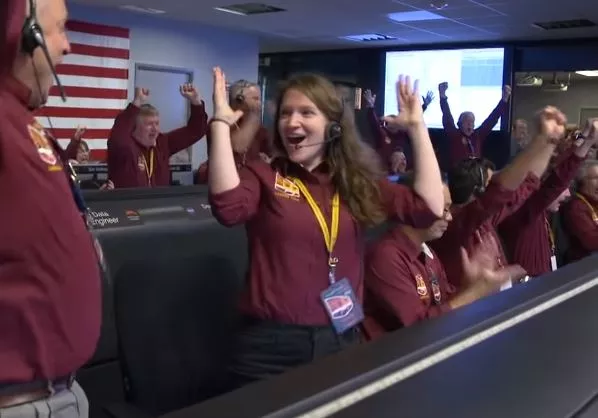 SCREENSHOT VIA YOUTUBE
University of Missouri grad Brooke Harper and a fellow NASA engineer celebrate InSight's landing.
On Monday, just before NASA's InSight robotic lander touched the rocky red surface of Mars, engineer and Mizzou grad Brooke Harper could only sit and listen to the data read-outs, which took a few minutes to traverse the 300 million miles separating Harper from the hunk of very expensive science gear that was designed to study the planet's interior.
Twenty meters... Seventeen meters.... Standing by for touchdown.




A few moments passed, excruciatingly slow for the dozens of scientists and engineers
gathered at mission control
. Finally, the words everyone was waiting for came over their headsets:
Touchdown confirmed.

The room burst into applause, and then, with the scene being live-streamed across the world, Harper shot up in her chair, raised both arms and faced the engineer seated next to her. The two proceeded to perform an impressively rapid-fire series of low-fives, arm-knocks and fist-bumps.
Of course, it was an NFL touchdown dance.
"We wanted to have something special for the two of us," Harper explained in a phone interview on Tuesday. Harper, who grew up in Chesterfield and attended Parkway Central High before gaining her bachelor's degree in mechanical and aerospace engineering from the University of Missouri-Columbia, had found inspiration for the moves from a real-life NFL touchdown dance.
Harper said she spent about five weeks perfecting the routine along with her victory-dance partner, a fellow engineer named Gene Bonfiglio. Each day, amid the rigorous testing and computer modeling involved in preparing for InSight's landing, the two would get together in their cubicle and hold dance practice.
Bonfiglio, said Harper, is a "huge Patriots fan," and she counts herself a fan of the Kansas City Chiefs. ("I
was
a Rams fan," she adds, "until they left.") As coworkers, Harper said, she and Bonfiglio developed a good-natured sports rivalry, and the two fans both watched a televised September 23 match between the Chiefs and the San Francisco 49ers.
In the third quarter, 49ers wide receivers Marquis Goodman and Kendrick Bourne collaborated on a touchdown dance in the end zone,
which isn't that uncommon
in football. Even though it followed a score against her own team, Harper said she loved what she saw.
"It looked like they were having a great time," she recalled. "We laughed at it, and we thought it would be fitting to have a similar 'touchdown' celebration."
The dance plan went almost as perfectly as the InSight lander's mission — and resulting footage of said dance went viral almost immediately, with NASA
tweeting
it from its official account and
CNN broadcasting the moment live
. Once the NFL connection was confirmed in a followup Q&A
video tweet
from NASA's Jet Propulsion Lab, numerous sports outlets jumped on the story.
On Twitter, observers celebrated the engineers' energy and faithfulness to the original dance. You can judge for yourself with this helpful side-by-side comparison tweeted by ESPN's SportsCenter.
All the attention has left Harper a little dazed. Her phone is filled with messages from friends and requests for interviews from various media outlets.
"It's surreal," she said. "I cannot believe that we had such an amazing, successful day [on Monday.] It's something very special, not just for myself, but that the whole world can appreciate."
Both Harper and Bonfiglio work as entry, descent and landing (EDL) systems engineers, which means their jobs revolved around getting the spacecraft to move safely from from the top of Mars' atmosphere to the surface. Harper described her role as focused on testing the hardware for "risk reduction," a process that involved measuring how hardware would react to data errors and various possible scenarios.
"There are thousands of things that need to go right," Harper explained, "and all we are thinking of, as EDL engineers, is what can go wrong."
Thankfully, all that preparation guided the InSight lander to its target, where it will spend its operational lifetime studying the inside of Mars and, perhaps, will lay the groundwork for future breakthroughs.
Harper, meanwhile, hopes her Chiefs will spend the rest of the football season the same way they finished that September game against the 49ers: Winning.
Follow Danny Wicentowski on Twitter at @D_Towski. E-mail the author at Danny.Wicentowski@RiverfrontTimes.com