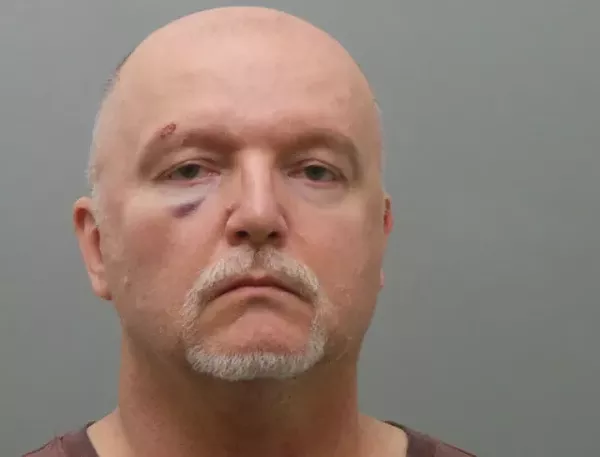 ST. LOUIS COUNTY POLICE
Thomas Bruce was charged with murder, sodomy and kidnapping the the Catholic Supply attack.

Editor's note: This story was updated with additional details following a news conference.

Thomas Bruce, a 53-year-old Jefferson County man, was arrested today and charged with murder and sodomy in a deadly attack on women at the Catholic Supply store in west county.
Bruce is facing a total of seventeen felonies. St. Louis County Police Chief Jon Belmar told reporters this afternoon the case sticks out among the worst in his career.
"It shocks the senses," he said.
Police raided Bruce's trailer home at 5 a.m. today in Antonia, Missouri, about 30 minutes southwest of St. Louis. He was taken into custody following a wide-ranging manhunt.
Bruce is accused of killing 53-year-old Jamie Schmidt
, who was shopping on Monday afternoon at Catholic Supply. St. Louis County Police say that Bruce entered the store, which sits in a strip mall off of Manchester Road near Ballwin, about 3:20 p.m. He initially posed as a customer and then went outside, pretending to get a credit card.
When he returned, he was armed with a handgun and ordered two store employees and Schmidt into a back storage room, authorities say. He made the women disrobe at gunpoint, pulled out his penis and forced two of his captives perform deviant sexual acts on him, according to a probable cause statement.
Schmidt reportedly refused, and Bruce shot her in the head, police say. After shooting the mother of three he continued to sexually assault the other women before he finally fled.
Schmidt was transported to the hospital but died a few hours later.
In the hours that followed the shooting, police said they knew of no motive and had little information beyond a physical description of the killer. Sgt. McGuire told reporters gathered in the parking lot that evening they weren't even sure if the shooter had left by foot or vehicle, but they considered him armed and dangerous.
"We have a loose, armed gunman out there who already shot at least one person," McGuire said on Monday.
Detectives started with almost nothing. Despite being at a shopping center on one of the busiest commercials strips of St. Louis County, investigators soon discovered there were frustratingly few surveillance cameras, Belmar said.
Police were eventually able to track down some of the gunman's clothing, which they claim Bruce discarded. Police and prosecutors were vague on the details of how they identified their suspect other than they got a critical tip last night.
This morning, McGuire confirmed police had a "person of interest" in custody. There was some confusion this afternoon as Bruce's identity leaked out. KSDK first reported charges against him, citing a captain at the St. Louis County Justice Center, where he was being held. But police spokespeople quickly countered reports online, tweeting that no charges had been filed.
Instead, they scheduled the 4:30 p.m. news conference with police Chief Jon Belmar and St. Louis Prosecuting Attorney Bob McCulloch.
McCulloch called the case "heartbreaking" and, when asked by a reporter, said the aggravating circumstances of the crimes could support a death penalty case against Bruce. He stressed that it was too early to say whether that would happen, and that it would be the decision of the county's next prosecutor, Wesley Bell, who is set to take office next year.
Bruce's motives remain a mystery. He has no criminal history, and investigators are still scanning databases in search of any contacts he might have had with law enforcement. Online, Bruce describes himself as a Navy veteran. He'd posted on Twitter in support of conservative positions, including #MAGA — a hashtag for "Make America Great Again" used by Trump supporters — in his bio.
Authorities say they don't know if any kind of political or religious ideology played into the attack.
Belmar confirmed county police have spoken to police in Indiana, who are
investigating the murder of two teens
. There are similarities between the suspect in that case and descriptions first circulated about the Catholic Supply shooter.
Belmar said it was far too early to tell if the two cases are connected.
COURTESY GOFUNDME
Jamie Schmidt was killed on Monday at Catholic Supply.
As for Bruce's victim, Schmidt is remembered as an "amazing mother, wife, sister, aunt and friend" who was a talented singer in her church choir. Relatives have set up a
GoFundMe
to cover funeral expenses.
Along with murder and three counts of sodomy, the charges against Bruce include kidnapping, armed criminal action and tampering with physical evidence.
McCulloch said the tampering charges comes from Bruce's attempts to get rid of clothing he wore during the assault.
Investigators do not know why he picked the Catholic Supply store. McCulloch and Belmar said there is no indication he knew or had any previous dealings with Schmidt or the other victims, and detectives have found no evidence he had ever visited the store before.
McCulloch said he may have just spotted an opportunity and attacked.

We welcome tips and feedback. Email the author at doyle.murphy@riverfronttimes.com or follow on Twitter at @DoyleMurphy.