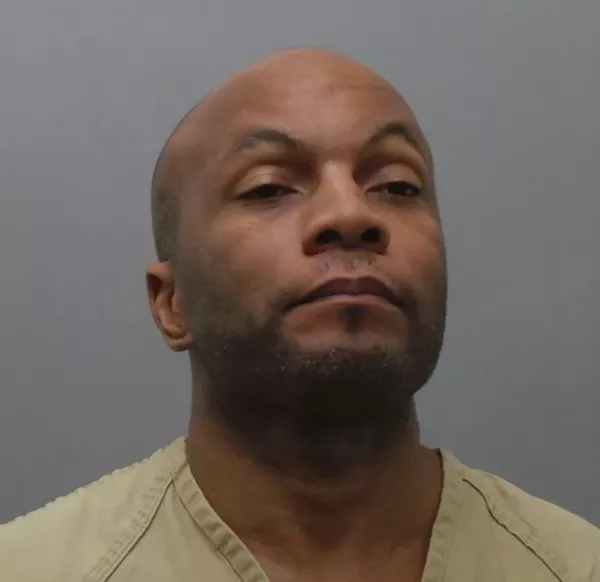 VIA STL COUNTY PD
Darnell Johnson.
One day after
a standoff brought swarms of police presence to an apartment complex in Jennings
, a 46-year-old man is facing a host of criminal charges that could put him in prison for more than a decade. He's accused of punching a St. Louis County cop in the face and then trying to zap her with her own Taser.
In a press release, the St. Louis County Police Department named Darnell Johnson as the perpetrator who allegedly attacked a county officer around 11 a.m. Tuesday at the Lucas Hunt Village Apartments. Johnson's address is listed as the 5300 block of Gladstone Avenue, meaning he likely lives in the same apartment complex.
Police say that Johnson and the unnamed officer, a six-year-veteran, encountered each other at the entrance to the complex. The officer recognized Johnson and was aware he had a warrant out for a parole violation.
According to the probable cause statement submitted to prosecutors,
"[Johnson] approached the officer and punched her one time in the face knocking her to the ground." But Johnson didn't immediately retreat. The statement claims that he struck the toppled officer, then unhooked her Taser from her belt and "pointed the taser at the officer and attempted to discharge the device."
Notably, while the probable cause statement takes pains to note that a Taser is a "deadly weapon or dangerous instrument," it does not mention that the officer then used her pistol to fire at least one shot at Johnson.
That detail that was previously released by the department's spokesman
during the standoff on Tuesday.
However, the shot apparently missed Johnson, who temporarily escaped into the apartment complex. He was arrested about four hours later following a standoff with police. The officer involved in the incident was transported to a hospital to treat a head injury, the department says.
Johnson has been charged with disarming a peace officer, resisting arrest for a felony, armed criminal action and second-degree assault. The assault charge was upgraded due to the "special victim" status of police officers, meaning he could be sentenced to up to fifteen years on that charge alone. Johnson is being held on a $150,000 bond.
Follow Danny Wicentowski on Twitter at @D_Towski. E-mail the author at Danny.Wicentowski@RiverfrontTimes.com