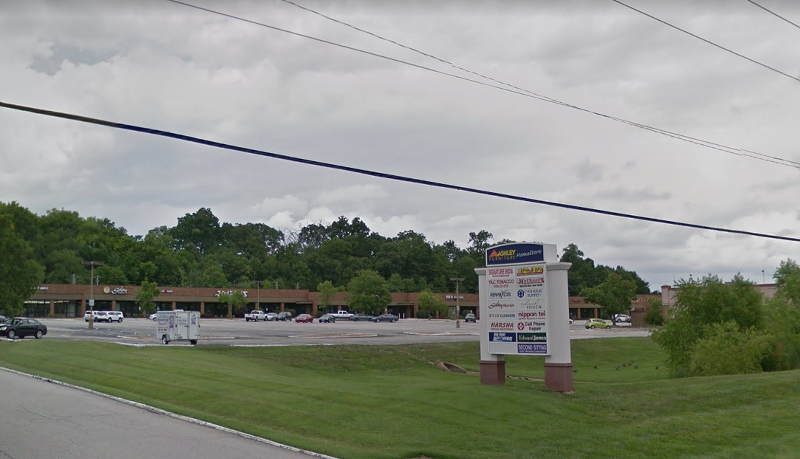 GOOGLE EARTH
A gunman reportedly shot at least one person at the Catholic Supply Store.
Update 7:49 p.m. — The 53-year-old woman shot during the attack has died, according to St. Louis County Police.
St. Louis cops are hunting for a gunman who opened fire at the Catholic Supply Store in west county.
A 911 caller reported that the man held women at gunpoint in the store, ordered them to take off their clothes, sexually assaulted them and then shot one of the women in the head,
the St. Louis Post-Dispatch reported
.
The caller said that the shooting victim was still alive at the time,
Fox-2 reports
.
St. Louis County Police have now confirmed the incident began as a sexual assault inside the store and one woman was shot. She was in critical condition.
"We have a loose, armed gunman out there who already shot at least one person," Sgt. Shawn McGuire said. That woman was transported to an area hospital. Police first responded to the scene about 3:20 p.m.
"He already shot one female, so he's armed and dangerous," McGuire told reporters.
He says investigators are still piecing together the details, looking for surveillance video. They do not know if the man left the area on foot or in a vehicle. Police closed surrounding businesses in the aftermath of the shooting.
The store is one of three locations in the metro area. On Twitter, the company asked for prayers.
Police have asked people to avoid the 14000 block of Manchester Road, the area surrounding the store.
Police described the shooting suspect as a white male, age 45 to 50 years old, 5 feet 7 inches tall with a heavy build. He was wearing a black jacket, blue jeans, a black or gray hat and a large belt.
They ask anyone with information to call 911.

Update from November 20: Police have released a few more details about the gunman, even as Catholic Supply stores have closed for a day. See our latest posts for details.

Editor's note: This story has been updated with more details.

We welcome tips and feedback. Email the author at [email protected] or follow on Twitter at @DoyleMurphy.