DOYLE MURPHY
The sinkhole is already attracting visitors.
In the clean, white snow outside the windows of the
Riverfront Times
office, we now have a sinkhole of our very own.
Maybe four feet across at the opening, it breaks neatly at the edge of the sidewalk and opens up into a cavern under Pine Street, west of 20th Street. It's hard to say how deep it is, because you hit water about five feet down.
The searching roots of vegetation hang invitingly along the fringes. We used to assume we had to follow the billboards out of the city toward Meramec Caverns for this Ozark-style charm, but now, a modest hellmouth is just a short walk away. St. Louis is full of surprises.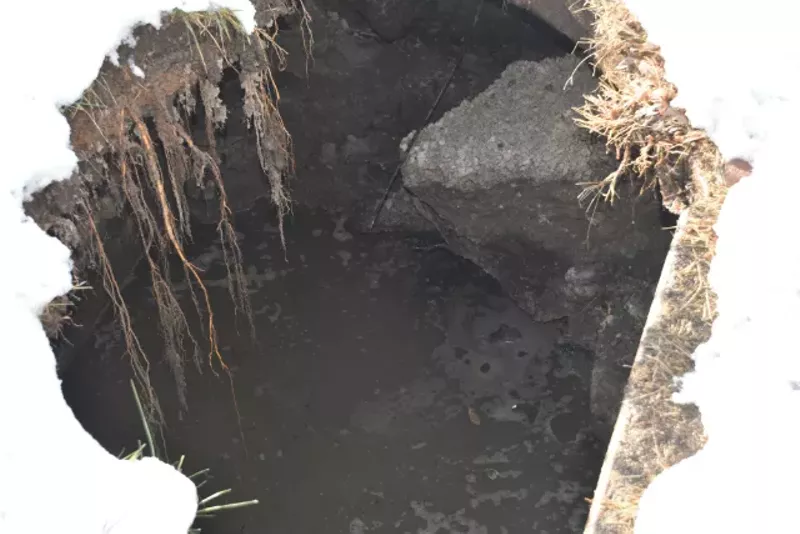 DOYLE MURPHY
Finally, a sinkhole of our own.
What's down there? Could be anything really.
St. Louis is believed to be riddled with caves, and while we assume most of that subterranean space is filled with the Provellian tentacles of the ancient Midwestern god Khaiolp'dri (prove us wrong, nerds), that remains just an educated guess. Could be vampires.
The fun part is how unexpected it all is. There are certainly streets among our crumbling hazard of roadways that appear to be turning to dust faster than a Paul McKee-owned block, but this stretch of Pine hid its secret. One day, you're driving toward the I-64 on-ramp for the thousandth time, and the next day, a little hole pops up to let you know you're rolling across what is essentially the thin roof of a cave.
We, of course, alerted the city. Workers responded quickly, and we watched through our windows as they placed folding barricades to the east and west of the hole. But before anyone gets all eager to "fix" this deal, let's consider our options. The Gateway Arch has been a hit. Maybe pair it with the Gateway to Hell? Or a wine cellar? Or maybe the
Sinkhole
wants a more literal existence?
People are already stopping by for a look. We humans are naturally drawn to sinkholes.
Maybe the thing to do would be to put some sort of subway down there. It would be more of a tourist attraction than functional transit option, but hey: the government apparently has lots of funding for
that kind of thing
.
DOYLE MURPHY
Please don't park on our sinkhole.
Correction: That on-ramp is I-64. It was wrong in the original story.

We welcome tips and feedback. Email the author at doyle.murphy@riverfronttimes.com or follow on Twitter at @DoyleMurphy.