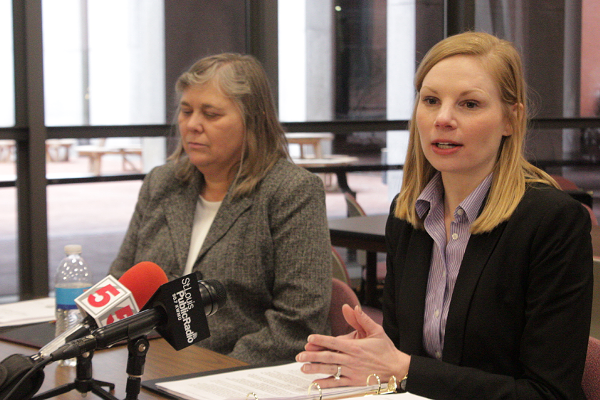 DANNY WICENTOWSKI
Auditor Nicole Galloway, right, is the only woman holding statewide office in Missouri.
Kansas may have just elected its third female governor, but here in Missouri, women remain woefully underrepresented in public office. Not only has our state government never had a woman on top, but right now we've got just one woman elected statewide: Auditor Nicole Galloway.
And for Missouri women, the news gets worse from there. According to a new
post-election analysis by the Women's Foundation
, which seeks to "reduce barriers to civic engagement for women," Missouri saw just 53 percent of its female candidates win state, federal or judicial office in last week's election. That leaves the state with a measly 25.4 percentage of women in the General Assembly, the Women's Foundation says — a very slight increase from the previous mark of 22.8 percent, but still nothing to brag about.
It's also worth mentioning: With the loss suffered by U.S. Senator Claire McCaskill (D-Missouri), the state has lost one of its highest profile women representatives. And while the state attorney general's seat opened as a result, Governor Mike Parson swiftly replaced one white male with another, appointing state Treasurer Eric Schmitt to the position.
But hey, things could be worse! Remember Kansas? They may have a female governor, but their percentage of women in their assembly actually declined thanks to this election, the Women's Foundation says: Their percentage of female representatives went from 28.4 to 26.5 percent.
Twenty-six point five percent? If Kansas keeps sliding, they could soon be Missouri!
We welcome tips and feedback. Email the author at sarah.fenske@riverfronttimes.com