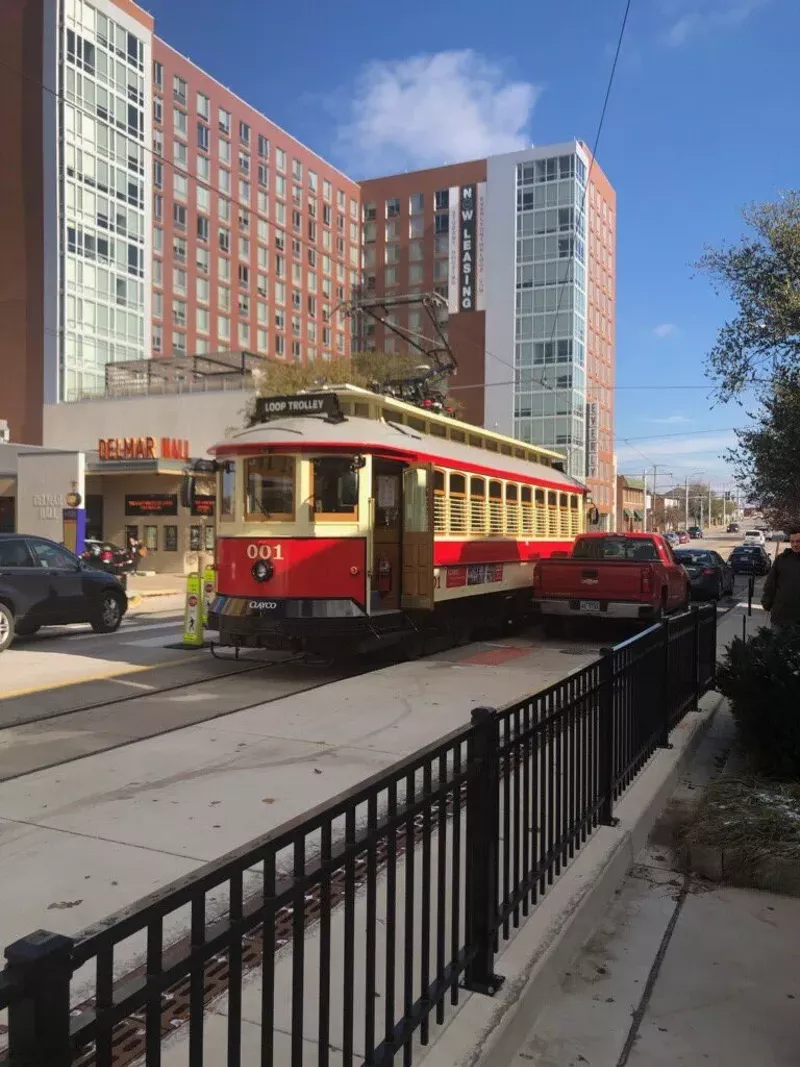 VIA AN RFT READER
This was the scene two hours ago after the trolley hit a pickup truck.
Two days before its grand opening, the Loop Trolley has again run into a vehicle parked alongside its tracks. We'll just reuse our headline from the
last time this happened, on October 23
: "The Loop Trolley isn't even open for business yet, and it already hit a parked car." The only difference is that this time, the victim vehicle was a pickup truck.
St. Louis Police confirm that a call came in for an accident involving the trolley and the truck at 12:35 p.m. There was no information on EMS being called, so a spokeswoman says she believes there were no injuries.
Still,
just like last time
, the accident took place in the 6100 block of Delmar, across the street from the Pageant.
As
we reported two years ago
, that's a place where designated street parking spots sit uncomfortably close to the trolley tracks.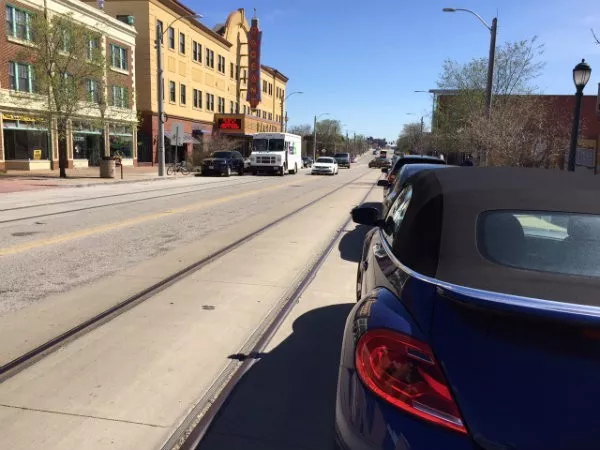 At the time, the Trolley Co.'s Chris Poehler explained that engineers needed space for a turn lane. That meant moving the tracks closer to the side of the street.
While they knew it would be tight, it only became clear after the tracks were laid just how tight. "As tracks were getting laid, it became more evident," Poehler told us. "It's not something you can see on the plan sheets."
The trolley is
planning to add paying customers
to its custom blend of anachronism and slow-moving chaos on Thursday. No word yet on whether St. Louis drivers will learn to parallel park properly before the ribbon-cutting.
We welcome tips and feedback. Email the author at sarah.fenske@riverfronttimes.com