ST. FRANCOIS COUNTY SHERIFF
Malissa Ancona now says she killed her husband.
The seamstress for the Klan now says she's the shooter.
In a letter to the judge in her murder case, 46-year-old Malissa Ancona claims she is the one who shot her husband, a rural Missouri Ku Klux Klan leader. Ancona
had originally tried to pin the killing of Frank Ancona on her 24-year-old son, Paul Jinkerson Jr.
, but is now telling a different story.
"My son is innocent," Malissa Ancona wrote in a Sept. 28 letter to Judge Wendy Wexler Horn, adding, "I want to let the court know that he did not pull the trigger, (I Did)."
WASHINGTON COUNTY SHERIFF
Paul Jinkerson Jr.
The jailed mom included the confession toward the end of a handwritten note, in which she complains about her public defender, pleads for medications and says she was deemed permanently mentally ill in 2003 by the state. (The letter was first
reported by the St. Louis Post-Dispatch
.)
Frank Acona was the imperial grand wizard of the Traditionalist American Knights of the KKK, in the tiny town of Leadwood, Missouri. His murder was the subject of a
Riverfront Times cover story in March 2017
.
RIVERFRONT TIMES
The murder was an RFT cover story in 2017.
As we reported at the time, Frank Ancona confided to relatives that he believed his wife was trying to kill him, possibly poisoning his food with medications in hopes he would fall asleep at the wheel while working his courier job. Malissa Ancona, a seamstress who specialized in children's tutus, had supported her husband's activities in the Klan, even sewing robes and patches for KKK members.
But the relationship soured over the years. Neighbors, relatives and animal rescue workers claimed Malissa Ancona's behavior had grown increasingly strange. She had begun to turn the couple's small Leadwood home into a kennel of sorts, hoarding dozens upon dozens of cats inside while trash and excrement piled up.
In February 2017, authorities believe Malissa Ancona and her son killed Frank Ancona in a bedroom of the house, and then tried to get rid of his body in a river in Washington County. Mother and son are both charged with first-degree murder, armed criminal action and abandoning a corpse.
Following her arrest, Malissa Ancona indicated she would testify against her son. She told a St. Francois County detective that Jinkerson pulled the trigger while his stepfather was asleep.
Jinkerson's father and siblings were skeptical from the start, saying the young man liked Frank Ancona and was far too meek to carry out a murder.
In her letter, Malissa Ancona says she was "under the influence" when she spoke to the detective. "I couldn't recall what happened the night my husband was shot," she wrote.
She and her son are both still facing charges and are set to be tried separately. Her case is scheduled for a trial setting in April. Jinkerson is on the docket for May.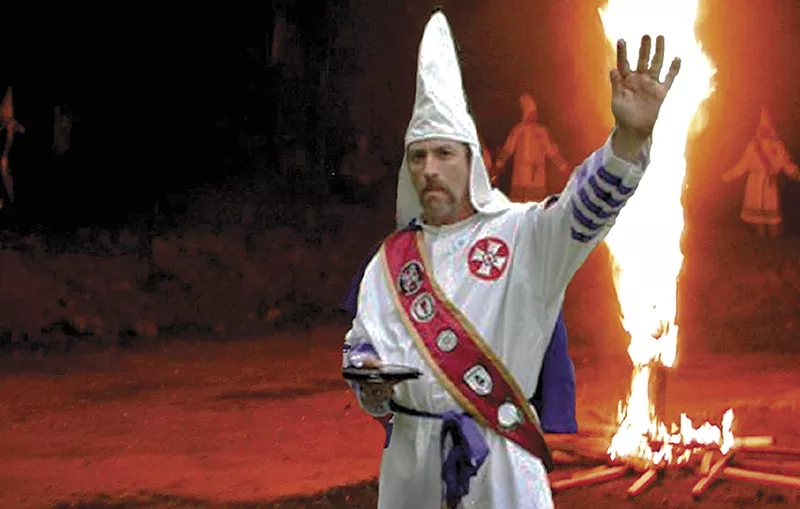 PHOTO ILLUSTRATION VIA TRADITIONALISTAMERICANKNIGHTS.COM
Frank Ancona portrayed himself as a powerful KKK leader, but the public image concealed a messy private life. ​
We welcome tips and feedback. Email the author at doyle.murphy@riverfronttimes.com or follow on Twitter at @DoyleMurphy.