DANNY WICENTOWSKI
Claire McCaskill at her watch party on election night.
On Tuesday, Debbie Grayson made the three-and-a-half hour drive to St. Louis, entered the Marriott Hotel downtown and took an escalator to a cavernous ballroom that was empty but for a gaggle of bored reporters and inert TV cameras. Grayson pulled up a chair next to a projector casting CNN on a wall
.
The seat would give her a view of the stage from which U.S. Senator Claire McCaskill (D-Missouri) would, later that night,
concede defeat
.
But Grayson doesn't know that yet. It's just past 7 p.m., and the polls have only now closed. She sits with her legs crossed, watching the pundits fill time between commercials.
"I want to wanted to participate in Claire's victory," Grayson says, explaining her eagerness to stake out her spot. "This is too nerve-racking to sit at home and watch alone, so I came for some comfort."
It hasn't been easy being a McCaskill supporter in Missouri. Grayson started volunteering with the campaign in the summer, making calls and knocking on doors.
Her hometown, Springfield, is heavily conservative (60 percent of Greene County went to Donald Trump in 2016), and so it's no surprise that many of those doors slammed in her face. But with returns just starting to come in, the race between McCaskill and her opponent, Missouri Attorney General Josh Hawley, still feels full of possibility.
Maybe McCaskill will be the crest of the blue wave that retakes the U.S. Senate. Maybe her victory will prove that Missouri is still purple, deep down, and that its residents aren't as blindly supportive of Trump's culture war as Hawley's campaign clearly believes. Maybe, just maybe, there's still room in American politics for someone like McCaskill.
To be clear, McCaskill is not Hawley's dogmatic opposite, a true liberal to his Fox News conservative. In fact, it's her unflappable centrism — and insistence on courting the middle ground in the state — that has long made her a unique Democrat, one who has generally voted with her party on key issues like reproductive rights and healthcare, but has also nabbed
the endorsement of the National Border Patrol Council
and framed her campaign in ways that, at times, makes her sound more like
a transitional conservative
than a progressive.
That hasn't always endeared McCaskill to her own party. For campaign workers like Grayson, questions about why McCaskill took so long to oppose the Supreme Court nomination of Brett Kavanaugh came up again and again while canvassing. Some of the doors slammed in Grayson's face, she says, belonged to Democrats.
But Grayson believes it's McCaskill's independence, even in the face of progressive ire, that makes her so suitable for Missouri.
To illustrate, Grayson holds her hands apart, at arm's length. "You can't get anywhere when you're like this," she says. She returns her hands to her lap. "Both sides have to come together."
DANNY WICENTOWSKI
Campaign volunteer Debbie Grayson watches the early results.
As the night drags on, the vast ballroom begins to fill with McCaskill T-shirts and the telltale nervous energy of election night. Just after 8 p.m., CNN calls West Virginia for Senator Joe Manchin — himself a centrist Democrat — which sends the crowd into happy applause.
"Holy shit!" one attendee exclaims, looking at the blue map of West Virginia like a plant that has suddenly sprouted a human head. And indeed, retaining the seat in West Virginia is a
Holy Shit moment for Democrats.
But so far, the numbers in Missouri aren't good. Early returns show Hawley in a commanding lead.
The pattern settles in over the night: Moments of other victories in other places projected onto the ballroom wall, a few seconds of clapping, and then a quick return to anxious wariness as attendees refresh their browsers again and again.
By 8:45 p.m., people are starting to gather around the front of the ballroom, sitting cross-legged on the carpet near the projector. Still in her chair, Grayson hasn't moved once, except to cross her legs and occasionally frown.
In a different part of the ballroom, St. Louis Mayor Lyda Krewson is projecting optimism, saying that she feels good about McCaskill's chances. But when asked whether this race will reveal something about Missouri, she counters that this election is far bigger than just the state.
"We can think about it saying something about Missouri, or we can think about it's saying something about our country," she says. "Is civility going to reign over hate? How are we going to deal with one another? We all have differences of opinion. But we need to be able to come together to work for the best of our country, our state and our city."
What she doesn't mention is that the Trump presidency is bigger than anything in this election. So great is the influence of the MAGA crowd that Hawley, an Ivy League-educated lawyer, completely discarded the veneer of a traditional conservative to embrace the immigration fears and nationalism that feeds Trump's base. And it's working.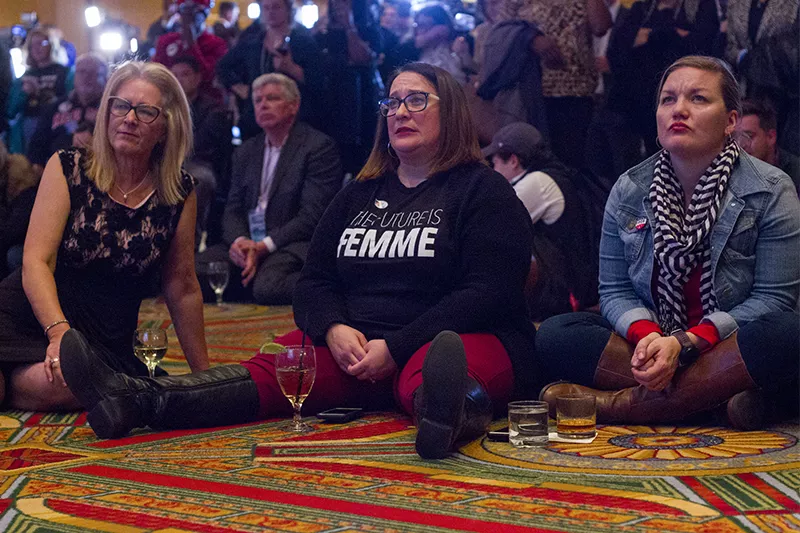 DANNY WICENTOWSKI
McCaskill supporters react to CNN calling the race for Hawley.
After 10 p.m., with 75 percent of precincts reporting, Hawley is leading McCaskill by a near landslide, 54 to 42 percent. Grayson, still in her chair, shakes her head and clutches her hands.
Forty minutes later, with the front of the ballroom packed with supporters, someone turns off CNN and replaces it with one of McCaskill's own campaign ads. Over scenes of Missouri farmland, her voice carries over the ballroom's PA system: "I won't apologize for being a Democrat. I tell the truth about where I stand."
A side door opens, and in walks McCaskill herself. She's about to give her supporters the hard truth. She's lost.
One supporter, a blonde whose shirt is covered in campaign buttons, shouts from the front row, "We love you, Claire!" McCaskill takes the mic and quiets the crowd. She opens with the bright side — the Democrats took the U.S. House and flipped multiple governorships, including those of Kansas and Illinois. That gets some applause.
"Obviously," McCaskill continues, "we fell short." Over the soft rumble of groans, she tells her supporters not to give up their passion or activism, "because there is justice around the corner."
But as McCaskill addresses her own legacy in light of the campaign loss, the speech becomes a curious sort of swan song. She's wistful about her state, she says, even if it sometimes drives her crazy. She's been a public official since 1982, moving from state representative to auditor to the U.S. Senate.
"We've had a lot of elections together, Missouri and me," she says, smiling. "My record ends at 22-2. Not a bad record."
The supporter in the front row can't restrain herself, and she bursts forth again, shouting, "CLAIRE! CLAIRE! INTEGRITY! INTEGRITY! NOBODY TALKS INTEGRITY!" She's quickly shushed.
Now McCaskill starts wrapping up, approaching the last moments of a campaign that, for all the gains of the Democrats, has only added to the evidence that America's divisions go beyond the old model of left and right, and surely beyond centrist Democrats' old consolation of the Big Tent.
In other states, perhaps, the tent is big enough. While the purists may grouse that McCaskill's quasi-conservative branding turned off progressives in Missouri, the fact that the national party flipped two dozen House seats in otherwise red districts shows that centrism is not dead, not by a long shot. It's just not much in evidence in Missouri.
DANNY WICENTOWSKI
McCaskill supporters and volunteers listen to their candidate's concession speech.
McCaskill knows that her attempts to straddle that divide haven't always worked. When her campaign aired an ad to reassure voters that she's not "one of those crazy Democrats," it raised the hackles of progressives.
"I know my mouth gets me in trouble a lot, right?" McCaskill tells the crowd. "But believe it or not, I really had to be kind of careful. Not anymore."
The line receives thunderous applause, though the cheers come with the last reserves by campaign staff and volunteers. Even cheering, the supporters struggle to hold their composure. Their eyes are wet, and groups of visibly exhausted volunteers in campaign T-shirts are sharing embraces and whispering reassurances to those taking it the hardest.
"I will be out there fighting with you,
I am not going away," McCaskill says. "I look forward to helping you, helping nurture the next generation of leaders for the values that we care about, and for now, it is good night. But it is not goodbye."
McCaskill leaves the stage. The crowd churns in its own slow exit, a process slowed by the groups of volunteers still enmeshed in tearful embraces.
By the projector, Grayson's chair is empty. Somewhere, a campaign volunteer waves off a comrade offering of a glass of some unknown liquor, saying, "You know my rule; I don't drink when I'm sad."
McCaskill's Senate seat will now be taken by Hawley, who, during his victory speech in Springfield, pledged to secure the border with Mexico and bring back overseas jobs.
He is the perfect Republican
for this new political age.
And what of this new version of McCaskill, the one who no longer needs to be careful? It's interesting to note that she doesn't explain the object of that carefulness she mentions in her speech — was she careful about veering too far to the right, so as not to further alienate her base? Or, as Republican operatives
suggest
, has she been hiding her liberal streak these many years? Which was it?
Only McCaskill really knows just yet, but it's fitting, perhaps, that her final campaign speech ends on the note of ambiguity, her own words indicating multiple possibilities for her next acts: Perhaps as an liberal unleashed and unburdened, free to disrupt a world of one-note Trumpian yes men. Or perhaps her next act is that of fearless truth-teller no longer constrained by her political dependency on either red
or
blue voters.
Perhaps we have not yet met the real Claire McCaskill. Whatever happens, Missouri should keep close watch. We advise you to get a good seat, close to the front if you can. The McCaskill show may only be getting started.
Follow Danny Wicentowski on Twitter at @D_Towski. E-mail the author at Danny.Wicentowski@RiverfrontTimes.com