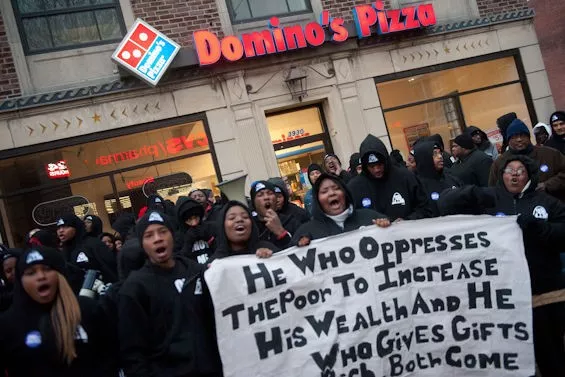 JON GITCHOFF
Fast food workers took to the streets in 2013, part of St. Louis' long slot toward finally getting a minimum wage increase.
Missouri voters have said yes to a minimum wage increase — approving a ballot proposition that will raise the hourly wage from $7.85/hour to $12/hour by 2023.
That's according to incomplete election returns, but the margin has been big enough that the
New York Times
called the race at 10 p.m.
With 54 percent of precincts reporting statewide, the ballot proposition was comfortably ahead — claiming 60.6 percent of the vote.
Backers also declared victory.
"Republicans, Independents, and Democrats from across Missouri turned out to help workers, businesses, and the state's economy by voting to raise the minimum wage," Carl Walz, campaign manager of Raise Up Missouri, said in a statement. "Today's strong show of support sends a clear message that Missourians believe that no one who works full time should have to live in poverty and struggle just to raise their family and that it is well past time to give low-wage Missouri workers a raise."
Proposition B was backed by a coalition of labor, faith-based groups and activists. It will ensure a series of small but steady increases: to $8.60 in 2019; $9.45 in 2020; $10.30 in 2021; $11.15 in 2022; and then $12 in 2023. After that, the state's minimum wage increases or decreases annually based on changes in the Consumer Price Index for Urban Wage Earners and Clerical Workers.
Prop B's success was a long time coming for advocates, including Wanda Rogers, who watched returns at a joint party with the Clean Missouri initiative at Flamingo Bowl in downtown St. Louis tonight. "I'm a fast food worker. We need healthcare and to pay rents and buy groceries. We need a raise to take care of our families," Rogers said.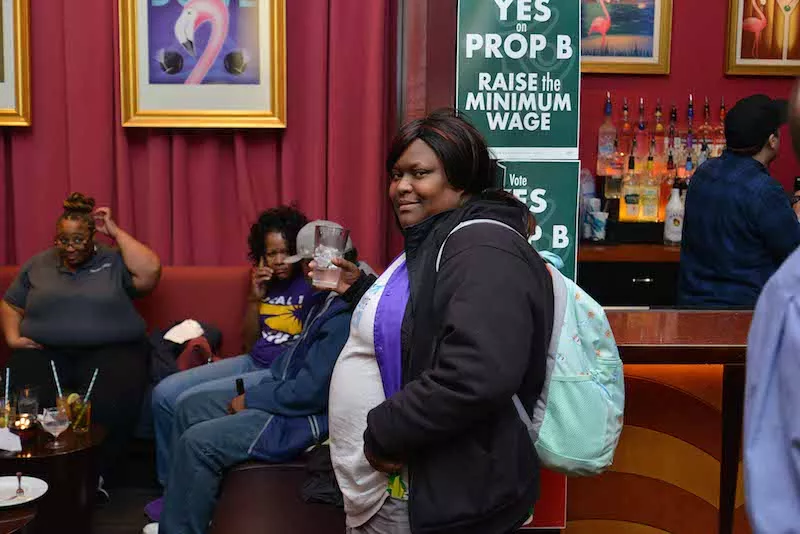 TOM HELLAUER
Wanda Rogers attends the watch party.
After the St. Louis Board of Aldermen passed its own minimum wage increase in 2015, the Missouri legislature slapped it down. House Bill 1194 barred cities from taking action on the wage — and had the unfortunate timing of going into effect after the city's increase had already begun showing up on paychecks. In essence, many St. Louis workers went from making $10 to $7.70.
While some St. Louis businesses vowed to
"Save the Raise" voluntarily
, a coalition called
Raise Up Missouri set in motion plans for a statewide ballot proposition
to get all of Missouri on board for an even bigger increase.
Proposition B faced no organized opposition.
Tom Hellauer contributed to this story
We welcome tips and feedback. Email the author at sarah.fenske@riverfronttimes.com