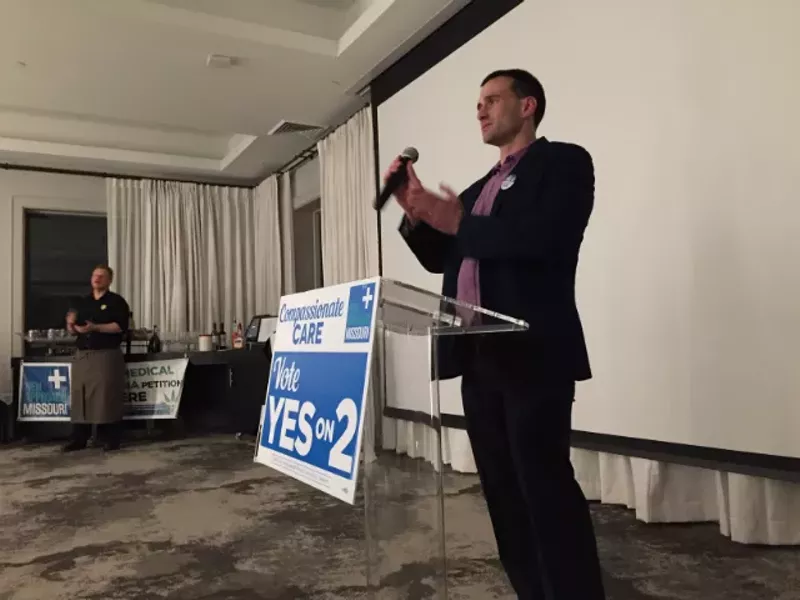 JAIME LEES
New Approach campaign manager John Payne announces the good news to supporters.
It has been a weird, confusing campaign for medical marijuana's supporters, but we finally have a winner and can stop trying to memorize the details of all those options.
The mainstream favorite of the three proposals on the state ballot — Amendment 2, proposed by legalization activists New Approach Missouri — was easily the choice of voters.
After
a failed attempt in 2016
, New Approach returned with a constitutional amendment to allow doctors to prescribe cannabis for specific conditions, such as cancer, PTSD and glaucoma.
Unlike 2016, though, New Approach's Amendment 2 had to fight for attention with two other options. For voters, that meant it was not enough to approve of medical marijuana; supporters had figure out exactly how they wanted to see it come to Missouri.
A rich doctor/lawyer argued that the best idea was to create a state-sponsored research institute, led by a board, which he would then preside over. Springfield resident Brad Bradshaw claimed — during a largely self-funded campaign —
his Amendment 3 proposal could make real progress toward curing cancer
. It also came with a pricey tax hike — fifteen percent.
At a watch party at the newly opened Angard Arts Hotel, Amendment 2 supporters cheered the defeat of Bradshaw's Amendment 3, and cheered again when the their proposal won.
"The reason we won and Bradshaw didn't is he is one guy with a lot of money," New Approach campaign manager John Payne told supporters after the
New York Times
called the race for Amendment 2. "We just proved he can't buy an amendment and just write himself into the constitution."
Along with the two constitutional amendments, there was Prop C. We never really knew who was behind it. Funded by a dark money backer and run by consultants with deep ties to Rex Sinquefield, the Patient Care Act had the lowest tax rate at two percent, but fell well short of the votes it needed to pass. If it had, the state would have had to sort out which new rules applied to Missouri's legal medical marijuana future. Instead, the results were mercifully clear.
Staff writer Jaime Lees contributed to this story.

We welcome tips and feedback. Email the author at [email protected] or follow on Twitter at @DoyleMurphy.