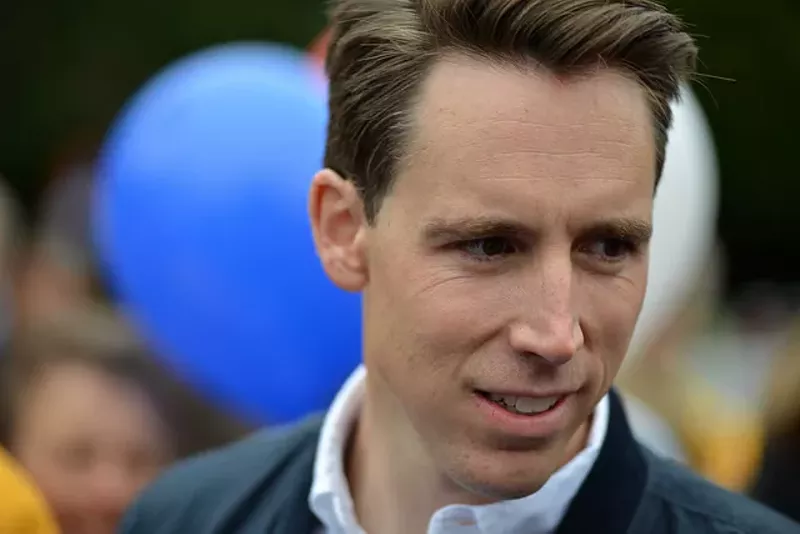 TOM HELLAUER
Missouri Attorney General Josh Hawley will be the state's junior senator.
Josh Hawley has beaten incumbent U.S. Senator Claire McCaskill (D-Missouri) in one of the most watched, and most expensive, Senate races in the country.
Hawley declared victory at 10:45 p.m., with 83 percent of precincts reporting. At that point, the Republican was up by 52.7 percent to McCaskill's 44.3 percent.
McCaskill began her concession speech soon after.
DANNY WICENTOWSKI
Senator Claire McCaskill gives her concession speech.
The race, once believed to hold the key to Democrats taking control of the Senate, was a slugfest — and frequently negative. Hawley derided McCaskill as a "party-line liberal." McCaskill fired back that Hawley was the very sort of
ladder-climbing politician he'd only recently run against
.
And it wasn't just the candidates taking swipes at each other. PACs run by Senate Minority Leader Chuck Schumer (D-New York) and Majority Leader Mitch McConnell (R-Kentucky) each spent more than $20 million in Missouri. The non-partisan Center for Responsive Politics ranked
Missouri's Senate race as the second most expensive in the U.S.
, behind only Florida. It listed total spending as of press time at $71 million. Most of that was negative by its tally — $34 million against McCaskill, $29 million against Hawley, with a mere fraction of that total in each case being spent "for" the candidate.
Donald Trump came to town — more than once. So did Vice President Mike Pence and Lindsey Graham. On McCaskill's side, Cory Booker made an appearance, and so did Joe Biden.
The race also included a Libertarian, a Green and a registered Independent.
McCaskill was first elected to the U.S. Senate in 2006. She handily won reelection in 2012 after cannily backing U.S. Representative Todd Akin in the Republican primary — and then cruising to victory on his fumbling assertion that women don't get pregnant in the case of "legitimate rape."
Hawley won his first elected office just two years ago, winning a contested GOP primary and then a weak Democratic candidate to take the attorney general's office. He had barely taken the position when party leaders publicly called on him to run against McCaskill. Originally the hand-picked heir of the determinedly high-minded John Danforth, Hawley later allied himself closely with Trump.
We welcome tips and feedback. Email the author at sarah.fenske@riverfronttimes.com