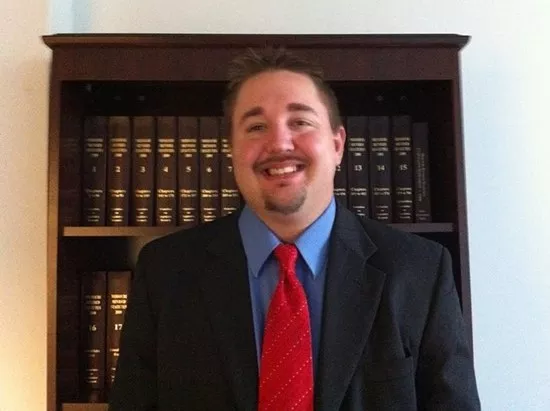 FILE PHOTO
St. Francois County Prosecutor Jerrod Mahurin.
Usually, when a prosecutor decides to play hard ball with a drug suspect, that suspect is in for a bad time. But two years ago, in the case against Sam Green, St. Francois County Prosecutor Jerrod Mahurin overplayed his hand — to the point that Green's sentence was changed after the fact and jail time was taken away.
Green, a 23-year-old St. Louis resident and college student, faced misdemeanor charges for marijuana possession, paraphernalia possession and speeding. He pleaded guilty, and on February 17, 2016, he faced a judge for sentencing, court records show.
The judge handed Green a suspended sentence for the drug charges — meaning Green's conviction wouldn't show up in background checks so long as he followed the rules during two years of probation. The judge also ordered Green to pay $800 in fines and spend ten days of shock time in the county jail.
That's where the matter could have ended. But Green's lawyer, Renee Murphy, says Mahurin was enraged by the sentence.
"After we left the courtroom, while my client and his family were still in the courthouse, Mr. Mahurin stormed up to me," Murphy claimed in a lengthy post to a private Facebook group yesterday. (She both confirmed the story in a phone interview with the
RFT
and gave us permission to quote from the post.)
Murphy's post continued: "[Mahurin] was visibly infuriated. He told me that he wanted me to know that he had called my client's employer and told them about my client pleading guilty to marijuana possession."
Mahurin's statement came as a shock to Murphy. Her client had a job lined up at a St. Louis brewery, and in court she had argued that Green deserved a suspended sentence in order to preserve the opportunity for gainful employment. The judge had agreed. Mahurin apparently didn't.
Murphy immediately filed a motion to the court, asking the judge to reconsider the conditions of Green's probation. In a motion dated the same day as the sentencing hearing, Murphy wrote, "Since the state of Missouri may have sufficiently punished the defendant by interfering with his employment, defendant respectfully requests that this court reconsider the special conditions herein."
The judge, Rob Fulton, accepted the request. Green was sentenced a second time, this time to a lighter sentence: no shock time, one year of probation, $800 in fines.
But that wasn't the end of it. Mahurin again confronted Murphy after the hearing.
In the Facebook post, Murphy wrote that Mahurin "was furious." In his tirade, she claims, he told her that he'd been bluffing about calling Green's job.
"He told me that he hadn't actually talked to the Human Resources people," Murphy wrote, "but that he intended to do so immediately. I was stunned again." After all, if Mahurin was to be believed, his bluff had achieved precisely the opposite effect of what he'd desired: a lighter sentence.
Mahurin did not respond to questions about the incident sent by email on Thursday afternoon.
As for Green, the college student eventually got the job at the brewery, but he's now relocated outside of St. Louis. Murphy says that her former client gave her permission to publicize the story; in her post, she offered an apology to her family and friends "for any unpleasantness they will have to face because I came forward."
In July, Mahurin was the subject of an
RFT
cover story detailing allegations of unprofessional behavior, including claims that the prosecutor had sexually harassed members of his all-female clerical staff. One former clerical worker in his office, Lisa Davidson, who initially spoke to
RFT
as an anonymous source,
was fired from the office
one day after Mahurin sat down with the
RFT
to address the allegations.
Mahurin has denied harassing anyone, and during his interview with the
RFT
in June, he countered that he is the victim of politically motivated attacks.
A Democrat, Mahurin is up for the first contested election of his tenure next week. His Republican opponent is a former St. Louis city assistant prosecutor, Melissa Gilliam.
But politics alone don't explain Mahurin's conduct toward Green — or what colleagues and lawyers who've dealt with him say is hot-headed behavior. As reported in the
RFT
cover story, in 2017 Mahurin clashed with a Farmington police officer who had commented on Facebook on a news story about how Mahurin had settled a domestic violence case with guilty plea that featured no jail time.
The officer, Ryan Miller, had commented, "Good thing he didn't get caught with drugs or he would spend his life in prison." In response, Mahurin went to Miller's chief, saying that the officer "has no credibility left" and that the prosecutor's office would no longer work with him on cases. Miller eventually left law enforcement.
Mahurin's office is also currently the subject of
a state audit that was launched in August
following "credible" allegations of financial mismanagement.
Still, with less than a week before election day, Mahurin is campaigning hard. In
an ad
running in the area's local paper,
The Daily Journal
, he touted his conviction rate — 97 percent — and accused his opponent Gilliam of "slinging mud and making baseless accusations." The ad also contends that the former St. Louis prosecutor was drawing support from outside St. Francois County.
"Which candidate has the thoughts and concerns of St. Francois County and its values at heart," the ad reads, "and which has the thoughts and values of St. Louis?"
Those comments echoed an earlier Facebook post. "Mark your calendars for November 6th!" Mahurin
wrote
on October 30. "Keep [St. Francois County] a safe and great place to raise a family! Keep this from turning into STL!"
Follow Danny Wicentowski on Twitter at @D_Towski. E-mail the author at Danny.Wicentowski@RiverfrontTimes.com