COURTESY OF ST. LOUIS POLICE
Rachel Nixon was charged with murder in the April killing of Jerome Boyd.
Update at 10:27 a.m. Thursday:
Three more people have now been charged in the killing of Jerome Boyd: 27-year-old Ammizabad Johnson, 25-year-old Darean Marshall and 40-year-old Karen Ann Quinn. All three St. Louis city residents have been charged with murder, robbery and armed criminal action.
The original story continues below.
A Webster Groves woman lured a St. Louis man into a deadly ambush in the Bevo Mill neighborhood, authorities say.
Rachel Nixon, 40, and three accomplices tricked 36-year-old Jerome Boyd into thinking he was making a drug deal during the early morning of April 15, according to court documents.
When Boyd pulled up in the 5400 block of Gravois Avenue, Nixon allegedly got into the front passenger seat of his SUV and told him to drive up the street. The accomplices were waiting.
In a probable cause statement, police say one person opened fire from the front, blasting into the engine compartment. A second shooter then popped into the back seat and shot Boyd in the back of the head.
Police responded at 1:14 a.m. to reports of gunfire and found Boyd dead in his SUV. Along with the wounds to his head, he had been shot in the back and hand, authorities say.
The killers stole drugs and a radio amplifier, according to court papers.
On October 31, only Nixon was charged in the case. She is facing four felonies: second-degree murder, robbery and two counts of armed criminal action. She was held on a $250,000 bond.
Court records identify three co-defendants, two men and a woman. They were charged on November 1.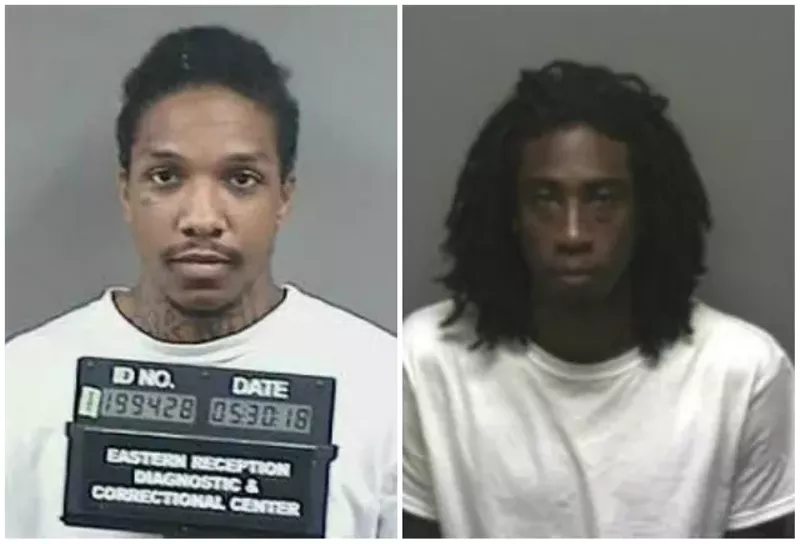 MISSOURI DOC/FRANKLIN COUNTY
Ammazibad Johnson (left) and Darean Marshall were also charged in Jerome Boyd's killing.
We welcome tips and feedback. Email the author at doyle.murphy@riverfronttimes.com or follow on Twitter at @DoyleMurphy.