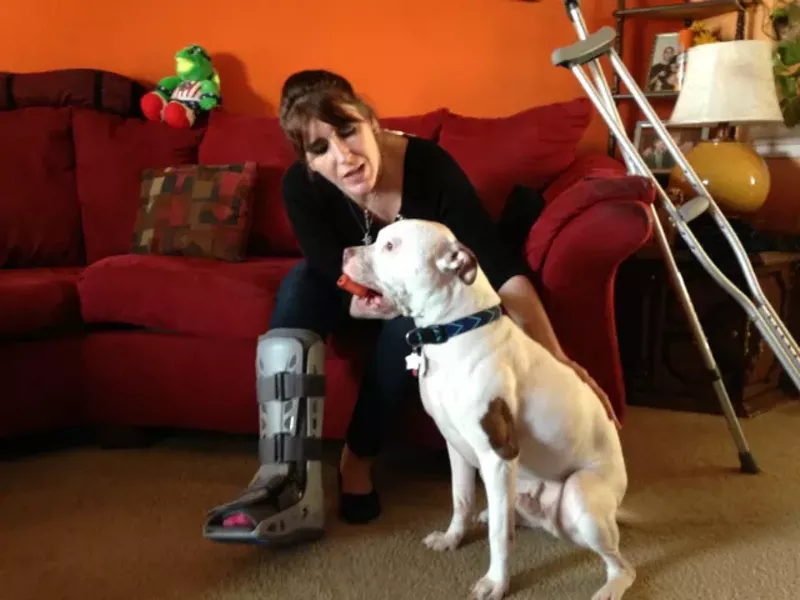 DOYLE MURPHY
Peggy Cobb with King less than two months after a St. Louis cop shot her in the leg.
Peggy Cobb's son and his best friend were murdered less than 24 hours before a St. Louis cop shot her in the leg by accident.
Three years and two surgeries later, the grieving mother is suing the officer and the city for $25,000 to cover her medical expenses and other damages.
The suit, filed Monday by attorney Ross Tyson Mutrux, accuses Officer Lavell Bell of "gross negligence" for the October 2015 shooting. It's worth noting that
Bell was reportedly shooting at another dog last month
when he accidentally shot a police cadet in the wrist.
In 2015, Bell was one of multiple officers who showed up at Cobb's door the day after her son, James Cobb Jr., and his friend Haris Hajdarevic were gunned down in front of her Bevo Mill home. The double homicide was the subject of a
2016 Riverfront Times cover story
.
James Cobb Jr. and the mother of his baby son were in a custody dispute at the time. The mother's new boyfriend, Rey Hernandez, opened fire on the young father and Hajdarevic, killing them both.
The next day, officers and social workers arrived at the house to take custody of the baby. King, who had been James Jr.'s dog, hopped over a baby gate as the house filled with family members, friends and strangers. Bell fired, missed the dog and hit Peggy Cobb in the shin.
The shooting knocked her out of work for more than seven months, and she has permanent damage in her leg. "It will never, ever be 100 percent," she says.
According to the suit, at least ten people, including the baby, were in the Cobb family's small living room when Bell fired. At the time, police claimed the dog "lunged" at officers. But Cobb has always disputed the idea that King was on the attack, noting he didn't bite anyone, even after the officer's bullet failed to hit him.
"If he was going to bite him, after the gun shot went off, we wouldn't have been able to stop him," she says.
Hernandez was found guilty in April
of murdering James Cobb Jr. and Hajdarevic and sentenced to spend the rest of his life in prison.
Sunday was the three-year anniversary of the killings. Peggy Cobb and a small number of friends and family visited the cemetery and released balloons in his memory.
FACEBOOK
Haris Hajdarevic, left, and James Cobb Jr. were close friends who were shot to death in 2015.
We welcome tips and feedback. Email the author at doyle.murphy@riverfronttimes.com or follow on Twitter at @DoyleMurphy.