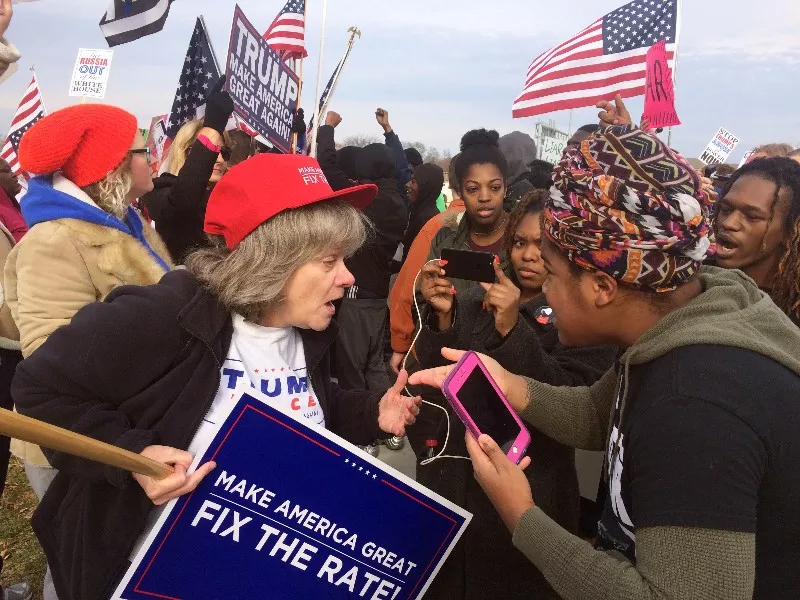 DANIEL HILL
Trump supporters and critics debate outside a campaign rally in November 2017.
Like a mass of cicadas crawling out of the ground, the November 6 election is bringing a swarm of speech-givers and hand-shakers to Missouri — a nuisance at any time of the year, and all the more so when we're all just trying to enjoy
our allotted 3.8 days of fall
without suits shouting at us about politics.
Yet here we are. On Saturday, Donald Trump held
a campaign rally
about 90 miles from St. Louis, in Murphysboro, Illinois, where he blasted the press, enjoyed a rousing group chant of "lock her up" and tastefully pondered aloud about whether the massacre of eleven people at a synagogue in Pittsburgh that morning could have been prevented by an armed guard. Everything is fine!
And Illinois won't be hogging all the Trump attention. The president has
previously
made several visits to Missouri to support J Crew model/U.S. Senate candidate Josh Hawley, and Trump is slated to return this Thursday for a "Make American Great Again Rally"
in Columbia
.
By then, though, Democrats will be riding high on folksy favorite-uncle vibe of former Vice President Joe Biden, who will be appearing in Bridgeton
on Wednesday
to marshal support for incumbent Senator Claire McCaskill (D-Missouri) and Cort VanOstran,
who is trying to unseat
U.S. Representative Ann Wagner (R-Ballwin).
The upcoming visits from Trump and Biden follow a weekend of heightened activity for both parties. On Sunday, U.S. Senator Lindsey Graham (R-South Carolina) and U.S. Representative Senator Cory Gardner (R-Colorado) both spoke at a Missouri GOP rally in Chesterfield to support of Hawley.
That same day,
House of Cards
creator Beau Willimon appeared with Planned Parenthood Action Fund for at a get-out-the-vote event for VanOstran. Actress Jennifer Lawrence has also made a splash in the Missouri with a video ad
for Amendment 1, which is seeking to reform Missouri's voting districts and significantly curb lobbyist gifts to legislators.


Remember back in 2016 when no one gave Missouri the time of day .... they were all too busy kissing Ohio's ass? Well, we've finally got some races that really are
races
here. It's downright exhausting (and we're not even getting into the endless stream of Hawley ads
polluting the airwaves
). It feels like a circus out there.
But while even political junkies are reaching election fatigue, please don't lose sight of what's at stake.
We're trying to have a civilization here
. It needs you. It may not need yet another visit from a D.C. celebrity or rando Hollywood type, but your vote is a whole different story.


Follow Danny Wicentowski on Twitter at @D_Towski. E-mail the author at Danny.Wicentowski@RiverfrontTimes.com