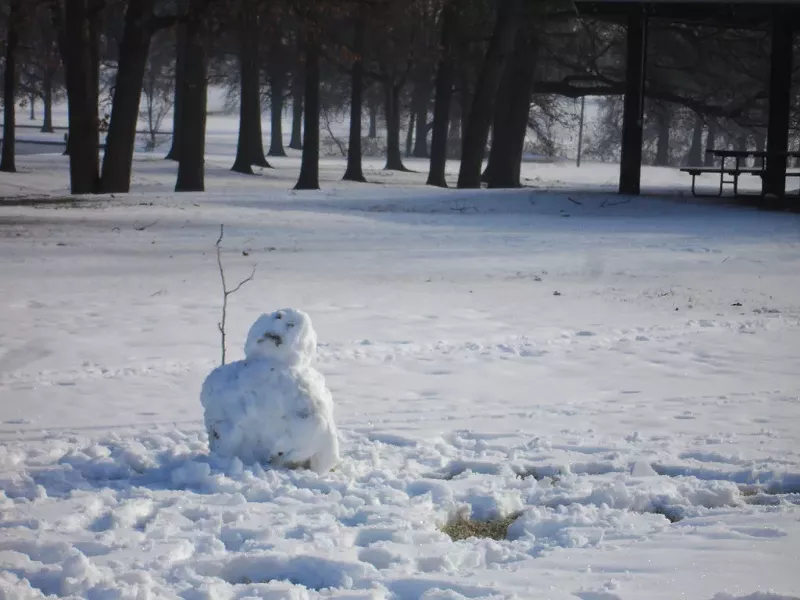 Remember in elementary school when they taught us the basics? Like how there are four seasons, how the food pyramid will keep us healthy and and how we could trust authority figures like cops and Republicans?
All lies
.
The sad truth is that we're all on our own out here and that the GOP will kill your ass even faster than a diet heavy in simple carbohydrates. Oh, cruel world. And now it also seems that the lesson about experiencing
four entire
weather seasons was complete nonsense, too.
It's only October 16 and it was 86 degrees a week ago, yet this morning we were under a frost warning. Last night all the local meteorologists were like "bring your plants inside, dummies, it's not yet Halloween but it's still about to get as cold as a witch's titty out there." (We're paraphrasing, but that's what they meant.)
With each year that goes by in this gloriously beautiful, lovably messy city we call the Lou, it seems as though what passes for "spring" and "fall" are shrinking into a barely noticeable few precious hours of temperate bliss. Our weather swings from freezing to steaming and then back again, with hardly any time to enjoy those spring moments where you gaze lovingly at budding flowers as you throw your windows open. We also don't get those fall scenes that you see in movies where you wear a cardigan and stroll with your mocha through crunching leaves. Nope, we only get to sweat or shiver for 361 days per year.
Is this normal? Is this the result of climate change? (
It is fact
, so don't even try to argue.) Are we just being cranky because we're suddenly desperately clinging to space heaters? At least all of this character-building, right? Ugh. It's hard to find an upside with frozen toes.
And the fact is, if this sudden cold snap caught you by surprise, just imagine what it's doing to those without your resources (and by that we mean closets, and coats, and a bit of money). If you have an extra coat that you don't use, you can find it a better home at
OneWarmCoat.org
. Just enter your zip code and you can find all of the drop-off locations near you hosting coat drives.
Stay warm and sexy out there, St. Louis.
Email the author at jaime.lees@riverfronttimes.com