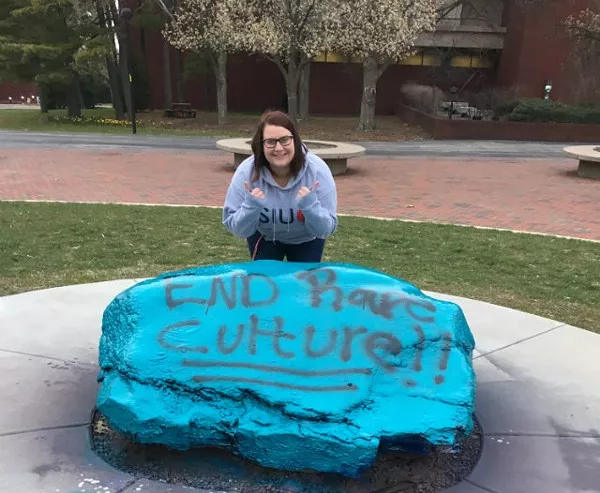 COURTESY OF BAILEY REED
Bailey Reed is now suing Southern Illinois University-Edwardsville.
A Southern Illinois University-Edwardsville student who accused a fellow student of rape is suing the university over its handling of the case.
Bailey Reed was an undergrad in October 2017 when, she says, a fellow student forced her to perform oral sex on him, then pulled down her pants, held her down and raped her vaginally. She went to the hospital that night, and reported the assault soon after to both the police and the campus' Title IX office.
But as the
RFT
first reported in May
, even though the campus Sexual Harassment Panel hearing Reed's complaint found in her favor, saying her alleged assailant violated university policy, Chancellor Randall Pembrook overruled the panel without providing an explanation.
Reed asked the school's board of trustees to overrule the chancellor. At the time, she hoped to settle the matter without resorting to a lawsuit, according to her attorney, Nicole Gorovsky. But the trustees failed to take action, and so today, she filed suit in federal court.
Says Gorovsky, "SIUE had many opportunities to provide a fair and non-discriminatory process in this case. It chose instead to violate a student's rights. SIUE stole Reed's ability to have an education free from sexual harassment and gender discrimination."
The suit alleges multiple violations of Title IX, the federal law seeking to guarantee equal access to education regardless of gender. It also alleges the university failed to train and supervise its employees to deal with sexual assault cases.
Doug McIlhagga, a spokesman for the university, said it had not had time to review the complaint and would not have a comment at this time. Previously, the university had defended its handling of Reed's case, saying, "SIUE takes all complaints of sexual assault and other forms of sexual harassment very seriously, and seeks to provide a harassment and discrimination free environment to all SIUE students, employees and visitors." [See our update at the bottom of post.]
In the lawsuit, Gorovsky highlights not just the actions of the chancellor, but also of a university employee named Ashley Cox. The suit says that after Reed went to the hospital on the night of the assault, hospital staff brought in Cox, who was described as working for a non-profit rape crisis center.
Cox, the lawsuit alleges, questioned Reed several times about whether she really wanted to go through with reporting the assault, suggesting it would be a difficult path to take. And when Reed added that she didn't feel safe living in the apartment where the rape had taken place, Cox allegedly told her "sternly" that "nothing could be done about that."
The suit also alleges that Cox said she would file the Title IX complaint on Reed's behalf. But when Reed and her mother later followed up, they learned she had not done so — and that, in fact, Cox had told administrators Reed didn't want to file a complaint.
"It was not until September 2018, that Plaintiff and her counsel learned, through online research, that Defendant Cox, who discouraged Plaintiff from reporting her sexual assault and failed to start the Title IX process when asked was a Defendant university employee," the lawsuit notes.
"Defendant Cox, as an employee and representative of Defendant University, in the course and scope of her employment, actively concealed her role as a Defendant University employee while failing to seek accommodations for Plaintiff, actively discouraging Plaintiff from moving forward with reports of her abuse and failing to follow through on her offer to begin the Title IX process with the Defendant."
The
RFT
generally does not name victims of sexual assault, however, Reed previously indicated she had nothing to hide and
was comfortable having her name used
. "She knew this was how she wanted to handle it," Gorovsky said.
Reed graduated from SIUE this spring.
Update on October 17 at 7 p.m.:
University spokesman McIlhagga gave us a statement, saying, "While the University does not generally comment on pending litigation, we disagree with many of the allegations made in Ms. Reed's lawsuit regarding her treatment by SIUE and the University's Title IX investigation process. SIUE takes all complaints of sexual assault and other forms of sexual harassment very seriously, and seeks to provide a harassment and discrimination free environment to all SIUE students, employees and visitors. SIUE will vigorously defend against the allegations made by Ms. Reed in her complaint."

We welcome tips and feedback. Email the author at sarah.fenske@riverfronttimes.com