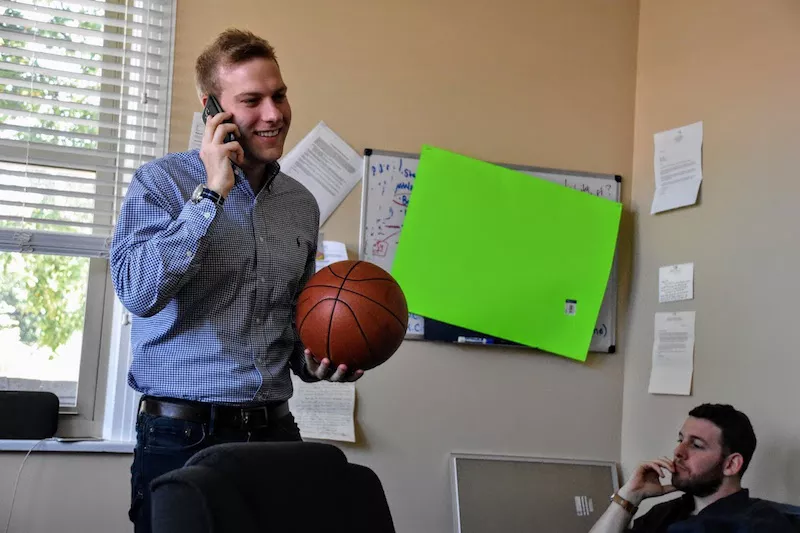 DOYLE MURPHY
Challenger Cort VanOstran works the phones.
It was a very good quarter for Cort VanOstran, the Clayton lawyer who hopes to take down U.S. Representative Ann Wagner (R-Ballwin) in November — he raised nearly twice as much.
Quarterly fundraising reports filed last night cover July 19 to September 30, a time when VanOstran took the Democratic primary and could finally present himself to donors as the party's nominee. That clearly paid off (albeit not quite in
Beto O'Rourke-ian proportions
): VanOstran brought in $742,733 in net contributions for the third quarter, while Wagner raised $357,831 in the same time period.
Those numbers are particularly impressive in light of two factors: Wagner is the incumbent, and VanOstran has refused to take any money from corporate political action committees. (Wagner had taken more than $1.3 million from such PACs as of July.)
For months, political observers have suggested that Missouri's second congressional district, long a safe one for Republicans,
could be in play
. Suburban women, they say, are fed up with Trump and could send a "blue wave" to Washington. For its part, VanOstran's campaign has pointed to a late August poll
showing it in a virtual with Wagner
.
And yes, money should help get the word out. "Voters are ready for a change and they are sending the message loud and clear –- Congresswoman Wagner has failed to deliver for the people of this district and hasn't earned another term," VanOstran declared in a press release, which notes that he's outraised Wagner in four of the last five quarters.
Still, those victories may only count for so much in light of all the money Wagner has squirreled away. FEC reports show she's got a staggering $2.6 million cash on hand. VanOstran? $378,433. Maybe all those Democrats pouring money into the O'Rourke campaign in Texas want take a closer look at a race the party could actually win?
(For much more on VanOstran, check out our cover story tomorrow.)

We welcome tips and feedback. Email the author at sarah.fenske@riverfronttimes.com