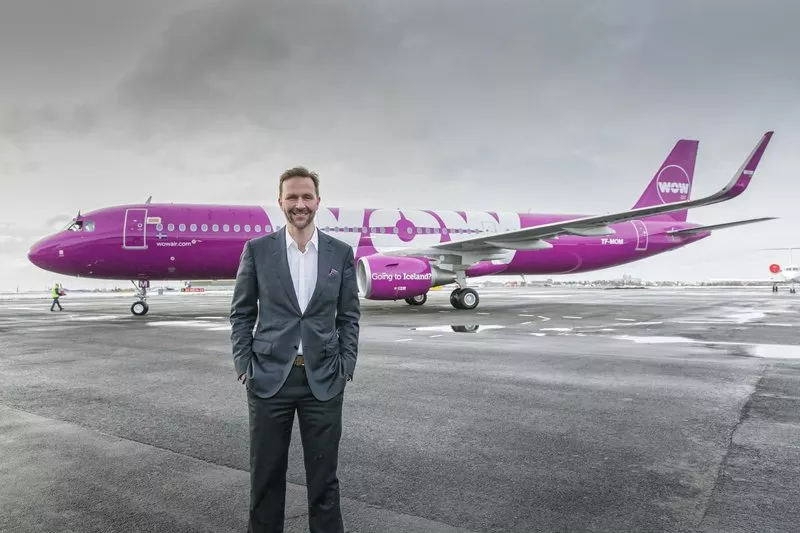 COURTESY OF WOW AIR
Skúli Mogensen, the founder and CEO of WOW air. His company is departing St. Louis' airport.
WOW Air's flights from St. Louis to Iceland were about as cheap as transatlantic travel gets. Starting in May, the airline's
first flights
out of St. Louis cost Iceland-bound passengers just $99, and in September the price dropped even lower,
to just $69
.
But if you checked for flights this morning, they'd skyrocketed — anything after January 7 was set at more than $1,100 each way.
Turns out there was good reason for that. In a statement released this afternoon, St. Louis Lambert International Airport announced that the airline will end its direct flights to Iceland in January.
"We're disappointed,"
the airport statement notes
, "because the response from customers across the St. Louis region was strong and we were told we were one of the airline's top performing markets in the Midwest."
The news must be especially disappointing for airport officials, who touted the Icelandic airline's flights as a sign for growth for Lambert at a time when the city is mulling a proposal to privatize the airport's operations. Before WOW, Lambert had been in a fifteen-year drought of transatlantic air travel.
And it wasn't cheap getting WOW to land in St. Louis, even for a short five months. As the
St. Louis Post-Dispatch
reported
, the St. Louis County Port Authority pledged $600,000 in incentives, and the airport promised another $200,000. With WOW pulling out, those incentives are now off the table. According to Lambert spokesman Jeffrey Lea, those payouts hinged on WOW maintaining two years of service, a benchmark the airline will obviously miss.
The impending end of WOW's St. Louis service appears to have been first spotted by a Reddit user
Sunday
. The user suggested that ticket prices for upcoming flights indicated a January 7 cutoff date trying to dissuade travelers from booking new flights after then.
Indeed, according to a search earlier today of WOW ticket prices, the cost of a direct flight from St. Louis to Reykjavik on January 7 comes to $139.99. The next flight, for January 9, is listed at $1,119.99. And that's just one way.
Update on October 16:


It looks like WOW's time in St. Louis may not have been as strong as Lambert officials believed. In an email to
RFT
, WOW spokeswoman Svana Fridriksdotti confirmed that airline's service is ending in January — the last flight from Iceland arrives in St. Louis January 6, with the final return flight to Iceland scheduled for January 7 — but also added a contrasting perspective to the situation.
"Unfortunately, it has to be said that St Louis was a disappointment for WOW air this summer in terms of end results," Fridriksdotti wrote, "with load factors not achieving the targets that were set for the route in the beginning, and compared to other markets in our network."
Fridriksdotti added that WOW is also cancelling service in two other airports, at Cincinnati/Northern Kentucky International Airport and Cleveland Hopkins International Airport. Those cancellations are effective this month.
Editor's note: The story was updated after publication to explain the current status of the incentives previously pledged to WOW, and to include information from Lambert spokesman Jeffery Lea.