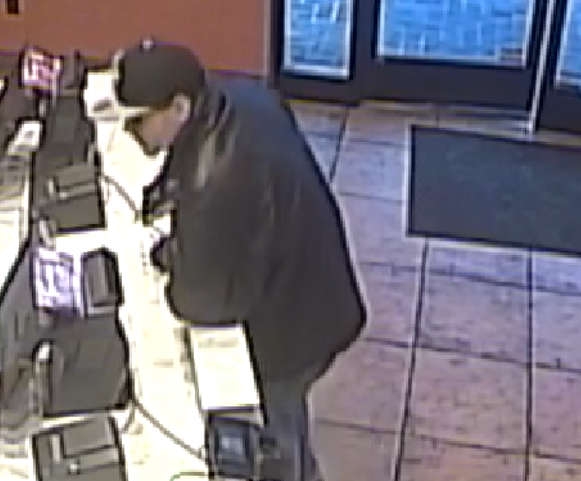 VIA SLMPD
Surveillance footage shows a bad guy with a BB gun holding up the Taco Bell near Dogtown.
A would-be stickup artist who robbed a south city Taco Bell using a BB gun had the tables turned on him by a bold customer, who grabbed the man's weapon and sent him running.
The incident happened around 5:30 p.m. on Sunday, October 14 at the Cheltenham location of
Taco Bell
(1324 Hampton Avenue)
. A younger white man — estimated to be somewhere from 25 to 30 years old — brandished his "gun" at the cashier, demanding money.
The cashier complied. But when the little punk turned on a customer standing nearby, he wasn't so lucky — the customer wrested the weapon away from him, according to the St. Louis Metropolitan Police Department.
The suspect then fled to his getaway vehicle .... a maroon utility van. Because nothing screams criminal mastermind better than a fifteen-seat passenger van.
The stickup artist is said to be between 25 and 30 years old, 5'8" to 5'10" and 160 to 180 pounds. He was wearing a black baseball cap with a white rim, with a St. Louis Blues Hockey blue note emblem on the front, a black leather coat and blue jeans. His van has damage to the driver's side window.
Have you seen him or his van? You're encouraged to call CrimeStoppers at 866-371-TIPS (8477) or the District Two Detective Bureau at (314) 444-0100. And for any other losers who get any smart ideas in the mean time, please trust us on this: Nothing comes between a hungry customer and his Chalupa. If your weapon is as weak-sauce as this fellow, you'd be better off sticking to gas stations.
We welcome tips and feedback. Email the author at sarah.fenske@riverfronttimes.com