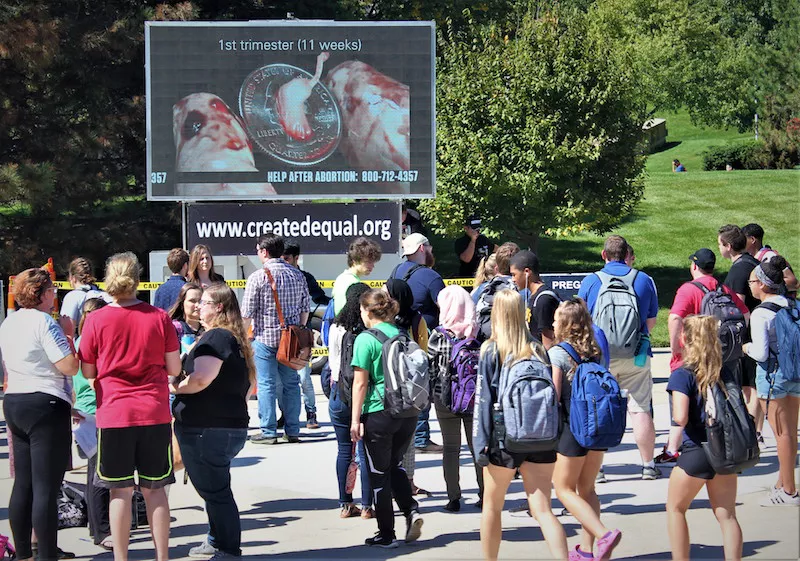 COURTESY OF CREATED EQUAL
Students at the University of Toledo are confronted by photos graphically depicting abortion.
Created Equal, a national anti-abortion group infamous for deploying graphic depictions of abortions during campus visits, will be at Washington University today and St. Louis Community College tomorrow (October 9).
Its stated goal: to persuade young voters to vote pro-life.
A likely side effect the group seems almost eager to induce: a whole lot of controversy.
The graphic images that Created Equal plasters on its large signs depict real photographs of first and second trimester abortions. The group claims the materials used during its protests show the "gruesome reality of abortion" in order to "engage students in conversation about this human injustice."
Mark Harrington, the national director of Created Equal, claims that many people identify as pro-choice by default and that only through graphic imagery will some people be persuaded otherwise. Because of this, he believes that Created Equal's controversial tactics are more effective than a more traditional anti-abortion campaign.
"Justice must be seen to be understood," says Harrington.
Created Equal is currently in the middle of a campus tour, with stops at 21 colleges throughout Missouri, Indiana, Tennessee and Florida. These states were not chosen at random; each of them have Senate elections taking place this year. Created Equal hopes to influence young voters at colleges in these key states to vote for pro-life candidates and policies.
"College students are the future decision leaders," says Harrington.
Susan McGinn, a spokeswoman for Wash U, says the university is aware of the group's plans, having seen its press release. But, she says, "We are not aware of them being invited or sponsored by any university group, and we expect that they will remain on the sidewalk at Skinker and Lindell and not actually on our campus."
According to Harrington, the Created Equal campaign usually receives a mixed response from its audience, with one faction opposing its message, another supporting it and a large number of observers in the middle. That section of middle-ground college students is the precise target for its pro-life campaigns.
Although, yeah, the organization seems to court pushback, too. A press release boasts, "We have faced problems with administration attempting to censor our content, police taking down our signs and violating our free speech rights, crowds of protestors, students stealing and vandalizing signs, our signs being thrown in the trash, and more."
While controversial, Harrington believes the graphic imagery is a persuasion tactic that has worked in the past.
"Successful social change reformers use victim photography," he says, citing comparisons with the content in the group's anti-abortion campaign to photographs used in social reform campaigns for social work issues, the Civil War and the Holocaust.
"Historically speaking, we are on firm ground," says Harrington.
The group will be at Washington University's campus, at the intersection of North Skinker and Lindell Boulevard, from 10 a.m. to 2 p.m. on Monday, October 8. It will move to St. Louis Community College's Florissant Valley campus, at the plaza in front of Terry M. Fischer Theater, from 10 a.m. to 2 p.m. on Tuesday, October 9.