ZIA NIZAMI
State house candidate Curtis Wylde, shown here in his wrestling persona.
Curtis Wylde isn't your typical political candidate. He's a professional wrestler, for one thing. But he's also a Missouri representative to the Democratic National Committee, as well as a blue-collar progressive Berniecrat who's taking on a incumbent Republican for a seat repping St. Charles County in the state legislature.
Also atypical: He's been liking a whole bunch of porn on Twitter.
Now, this isn't entirely unheard of. Last year, the Twitter account of Senator Ted Cruz (R-Texas) was in the news for "liking" a clip from "Moms Bang Teens 20." Shortly afterward,
RFT reported
that Missouri state Representative Kurt Bahr (R-St. Charles) had liked a photo tweeted out by @BadassMILFs.
But where those porn-clicking pols (or their, yeah, "staffers") each liked just one racy tweet, Wylde's Twitter account prior to 2018 is a veritable Pornhub of smut, with images ranging from softcore to very, erm, hard.
(Just a heads up, directly following is the part where we post some NSFW screenshots.)
The porn likes all appear to date prior to June 2017, a time during which Wylde's Twitter activity alternated between liking political items and topless bathroom selfies.
Some of the images Wylde liked showed oral sex and penetration. If you're into Santa porn, well, you've got that in common. Among other things, Wylde liked an image of a comely lass serving jolly old St. Nick himself. (We blurred out some naughty bits, but again: squeamish viewers beware.)
SCREENSHOT VIA TWITTER
Turns out Santa is real, kids.
Still, some of Wylde's likes did land on tweets that could be generously classified as modeling, such as this tastefully lit Playboy nude.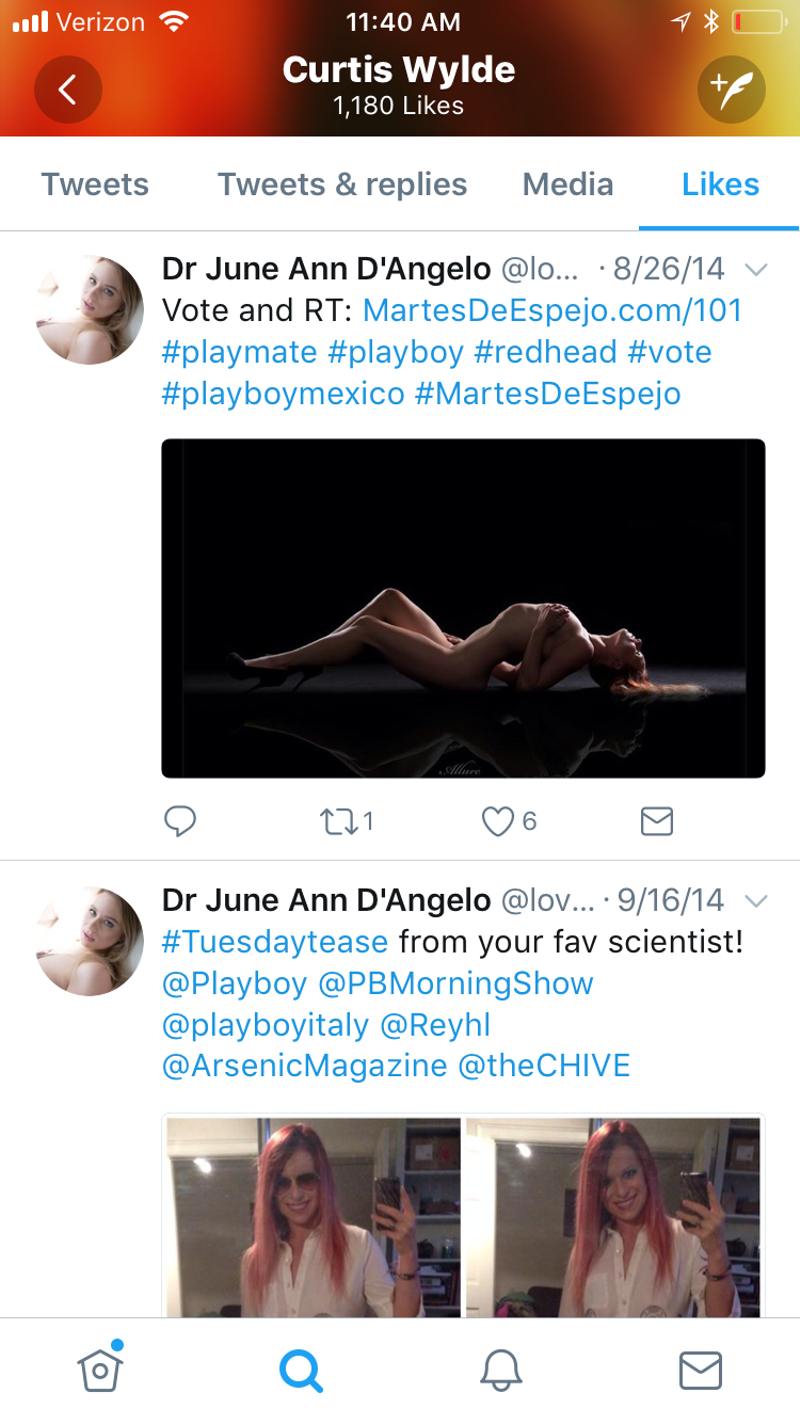 There's
a lot
more there, going back as far as 2014.
Reached by phone yesterday, Wylde acknowledged the Twitter likes are indeed his, but he expressed surprise that his account had liked images showing actual sex acts.
"I didn't realize there was anything that would be considered hardcore," he said.
But Wylde couldn't have been too surprised that the media would eventually come across his sizable collection of porn tweets. In fact, the source who alerted
RFT
to the tweets claims they'd contacted Wylde in August to complain. Despite this, Wylde apparently left the likes there on his account for all to see months later, Santa porn and all.
On Thursday afternoon, Wylde posted a statement to his Facebook page. Using the hashtags #NotaScandal and #WeakSauce, he referenced our phone call.
In the statement, he again acknowledged the porn likes, writing, "I did it. I'm guilty. I take FULL responsibility for my actions."
Wylde's statement
continued:
Anyone who knows me, knows I'll never claim to be a choir boy, and I'd be lying if I said my life hasn't been an interesting adventure filled with colorful characters who have their own interesting, and perhaps not exactly kid-friendly lifestyles of their own. We support those people, regardless of the direction their life takes.

I will say in my defense, and with certainty that I intentionally left the "Display media that may contain sensitive content" box unchecked in my privacy & safety settings, and assumed that's what that would do. I never looked at my own like history to check.
Wylde isn't running on a platform of religious purity and chastity, so he can own his enjoyment of porn without getting slammed as an hypocrite. As a candidate, his
platform
echoes Sanders' 2016 platform, including calls for universal healthcare, higher minimum wage and creating a "robust main street" and not "propping up Wall Street!"
But while Wylde is definitely a long-shot candidate against his opponent, state Representative Nick Schroer (R-O'Fallon), the pro wrestler-turned-politician actually gave Schroer a competitive match during the 2016 election season. Before the final three-count in that race, Wylde took more than 30 percent of the vote while raising just $6,000.
This time around, Wylde's campaign is doing slightly better, with $10,400 raised, according to his most recent campaign finance filing. Schroer's campaign has has raised $72,000.
But how many porn "likes" does Schroer have? None, that we can tell. He does have this tweet, though:
The XFL?? Really? You know, suddenly those porn tweets don't seem so bad after all.

Follow Danny Wicentowski on Twitter at @D_Towski. E-mail the author at Danny.Wicentowski@RiverfrontTimes.com