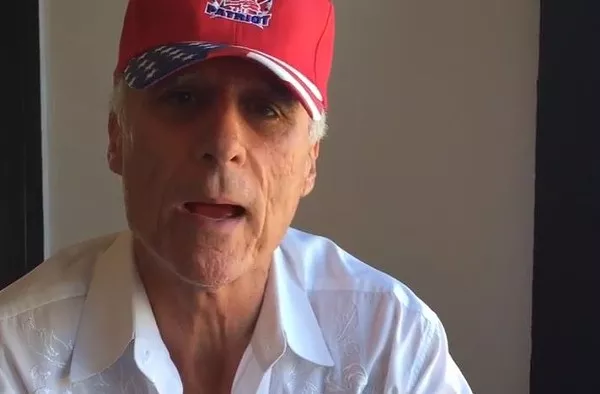 Bob Romanik, an unhinged racist who bafflingly continues to have a radio show in which he spouts the n-word on a regular basis, has recently directed his shitty invective at former St. Louis alderman Antonio French. French is now calling for people to file complaints against Romanik to the FCC.
Romanik took to the airwaves on his KQQZ (1190 AM) radio station in Belleville on September 28 and launched into a racist tirade about north St. Louis in response to
a report
in the
NorthSider
, the community newspaper for which French is publisher, that an urgent care facility in the Hamilton Heights neighborhood may soon close its doors.
"They're getting ready to close because none of the patients want to go there. They want to go where the white people are giving them medical service," he says. "They want to go to Barnes. They want to go to south St. Louis. Had a few of the blacks say, 'No, man. I'm not going there. They ain't qualified.' And you know who they say ain't qualified? The black doctors."
(It goes without saying that nothing whatsoever in the news story supports his claims, but ol' Bob isn't gonna let a pesky thing like the facts get in the way of an opportunity to dribble some more waste out of the asshole in the middle of his face he calls a mouth.)
After a digression about how he's "not trying to make the black community look bad" but rather "just reporting how bad the black community is," Romanik trots out that same tired line that "it's not the black community, it's the n*ggers" that's become his mantra in these matters, before going on to break a land-speed record for most n-bombs ever broadcast on the public airwaves over the course of ten seconds.
"And for you people who say I say n*gger too much, I
have
to distinguish the proud black community from the n*ggers," he blathers. "So I
have
to say n*gger, and if I have to say n*gger 50 times to distinguish between the two, I will."
Romanik then takes aim at French personally over
a column
he wrote for the
Northsider
entitled "Democrats and McCaskill Owe Blacks More."
"It's amazing, people, that a n*gger like Antonio French is going to say that the Democrats owe the black voters more," Romanik retorts.
"I don't know what the hell we can do for the n*ggers," he continues. "They don't want to help themselves. They just want to complain. And that's what they're doing. But for an asswipe bastard like Antonio French to come out and say that north St. Louis, 'We need to bring jobs, private economic investment.' There ain't nobody in the private industry, nobody in the private sector that's going to come into north St. Louis because of you n*ggers! Get the n*ggers out of there and everybody will come!"
Romanik has been spewing this horseshit for quite some time now, but in the Trump era he's been emboldened, and his racist rhetoric is often nakedly on display. Still, this September 28 broadcast is beyond the pale.
Some more gems:
— "Are you nuts? Yes you are, Antonio French. See, he's playing the n*gger card. He's playing the n*gger card."
— "[French says] black Democrats must demand more. What the hell more can you demand? You got what you want. You got a blunt. You got a bottle of muscatel. You got some weed."
— "The U.S. economy grew by a robust 4.2 percent rate in the second quarter. Do you know what that does for our economy? We make more money and then we can funnel more money to the n*ggers!"
For his part, French is calling for people to file complaints with the FCC, because, well obviously.
"There is no place for this kind of racism on St. Louis airwaves. Period,"
French writes
. "And frankly, it is an affront to the African-American communities on both sides of the river that Romanik has been allowed to spew his hateful attacks for as long as he has."
French goes on to share a
link to the form
used to file complaints with the FCC, and vows that "the
NorthSider
will be leading a year-long campaign to pull the plug on Bob Romanik." That's in addition to the
RFT
, which
has
long written
about
and
condemned
Romanik's hate speech, as well as the
Post-Dispatch
editorial board, which
deemed Romanik a "racist menace"
in May.
It remains to be seen whether this latest push will actually result in Romanik finally losing his forum to preach hate. But seeing that all that society has to gain by keeping him on the air is a whole lot of n-bombs, it's certainly worth a shot.
Listen to excerpts from Romanik's September 28 broadcast below: