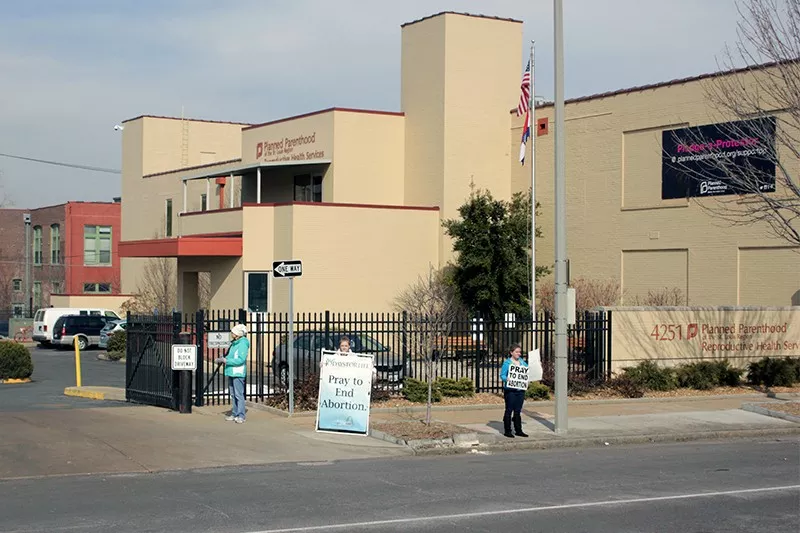 DANNY WICENTOWSKI
St. Louis' Planned Parenthood clinic is now the only abortion provider in the state.
Briefly, Missouri had three abortion clinics.
Around this time last year, those who seek to restrict abortion in Missouri were left reeling by the courts, as federal judges ruled against state laws seeking to burden doctors and patients. More women gained access to abortion, and,
for the first time
, clinics in Joplin and Springfield prepared to open their doors to women who'd otherwise have to travel hundreds of miles to the Planned Parenthood location in St. Louis.
Those gains disintegrated in a matter of months.
New abortion restrictions passed in the state legislature scuttled plans to offer medical abortions in Joplin and Springfield. In mid-town Kansas City, a Planned Parenthood clinic's abortion license
expired in August
. And yesterday, in the wake of a federal appeals court decision, the clinic in Columbia announced that women scheduled to undergo abortions on Wednesday would have to find somewhere else to go.
In Missouri, that somewhere else is St. Louis. Once again, Missouri is one of seven states with only one operating abortion clinic.
Planned Parenthood had been holding out hope for a last-minute reprieve from the Eighth District Court of Appeals. A ruling
last month
held that a contentious state law forcing abortion clinics to maintain hospital admitting privileges could go into effect. On Monday, a federal judge declined to issue a stay on that ruling.
In a statement released Wednesday, Mary Kogut, president of Planned Parenthood of the St. Louis Region, pointed out the obvious: Cutting access to a medical procedure is going to hurt Missouri women.
"Barriers placed on patients by state leaders have kept quality health care out of reach in our community," she said. "For those seeking care, [Reproductive Health Services] in St. Louis is here to provide high-quality care without judgment. The legal hurdles to access critical health care in Missouri are unconscionable. We will continue our fight to expand access to care for anyone who needs it."
The blowback to last year's expansions in abortion access came from the usual array of sources, including from Missouri Attorney General Josh Hawley, whose pro-life bonafides are matched by the state's conservative-dominated legislature. (The legislature, it should be noted,
seems to only function efficiently when passing new abortion restrictions
.)
But it is still remarkable that a widely derided law is keeping these clinics closed. Numerous states have passed similar laws requiring hospital admitting privileges for abortion-providing doctors, but there's no proof these laws better the conditions of the patients. Instead, they mainly seem to result in the closure of clinics. Cynics would say that's the point — the only point.
In Texas, a similar law
caused more than half the state's abortion clinics to shut down
. When Planned Parenthood challenged that Texas law, contending it was a medically unnecessary ruse to reduce access to reproductive health, the result was a landmark decision in the U.S. Supreme Court, 2016's
Whole Woman's Health v. Hellerstedt.
In that case, the justices found the law placed an unconstitutional burden on women's access to healthcare.
The Supreme Court's decision rippled down to the states. In April 2017, U.S. District Judge Howard Sachs ruled that Missouri was bound by the higher court's rationale, writing, "The abortion rights of Missouri women, guaranteed by constitutional rulings, are being denied on a daily basis, in irreparable fashion."
However, when the three-judge panel of the of the Eighth District Court of Appeals considered the case, they
concluded
Sachs had improperly applied the Supreme Court's ruling, and stated that Sachs should have weighed both the costs
and benefits
of the state's abortion restrictions before staying the state law. The stay was lifted.
On Tuesday, the Columbia clinic's abortion license expired. Without hospital admitting privileges, the clinic can't get a new one. But that requirement, Planned Parenthood contends, is medically meaningless.
In legal filings, Planned Parenthood previously
argued
that abortion is a generally safe procedure, with the rate of major complications below one percent. Of nearly 25,000 patients undergoing abortion in Missouri, it claimed that only 21 cases have required transport to a hospital.
<!—StartFragment—>
See also: St. Louis Law Enshrining 'Abortion Sanctuary City' Partly Struck Down
The latest development comes at a time when the subject of abortion access is on the national stage. Many abortion rights advocates worry that the possible confirmation of Brett Kavanaugh as a U.S. Supreme Court justice could lead a conservative-dominated court to come down hard on abortion rights and even roll back the 1973 case legalizing abortion,
Roe. v Wade
.
Planned Parenthood is vowing to appeal the matter once again, and to regain the Columbia clinic's license to perform abortions. But in a way, the damage is already being done. In some parts of Missouri, women are planning road trips crossing hundreds of miles to reach St. Louis. Others may be considering more dangerous options.
And even if the state restriction gets stayed once again, there are likely additional challenges ahead. New abortion restrictions are proposed and passed each year in the Missouri legislature, creating new obstacles for clinics and patients. Even in Texas, now five years after the
Health v. Hellerstedt
decision, most of the clinics that shuttered due to the unconstitutional law
remain closed
.
Will Missouri's clinics suffer the same fate? Missouri's politicians and attorney general would prefer so.

Follow Danny Wicentowski on Twitter at @D_Towski. E-mail the author at Danny.Wicentowski@RiverfrontTimes.com