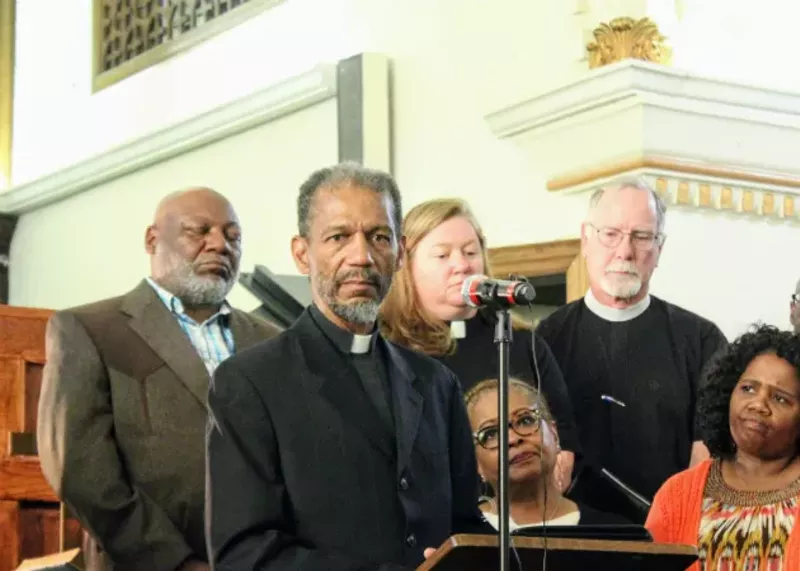 DOYLE MURPHY
The Rev. Darryl Gray speaks in 2017 about his arrest outside Busch Stadium.
Angry St. Louis cops manhandled pastors, tased a peaceful protester and blitzed onlookers, including an independent journalist in a wheelchair, with mace during a demonstration last year outside of Busch Stadium, according to six new lawsuits filed today.
Dozens of protesters had gathered on September 29, 2017, following the
acquittal of ex-St. Louis cop Jason Stockley
on murder charges earlier in the month.
Early in the evening, several activists who had bought tickets to the St. Louis Cardinals game
unfurled a "Stop Killing Us" banner from an upper deck before leaving the stadium
.
The demonstration continued outside where — according to lawsuits filed by attorney Javad Khazaeli of
Khazaeli Wyrsch LLC
— the cops soon turned on protesters. Khazaeli says police cracked down without warning or cause
"There is no argument that any of them were a threat," Khazaeli says of his clients.
The Rev. Erin Counihan previously described the night
at a news conference last year. She said she, Gray and other pastors were playing the role of a buffer between police and protesters when police suddenly opened a closed road, allowing cars to roll through the middle of the demonstration. When she complained to police, some officers grabbed and pushed her, she said.
"At the back of the protest, when I used my voice to express concern that officers were putting citizens' safety in danger, I was grabbed, and I was shoved by many officers," Counihan said. "When the Rev. Darryl Gray used his voice to express concern that officers were putting my safety in danger, he was swarmed, he was thrown to the ground, he was pepper-sprayed in the face and arrested with another man's knee in his back."
Video shows Gray on his knees moments later, wrists cuffed behind his back as officers on either side drag him to his feet. His hat has been knocked off, and Gray says in the lawsuit that St. Louis Police Detective Ronald Vaughan smashed his glasses while throwing him to the ground.
Gray was arrested on a charge of interfering with police. Officers also chased a protester named William "Cap" Kennedy, grabbed him and shot him with a Taser, leaving the barb in his arm throughout his 24-hour stay in the city jail, the suit says.
When people outside the stadium complained about the rough treatment, an officer with the special operations unit, William Olsten, challenged at least one protester to a fight, shouting, "Come and fuck me up then," before other officers restrained him, the suit says.
Olsten was then filmed and photographed blasting people in the crowd with pepper spray. Rasheen Aldridge, the elected 5th Ward Democratic committeeman, took a full dose in the face. Livestreamer Heather De Mian, a regular presence at metro area protests going back to Ferguson, was recording the action from the side when Olsten blindsided her, she previously told the
Riverfront Times
.
"Olsten did that on his own," she told us last year, "because he's a dick."
Her video stream
from that night (the action begins at about the 22-minute mark) shows her move toward the front of the group when she is hit from the side by Olsten's spray.
The suits note that De Mian has Vascular Ehlers-Danlos Syndrome, a connective tissue disorder, and uses a wheelchair to get around.
"Nearly a year later, Ms. De Mian's wheelchair still emanates the smell of pepper spray."
In a statement after the arrests, police defended their actions: "Officers deploy tactics when criminal activity arises and escalation depends on the level of aggression. Pepper spray is a non-lethal tool used when unlawful behavior occurs to protect life and property. One protester was tased as he continued to resist arrest."
In November, the
ACLU won a temporary injunction against the city
, barring police from using chemicals to disperse protests. The federal judge in the case said officers during the Stockley protests had been using pepper spray and tear gas to "punish protesters."
De Mian, Aldridge, Gray and Kennedy are all plaintiffs in the suits filed today, along with Crystal Brown and Amir Brandy, who was photographing the protests at the stadium that night.
A photo in the St. Louis American
shows Brandy walking away from Olsten, camera in hand, as the cop sprays a stream directly at his head.
The suits say the spray was purely retaliatory — a violation of both the department's policies and a federal consent degree that severely limits the allowed use of chemical agents.
They also note that the supervisor that night was Chief John Hayden, who was then a major. He is seen in some of the images of that night standing by while officers went after people.
Hayden is named as a defendant along with Officer Olsten in all six suits. Gray's suit also names Detective Vaughan and two officers identified as "John Does 1 and 2."
The suits are among 21 leveled against the city in the past two weeks, all alleging police routinely abused people and violated their rights following the Stockley verdict.
Along with ArchCity Defenders
, Khazaeli filed a dozen on behalf of protesters caught up in the infamous "kettle" downtown as well as those pepper sprayed outside city hall within hours of the verdict.
He is also representing Alderwoman Megan Ellyia Green
, who says police tear gassed nonviolent protesters as they left a Central West End synagogue where they had taken cover.
We welcome tips and feedback. email the author at doyle.murphy@riverfronttimes.com or follow on Twitter at @DoyleMurphy.