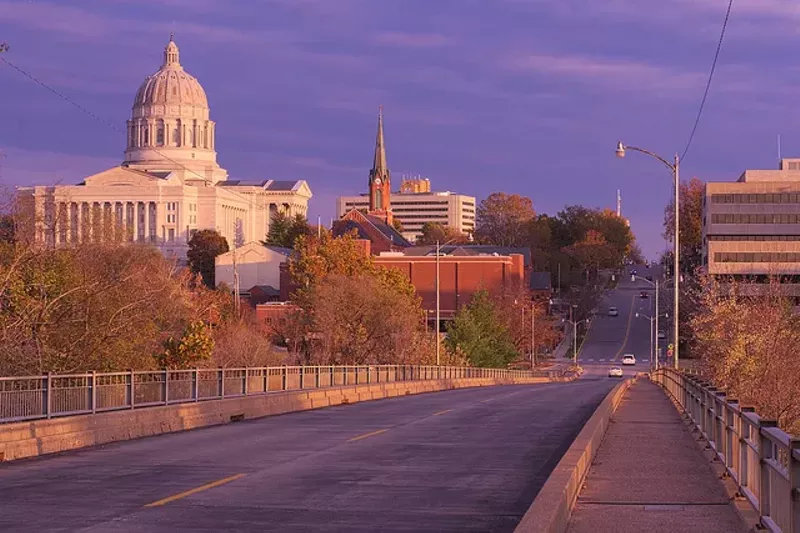 After weeks of will it/won't it in the form of various legal battles, the Clean Missouri amendment is now set for state ballots this November. If Missouri voters approve what's been titled as "Amendment 1," they could bring big changes to redistricting and lobbying in state government.
The proposed amendment would place new limits on campaign donations, increase the length of time legislators must wait before becoming lobbyists and dramatically limit lobbyists' gifts. But the most controversial aspect of the amendment is that it would overhaul redistricting.
The amendment would give the appointed position of state demographer the task of drawing districts based on "partisan fairness" and "competitiveness" in order to ensure neither Democrats or Republicans receive unfair advantages when new maps are drawn.
Currently, district maps for legislative representation are redrawn after each census, which takes place every ten years, by a bipartisan panel selected by the governor. Seventy percent must agree on the map plan and if they do not, the Missouri Supreme Court selects six appeals court judges to create the map instead.
The Clean Missouri amendment would change this process and have the state auditor select at least three non-partisan candidates for state demographer. That person would then be tasked with drafting the legislative map during his or her five-year term.
Missouri Senate leaders from both parties would then choose one of the candidates. If they cannot agree on one, the Republican and Democratic Senate leadership would each be permitted to eliminate one-third of the candidate pool. The auditor would choose from the remaining candidates through a lottery.
By that process, the amendment aims to prevent maps from being drawn to benefit a political party or prevent equal opportunity for minorities to become engaged in the political process or obstruct their ability to elect their choice of representative. Clean Missouri claims it would allow parties to be able to translate popular support into legislative representation with efficiency and have parties' legislative representation be responsive to shifts in the electorate's preferences.
But not everyone is on board. Many Republicans have come out against the amendment, and much of their opposition seems rooted in the redistricting rules.
Former state chairman of the Republican party John Hancock opposes the Clean Missouri amendment for just that reason. Hancock believes the amendment would be hijacking a process that currently works fine and has even been adopted by other states.
Hancock also takes issue with the role the state auditor would play if the amendment is passed. The state auditor is a partisan, elected position (and, coincidentally, the only statewide office currently held by Democrats). Hancock believes the new scheme puts too much power in the hands of one official rather the current bipartisan committee.
And Hancock also expresses concern with the way districts could be drawn. As the majority of Democratic voters live in cities such as St. Louis, a number of districts here have a very high Democrat to Republican ratio. Hancock believes the amendment would allow the map to be drawn in a way that spreads what are now concentrated clusters of Democratic support through multiple districts. "This would not affect the majority, but it could gain Democrats a few seats and cost Republicans a few due to redistricting," says Hancock.
But Nancy Miller, the co-president of the League of Women Voters of Metro St. Louis, says the current system isn't working.
"Districts are drawn in favor of the incumbent, and it does not reflect the constituents' needs," says Miller.
Miller supports Amendment 1 for the additional changes it would make to lobbying in Missouri. She doesn't like the sway lobbyists currently hold.
"[Lobbyists] are unfairly influencing legislators and committees," says Miller.
Clean Missouri would prevent lawmakers from receiving any gift from a lobbyist that costs more than $5. While all of the states surrounding Missouri have laws in place limiting the amount of money lobbyists can spend on legislator gifts, Missouri has yet to pass such laws, allowing public officials here to accept gifts without restriction. Miller believes lobbyists influence legislators and committees to the point that constituents' needs come second.
"[Lobbying] creates a conflict of interest between legislators and their constituents," says Miller.
According to Clean Missouri Communications Director Benjamin Singer, with Amendment 1's gift cost cap set at $5, lobbyists would have to come up with other strategies for influencing Missouri legislators rather than expensive dinners and expense-paid trips.
"Lobbyists will have to convince legislators through persuasion," says Singer. "Not through money."
Under the amendment, lawmakers would also have to wait two years after their legislative term ends before being able to act as a paid lobbyist. The amount of money that donors can give a legislative candidate would be lowered. Lastly, legislative records would be under the same open records law as other Missouri public entities, requiring the records to be free to view by the public.
Despite opposition from members of the Republican party, Singer maintains that this is a bipartisan problem. Clean Missouri will ensure no party has an unfair advantage, he vows.
"Voters have seen enough corruption in Jefferson City," says Singer. "That's why we are receiving bipartisan support from Republicans, Democrats and Independents."