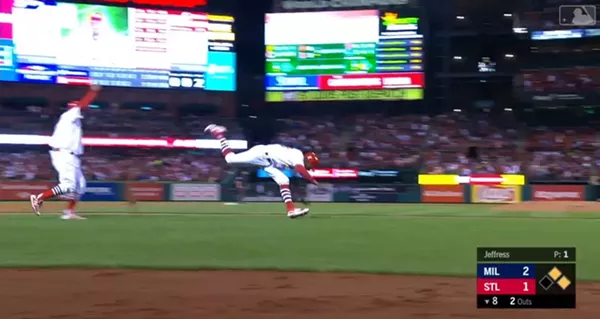 That one hurt.
Last night, at the bottom of the eighth with two outs, Cardinals rookie Adolis García bolted from first base on a José Martínez grounder — and in the moments that followed, the team's playoffs chances tanked, then soared, and then finally tripped over themselves before thudding into the dirt.
Objectively, it was a comedy of errors. The Brewers' Mike Moustakas scooped up Martínez's groundball and winged it to first, but the throw went wild. With a chance to tie the game, García sprinted toward home as the home crowd roared.
Then they fell silent.
García wobbled, tripped and lurched into the third base line. He arrived at home plate to the waiting glove of the catcher.
The Cardinals went on to lose the game, 2-1. And the worst part? The team's loss clinched the playoffs for
both
the Brewers (meh) and the Cubs (uggghhh).
Granted, the Cards aren't mathematically eliminated. But they'll need to sweep the Cubs this weekend
and
get some help from the Dodgers or Rockies just to secure a wild-card spot.
Hey, it's not all bad news. At least the team's
promotions department is winning.


Follow Danny Wicentowski on Twitter at @D_Towski. E-mail the author at Danny.Wicentowski@RiverfrontTimes.com