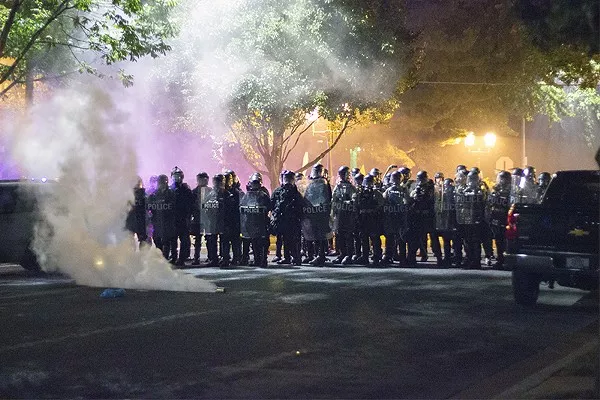 DANNY WICENTOWSKI
Police fired tear gas canisters into the streets of the Central West End on September 15, 2017.
On September 15, 2017, St. Louis Alderwoman Megan Ellyia Green took to the streets to protest the city's police department. That morning, former officer
Jason Stockley had been acquitted on the charge of murder
— and emotions were running high. Police
had maced protesters downtown
; as evening fell, an estimated crowd of 1,000 regrouped in the Central West End.
Eventually, some of that crowd made their way to Mayor Lyda Krewson's house. Windows were smashed; red paint was thrown onto the home. Police
declared the assembly unlawful and ordered people to disperse around 10 p.m.
Ultimately, they did.
But even before that, things got ugly. And in a lawsuit filed late last night, Green details what she witnessed. She says she saw police "indiscriminately firing tear gas at peaceful protesters" as early as 9:30 p.m. When 100 or so of them took refuge in a synagogue, an officer pounded on the door.
"While inside, Ms. Green could hear SLMPD officers banging on the door and yelling. She could also see clouds of tear gas and that the synagogue entrance was surrounded by SLMPD officers," her suit details. "Ms. Green and the others stayed inside the Central Reform Congregation for at least an hour because [St. Louis police] officers had surrounded the synagogue. The people inside felt threatened by the police who were lying in wait.
"The symbolism of citizens seeking refuge in a synagogue while out of control government actors pursued them was not lost on Ms. Green," the lawsuit notes.
But that wasn't the end.
Once the officers finally dispersed, the lawsuit says, Green left the synagogue. She walked a few blocks, and officers gave her permission to cross the police line to get to her car, which was at Euclid and Laclede.
But some officers began to mock the group she was with, the suit alleges. And before they could reach their vehicles, Green saw an armored police truck, or MRAP, speed around the corner.
Green had seen police fire teargas from the very same trucks during a 2014 protest on South Grand. She says the incident had left her shaken for months. Three years later, in the Central West End, she was instantly taken back to the moment. "I realized I had seen the exact same thing before," she says. "I told everyone, 'Get out, get out! They're going to start teargassing us!'"
She was right. As the lawsuit details, the truck made a U-turn and returned to the pedestrians, then began to fire tear gas. "Ms. Green heard no warning from the MRAP that tear gas was being deployed," the suit notes. "Ms. Green was not committing a crime at the time tear gas was deployed. Ms. Green did not see any crimes committed nor any threat to an officer's safety at the time tear gas was deployed."
And that's a problem, because under the March 2015 consent decree in federal court following Ferguson-related protests (including the one on South Grand that Green remembered so vividly), St. Louis police agreed not to utilize tear gas or other chemical agents "for the purpose of dispersing groups of individuals who are engaged in non-criminal activity" without first issuing clear warnings and giving them a chance to leave.
Yet Green's suit details ten incidents in which police deployed chemical agents on protesters without warning — seven of them in the Central West End on the evening on September 15.
The suit, filed by attorney Javad Khazaeli of Khazaeli Wyrsch LLC, alleges those actions were unlawful retaliation for people like Green exercising their First Amendment rights. And the past consent decree could pose a real problem for the city, legally. "Not only did they do this before, and got sued for it before, but they wrote up an agreement saying, 'We will not do this anymore,'" he says. He also notes that the
ACLU obtained a temporary injunction
against the city after the 2017 protests. Each side made their case, and a federal judge found for the ACLU.
"There has been lots and lots of evidence that's come out that the police narrative during these protests is not true," he says.
The suits join with a dozen that
Khazaeli Wyrsch, along with ArchCity Defenders, filed last week
focused on police actions two nights after the teargassing in the Central West End. Those suits focus on the controversial "kettle" that saw more than 100 citizens corralled by police downtown and given no chance to leave before being arrested and, in some cases, pepper sprayed and beaten.
Green is not asking for any money to be given to her personally. She's vowing that she'll donate any award from the litigation to the "25-Year Managed Racial Equity Fund" that the Ferguson Commission recommended the city create.
In addition to failing to follow its 2015 consent decree, the lawsuit notes, the city hasn't done that either.
Green says the city's recalcitrance is why she's taking the step of suing it, even as she serves as an alderwoman. She simply sees no other way to get its attention.
The alderwoman notes that she introduced a board bill last year to attempt to codify rules for police response to protests that would follow both the 2015 consent decree and the injunction arising from the ACLU's more recent case. Other officials were unwilling to act.
"I think there's overall a lack of political will," she says. "There's a concern amongst those in elected positions that if you put any regulations on the police, suddenly you are anti-police. And that is not true."

We welcome tips and feedback. Email the author at sarah.fenske@riverfronttimes.com