FLICKR/PAUL SABLEMAN
Apartments in downtown St. Louis.
The economy may be ticking right along these days, but that's provided little relief to St. Louis area residents struggling to afford the cost of housing. Even as the number of households considered "cost-burdened" dropped nationwide from 2016 to 2017, in St. Louis, it increased.
That's according to
a new study from Apartment List
, which looked at newly released data from the Census American Community Survey to analyze renters in counties across the nation.
The study considers anyone cost-burdened if they're spending more than 30 percent of their income on rent. A "moderately burdened" household might spend 30 to 50 percent of their income on rent; a "severely burdened" one spends 50 percent or more.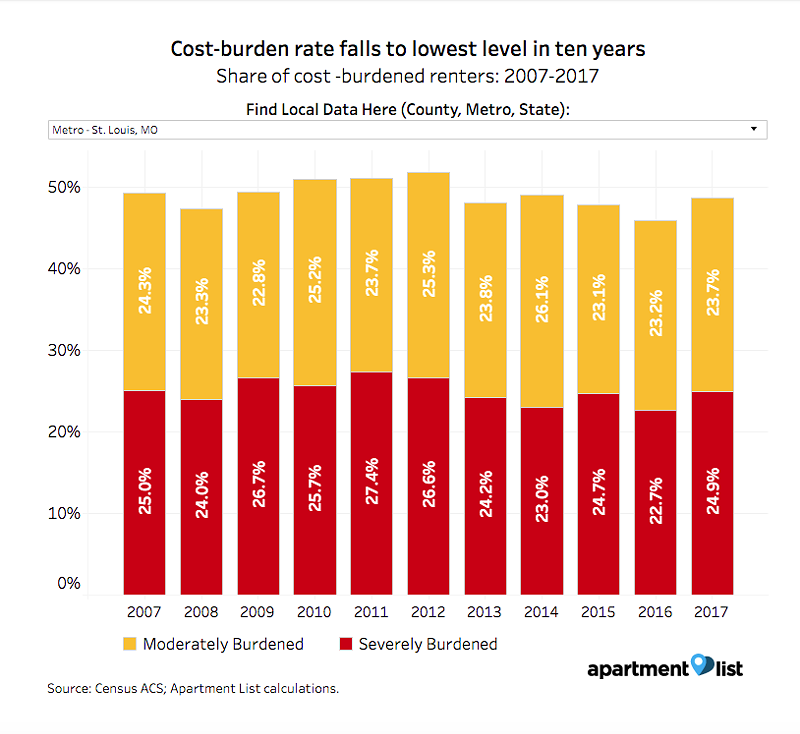 Across the St. Louis metro area, the study found, 24.9 percent of renters were severely burdened in 2017, an increase of more than two percent from the year before. Moderate burdens held steady at 23 percent of renters.
Combined, those numbers show that nearly 50 percent of renters in the metro area struggle with housing costs.
The study didn't have a breakdown for St. Louis city, but it shows that an even higher percentage of St. Louis County residents are struggling. There, 53.1 percent of renters are severely burdened, with 44.5 percent more showing moderate burdens.
Those numbers suggest almost all of those renting in the county struggle, to some extent — which makes some sense. While city renters may be choosing not to buy as a matter of lifestyle (they're young, they're footloose, they don't want to mess with yard maintenance?), county residents may be far less likely to rent by choice. The ones that can afford to buy a home mostly do.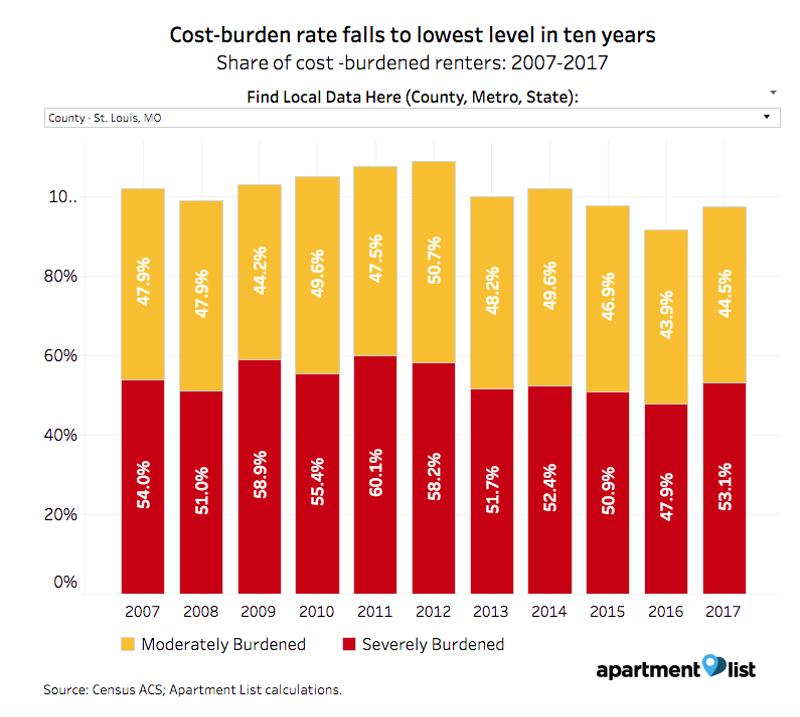 Overall, the news isn't all bad in St. Louis. Our metro area's median renter is currently not cost-burdened by the metro area's median rent,
the study notes
— making us a rarity when it comes to the nation's largest 25 metros. Compared to San Francisco or New York, sure, we still have it good.
But based on the fact our burden is rising, even as the rest of the nation drops, housing costs are something area leaders might want to keep an eye on.

We welcome tips and feedback. Email the author at sarah.fenske@riverfronttimes.com