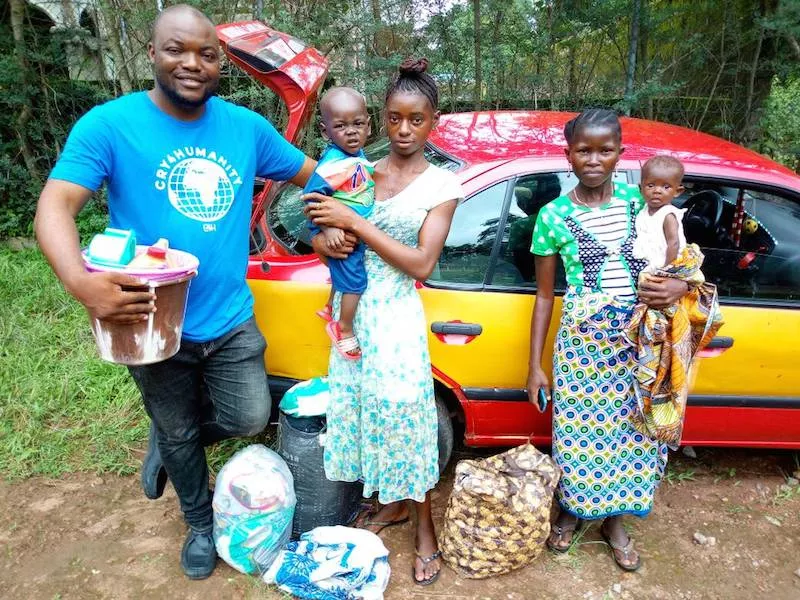 COURTESY OF JENNIE SCHWARTZ
Alhaji Jalloh, co-founder of Cry4humanity, returns two mothers and their babies back to their village after a long stay in the hospital for treatment of malnutrition.
A local nonprofit founder says she was humiliated after being accused of money laundering by a grocery store manager in south St. Louis County.
Jennie Schwartz, CEO and founder of the non-profit organization Cry4humanity, was denied a transaction using Western Union at Garner's Market, a small grocer located just south of the city-county line at Seibert and Morganford. Schwartz says a manager there confronted her using terms like "money laundering," "money structuring" and "illegal" to describe the transaction she was attempting to make. When she tried to provide one of her business cards and explain it was for her nonprofit organization, he responded, "I don't care what you call it."
Schwartz co-founded Cry4humanity three years ago with Alhaji Amadu Jalloh, who is also the organization's community relations director. Cry4humanity provides individual aid to the West African country of Sierra Leone, paying for malnutrition treatment, sending children to school and helping start small businesses. This year, it achieved 501(c) status from the IRS.
Schwartz found herself using Western Union owing to an unfortunate incident involving a vehicle, which the organization had purchased to help transport citizens to places of importance, such as hospitals. However, the vehicle broke down and became unusable about a month after its purchase. Due to the circumstances, and what Schwartz refers to as an act of "compassion," the car salesman agreed to refund half of the cost of the vehicle to her in separate payments of $500. After depositing the funds, she sought to transfer it to Jalloh in Sierra Leone.
Schwartz used the Western Union service at Garner's Market several times without problems. However, her third attempt was less than successful.
On September 15, Schwartz finished the first part of her transaction at the market, but then stepped out of line to set up the second part of her transaction on her phone. She says the manager took notice of her. He stopped talking to the customer he was helping and, according to Schwartz, he said, "If you send that money, I'm reporting you to the IRS."
Schwartz claims that the conversation that followed was a mostly one-sided one, with the manager talking over her and not allowing her to get much of her side of the story in. Ultimately, Schwartz left the market and sent the money to Jalloh through Walgreens, which required multiple transactions.
If the manager thought she was throwing up any red flags with her transaction, she says, he should have handled it much more discreetly.
"It was wrong to do it in front of all of those other people," Schwartz says.
Reached at the store Friday, the manager declined to reveal his name. He says he "only stated facts" and that his actions were "per Western Union's policies." "I have to follow my duties," the manager said.
The
RFT
reached out to Western Union Friday morning seeking more information about its policies, but the company did not provide a response by press time.
Schwartz says she became involved in large-scale charity work after one of her friends, who happened to be Jalloh's sister, showed her photos of malnutritioned children from Jalloh's community in Sierra Leone. "It's hard for some people to wrap their heads around the idea that some people only have dirty pond water to drink," Schwartz says.
After sending multiple donations to Sierra Leone out of her own pocket, Schwartz says her friends and family expressed interest in helping, leading her to create a Facebook page for the cause and ultimately a registered non-profit. Schwartz, who is based in St. Louis, acts as CEO, while Jalloh manages all of the projects performed in Sierra Leone.