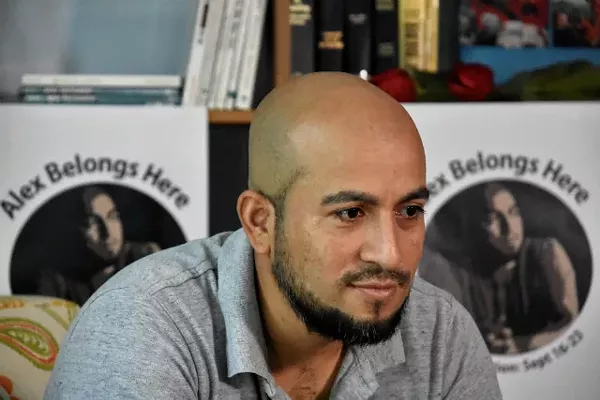 DOYLE MURPHY
Alex Garcia took sanctuary from ICE one year ago.
One year ago today, 37-year-old Alex Garcia moved out of his Poplar Bluff home for what he hoped would be a brief absence.
He was under orders from U.S. Immigration and Customs Enforcement to report for deportation to his native Honduras. Instead, he took sanctuary and has spent the past twelve months living in Christ Church in Maplewood.
"I'm still here," he says on Thursday afternoon, his four-year-old daughter perched on his lap in the church basement while they watch a cartoon on his phone. "It's been a really long year."
Garcia was the subject of an RFT cover story
in November 2017. As we wrote back then, hundreds of people in conservative Poplar Bluff have signed petitions, vouching for his character and asking ICE to allow him to stay. So far, ICE has refused.
Garcia has lived in Missouri for fourteen years. He has five kids and a wife who are all American citizens. In 2015 and 2016, he was granted temporary stays of deportation that allowed him to remain legally in the country. But then Donald Trump was elected president, promising to build a border wall and crack down on illegal immigration.
In the year since, the Trump has not managed to get Congress — much less Mexico — to pay for his wall, but he has succeeded in targeting immigrants. His administration has infamously separated more than 2,500 families stopped at the border, and it was recently revealed that
$200 million was siphoned from the budgets
of other federal agencies, including FEMA, and funneled to ICE.
That has left Garcia and his family in position of asking for mercy from an administration that has made a practice of locking children away from their parents for months in detention centers.
"It's terrifying," Garcia's wife, Carly Garcia, says. "It's terrifying to me that my family is not going to matter enough to take action."
She has just returned from a three-day trip to Washington, D.C., to speak with the staffs of Missouri representatives. She was joined by the family's attorney, Nicole Cortés of the MICA Project, as well as Sara John of the St. Louis Inter-Faith Committee on Latin America.
Rep. Lacy Clay,
who had previously visited Garcia
and
publicly supported him
, was the only lawmaker to speak with them in person during the trip. But the trio also met with staffers for Senator Claire McCaskill, Senator Roy Blunt and U.S. Representative Jason Smith, whose district includes Poplar Bluff, Carly Garcia says.
She wanted them to see her and understand the effect that immigration policy is having on her family — her "American family," she emphasized in her meetings.
"This issue is big, and it's affecting U.S. citizens," she says.
Alex Garcia, a construction worker, helped get the family off public assistance after he and Carly got together a decade ago. If he was deported, he would have to spend ten years outside the country before he would be considered for re-entry. Carly Garcia says the family has struggled financially these past twelve months. She recently made the painful decision to leave their house and move into her parents' home with the couple's children.
"It's really hard on them, because they don't understand why we can't go home," Carly Garcia says of the kids, ages four to twelve.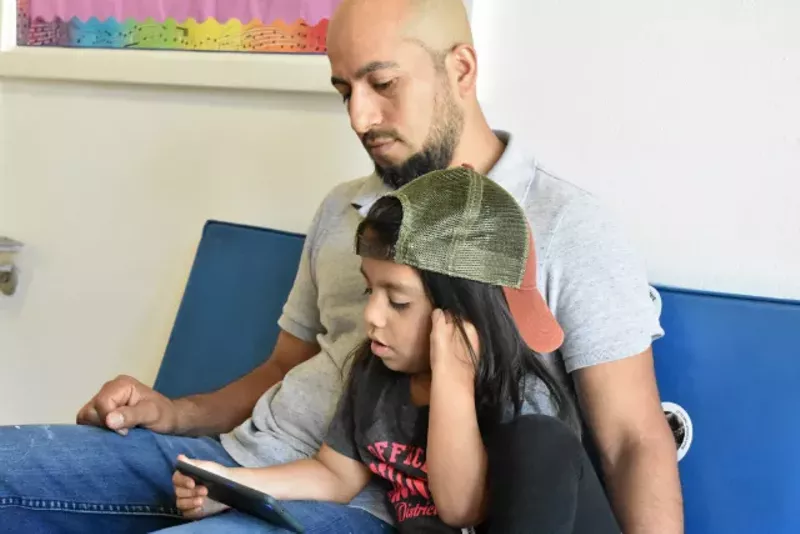 DOYLE MURPHY
Alex and his youngest, 4-year-old AriannaLee, watch a cartoon.
In Washington, she says McCaskill's staff promised to make a formal inquiry to ICE to determine why Garcia's request for a stay of deportation was denied. A Blunt staffer promised to review additional information so she could make a recommendation to the senator about whether or not he should get involved. Smith's staffer seemed to listen earnestly.
That's been one effect of the widespread backlash surrounding family separations: Even Trump allies like Blunt and Smith seem less willing to wave off someone like Carly Garcia.
"Family separation is wrong whether it happens at the border or if it happens here in St. Louis," John says.
Asked if she is more or less hopeful than she was a year ago, Carly Garcia thinks for a long time before answering.
"I am hopeful, because I know I was able to reach them," she finally says. "A year ago, they weren't even listening."
Garcia's supporters have been marking the anniversary with a week of events that run through Sunday. They have more info on the Alex Belongs Here Facebook page.
We welcome tips and feedback. Email the author at doyle.murphy@riverfronttimes.com or follow on Twitter at @DoyleMurphy.