Yesterday, the city of St. Louis got hit with no fewer than
fourteen lawsuits focused on the police department's response to protests last September
— suits alleging that officers rounded up protesters and bystanders alike, pepper spraying and beating them and then charged them with "failure to disperse."
Today, travelers to St. Louis were greeted with the above image in an email from travel site Expedia, asking, "Ready to make the most of your trip?"
"Now that you're here," the site enthused, "it's the perfect time to see what's happening in St. Louis."
And above that cheerful text? A photo of a dozen or so people in riot gear, with shields marked "POLICE."
Now, we're not stupid ... it only took us a minute or three to realize Expedia was actually promoting paintball. But doesn't that picture have eerie similarities to the police presence was saw on the streets of the city last September?
Here's Expedia ....
VIA EXPEDIA PROMOTIONAL EMAIL
Here's the scene on the streets of St. Louis on September 15, 2017 ....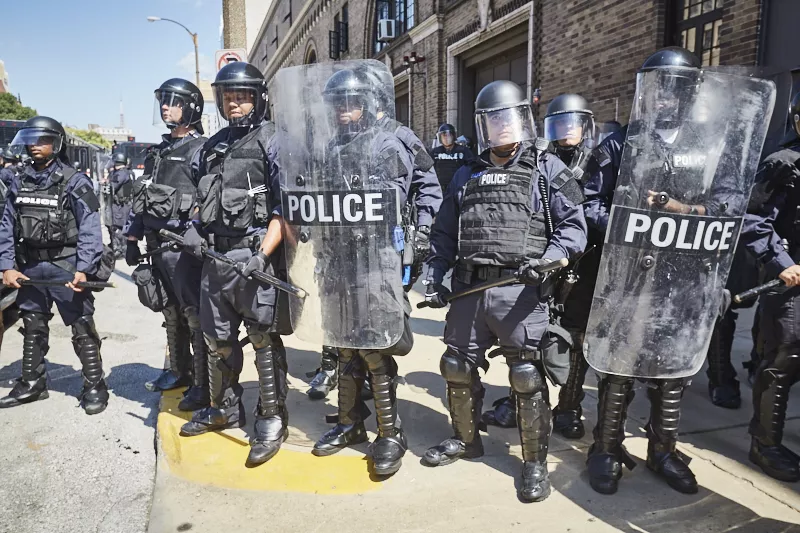 You can't help but notice certain similarities, no?
Now, in fairness to the travel company, if you click on the link inside Expedia's email, it takes you to a
nice list of sixteen things to do in St. Louis
, not one of which involves getting hit with pepper spray, beaten or being zip-tied and taken to jail.
See? We're not always a bad place to visit! But if you come here for a vacation, and you happen to see a long line of people wearing riot gear and
they're not holding paintball guns
, we offer this piece of advice based on the harrowing details we read in yesterday's news:
Run.
THEO WELLING
Maleeha Ahmad, moments after being pepper sprayed by St. Louis police on September 15, 2017.
We welcome tips and feedback. Email the author at sarah.fenske@riverfronttimes.com