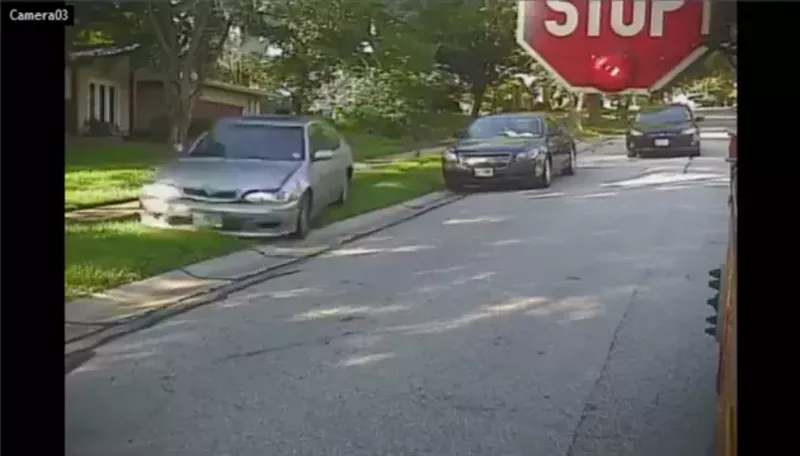 PARKWAY SCHOOLS FACEBOOK
The silver sedan in this video screen is cutting through the lawn and around a school bus.
Some super busy so-and-so cut through lawns and actually cruised down a
sidewalk
after a couple of other drivers jacked up his commute by — how dare they! — stopping for a school bus.
It happened around 8:25 a.m. Wednesday on Bitterfield Drive in Ballwin, according to Parkway Schools, whose students were on the bus in question.
As the video shows, the bus driver had stopped and flexed the flashing stop sign out to the side. That obviously means cars on the road are supposed to stop.
But the driver of a silver-colored sedan doesn't even hesitate before taking advantage of the permissive slope of the drainage ditch to pop out of the road, shoot down the hill past the bus and other vehicles and eventually swerve back onto the pavement.
"Oh my gosh," one stunned observer is heard saying.
The school district posted the
footage of the off-roader on Facebook
. It's one of the crazier local examples of St. Louis behind the wheel. Probably not the
absolute craziest
, though, and the prospect of this suburban maniac mowing down kids sucks the fun out of it.
School officials ask anyone with information to call Ballwin Police at 636-227-9636. The
RFT
left a message with police this morning. We'll let you know if we hear about any updates.
Update: They got the guy, and he has one hell of an excuse. See our latest post for details.



We welcome tips and feedback. Email the author at doyle.murphy@riverfronttimes.com or follow on Twitter at @DoyleMurphy.