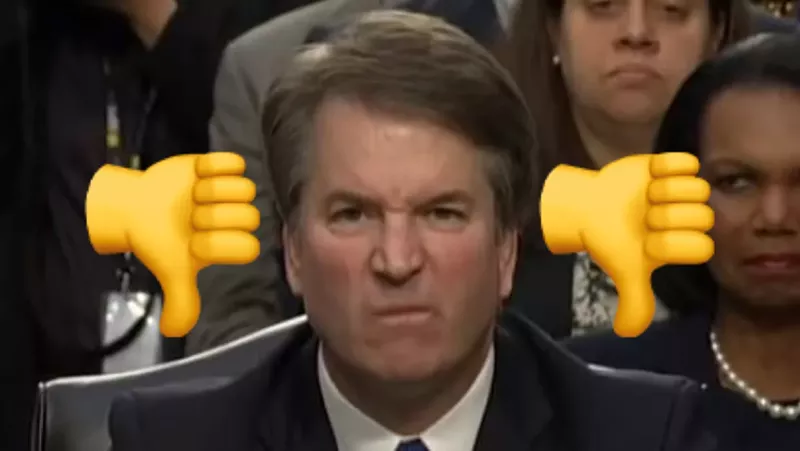 It's time, Senator McCaskill. Actually, most people would say that it's
past
time for you to make known your opinion on Brett Kavanaugh. Everyone is waiting for your statement. What we don't know is this: What are you waiting for?
We're going to go ahead and assume that you're against Kavanaugh being appointed to the Supreme Court since it's the only proper move for a Democrat. You
are
a Democrat, right? (Voting "no" on Kavanaugh is also the only proper move for a Republican, but since Mr. Tangerine Man arrived in office we've given up hope that most Republicans in power will act in an reasonable fashion.)
After all, you could not — in good conscience — support this man's nomination. So why are you holding your tongue? Staying silent can only end badly.
When it comes to the right: You cannot please them. Are you thinking that by stalling on Kavanaugh, your right-leaning allies will give you some credit and vote for you this November? Nope. They will vote for Josh Hawley even though he thinks that
women's liberation caused sex trafficking
. They will vote for Hawley even though
he's tight with people who hate gays
. They will vote for Hawley even though he wants to take medical coverage away from
2.5 million Missourians with pre-existing conditions
. Why? Because they're on his side when it comes to these topics, and because he has that big "R" next to his name. You're not going to get their vote, period.
When it comes to the swing voters: You cannot predict them. And
according to a recent poll
, 76 percent of undecided Missouri voters said that how you vote on Kavanaugh has no impact on whether they'll vote for you, anyway. They have other motivators.
But when it comes to Democrats: They're yours. Each one of them. All of their votes belong to you unless you totally screw it up ... and you are. This is your base and they are pissed. Did you happen to miss them
sitting outside your office
? Do you not see them at rallies? Do you not see their posts on social media? Do you not hear their voicemails? Do you not receive their letters? Maybe they agree with you on everything else, but a whole
35 percent of them
say they'll be less likely to vote for you if you vote for Kavanaugh. Literally the only way you could blow it with your
own base
is to remain stubbornly silent on this nominee.
And when it comes to true progressives: You've made them very, very angry. By not speaking out against Kavanaugh, you're risking running into a #NeverHillary situation where some people are threatening not to vote at all because they don't have a candidate they can stand behind. They
want
to vote for you, but you need to give them a motivating reason or risk disastrous turnout.
St. Louis-based activist Pamela Merritt says she's become worried about low voter turnout for November's Senate race. Democrats, she says, just aren't feeling your cause right now. She's unhappy with your hesitation on Kavanaugh — she says it "creates some sort of false narrative that he is in any way shape or form an acceptable nominee." She describes her fellow progressives as "alarmed, demoralized, confused and frustrated" by your refusal to take a public stand. And, she says, it could haunt all of us in November and beyond.
So let your time in office stand for something. Don't let yourself be written off by history as an indecisive moderate who tried the middle way and failed. The GOP is already using your reticence on the subject against you, proudly
circulating a video clip
in which you responded to a question about Kavanaugh with, "You're not going to get me to answer that question today." They even sent the clip out with a press release saying that you've "done everything possible to avoid questions on this topic." And for once, they're right.
So please, Senator McCaskill, don't let the GOP make you look bad to your own people. Don't further alienate the many voters who would otherwise gladly support you in the next election. Be clear with your intentions. And please, please, please vote "no" on Kavanaugh. Win or lose in November, your legacy demands it.
Email the author at jaime.lees@riverfronttimes.com