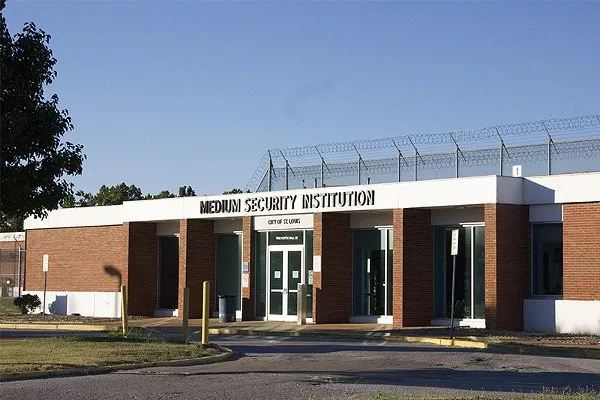 A new campaign seeks to pressure city officials — including Mayor Lyda Krewson, Circuit Attorney Kim Gardner and the Board of Aldermen — to shut down St. Louis' notorious Medium Security Institution, better known as the Workhouse.
The detention facility, which opened in 1966, is known for its
hellish conditions
, which include extreme temperatures (it only recently got air conditioning), infestations of vermin and cockroaches, and violence. It costs the city $16 million annually, almost all of it going to house detainees who have not been convicted of a crime and are simply too poor to post bond before trial. The downtown Justice Center holds those accused of more serious crimes.
In a
42-page report released this morning
, a coalition of activists groups including Action St. Louis, ArchCity Defenders, Bail Project and Missourians Organizing for Reform and Empowerment, detail some startling facts about the jail. They say their efforts follow the lead of "individuals inside and outside of the Workhouse who have been impacted by the systems we seek to change."
As the report details, the Workhouse population is 89 percent black, even though the city as a whole is just 49 percent black. Over 95 percent of its residents have not been convicted of a crime. Close to eleven percent face only misdemeanors.
According to the report, 96 percent of criminal defendants in St. Louis have to pay some sort of cash bond. That's compared to just 15 percent in Washington, D.C., 40 percent in New York and 60 percent in Philadelphia. And individuals in St. Louis face some of the longest pre-trial detention in the state, it says — an average of 291 days. (The average statewide is just 191.)
The report details practical steps that various city officials can take to ensure the Workhouse's closure. For example, it notes that Circuit Attorney Kim Gardner recently announced she wouldn't pursue charges for those possessing less than 100 grams of marijuana. "This type of reform is important, but must be expanded in scope to apply to all those charged with possession of marijuana and to many other similarly victimless and poverty-based low-level offenses," the report argues.
In a snapshot of those being held at the Workhouse in March 2018, the report notes that if Gardner stopped prosecuting five categories of crime — technical probation violations, driving-related charges, drug-related charges, poverty-related charges (prostitution, non-payment of child support) and "other victimless charges" (unlawful possession of a gun, resisting arrest, perjury) — it would result in the release of more than 400 people, enough to make the Workhouse unnecessary and ensure its closure.
Gardner, the report notes, could also make a huge difference in the city's pre-trial detainee population by releasing many of those awaiting trial on a promise to appear.
"If rates of pretrial release were similar to other progressive cities, like Philadelphia, this would result in the immediate release of 480 people," the authors note. "This move along would allow us to shut down the Workhouse."
Last summer, Mayor Lyda Krewson
convened two meetings aimed at reducing the Workhouse's population
, but Gardner, citing previous commitments, did not attend, nor did she send a representative. (At the time, the parties aimed to try again, although when temperatures fell in the following weeks, and A/C was installed, the issue fell of the front page.)
More recently, in May, the city's public defenders
raised an outcry about how long it takes them to get the discovery materials they need from prosecutors to present a defense
— saying the circuit attorney's discovery problems have led to unconscionably long stays in detention pre-trial. But in a recent interview, the city's chief public defender told the
RFT
that
the circuit attorney's office had made significant improvements in how it handles discovery
.
The report also urges the city's Board of Aldermen to divest from the Workhouse by refusing to fund it — as well as passing a resolution to urge its closing.
We welcome tips and feedback. Email the author at sarah.fenske@riverfronttimes.com