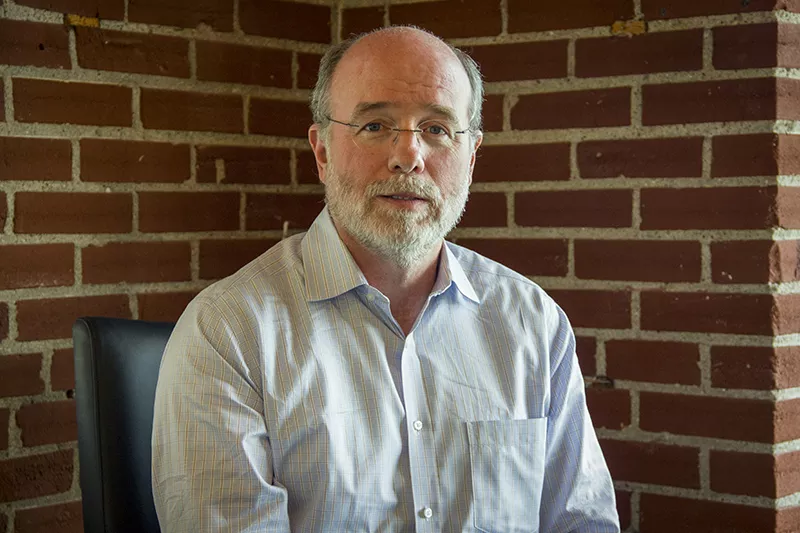 DANNY WICENTOWSKI
Dr. Brad Bradshaw.
If Dr. Brad Bradshaw wasn't a millionaire attorney/physician/surgeon with enough cash to bankroll his personal vision to legalize cannabis in Missouri, he'd likely be written off as a nutcase. A scam artist. Some critics already liken him to a wannabe "weed czar."
But he's serious, Bradshaw insists, and he has the receipts to prove it. He's bet more than $1 million on the outcome of the November election.
Bradshaw's self-funded, self-written constitutional amendment,
Amendment 3
, faces competition from two measures similarly hoping to make Missouri the 31st state to legalize medical weed. Those other proposals follow conventional models used in other states — Bradshaw's measure, meanwhile, is anything but.
"People who don't know me, they just assume, 'Oh he's going to make a lot money off this, this is all a power grab, a money grab," Bradshaw says on a recent afternoon. "But I'm losing money. Millions of dollars."
For months, the Springfield-based attorney has been trying to drum up publicity for his proposal, but media coverage generally sticks to two basic points: The amendment's proposed tax rate, fifteen percent, is the highest among the three options on the ballot. And second, the amendment would use that tax revenue create a brand-new, well-funded state agency — a research center tasked with curing incurable diseases.
According to the actual text of the amendment, the person who would preside over that research center, at least temporarily, would be Bradshaw himself.
"If we're going to find a cure for cancer, we can't continue to do what we've done. We're not going to find a cure at this rate," he says. "We need to bring together the best and the brightest, similar to the Manhattan Project, the Apollo moon mission."
Bradshaw is not a research scientist. He's never run a laboratory. No known universities, medical associations and patient groups have lent their public support Amendment 3. The website for Bradshaw's campaign,
Find the Cures
, features no endorsements.
Yet Bradshaw is banking on a cancer-curing moonshot to tip voters toward his proposal, and away from his competition. Still, if the promise of a history-changing medical breakthrough isn't enough, Bradshaw has other methods. He's suing the Secretary of State in hopes of taking out both competing legalization measures.
Come November, if Bradshaw has his way, there will be only one medical cannabis option on the ballot: His own.
Bradshaw says he first learned of marijuana's possible benefits
in the late 1970s, when he was just starting medical school at University of Missouri-Kansas City.
"I knew of people getting arrested and their lives thrown off track because of marijuana," he says. "I thought that was wrong, it shouldn't be that devastating to people's lives."
But it wasn't the injustice of pot prohibition that planted the seed for Bradshaw's current ambitions. That happened earlier, when Bradshaw was eight years old, a time when the young boy watched his grandfather die of cancer. It was only a month after the first moon landing.
"Here we are, over 50 years later, and we still don't have a cure for cancer in most cases," he says.
As Bradshaw tells it, the blame rests with grant-seeking researchers and profit-hungry pharmaceutical companies, both of whom he criticizes for leeching "trillions of dollars" from patients by treating cancer as a chronic illness.
While lacking research bonafides — and no longer actively practicing medicine as a physician or surgeon — Bradshaw wears his credentials on his sleeve. The TV ads for Bradshaw's law firm feature him in a surgeon's scrubs or white doctor's coat. Similarly, in a TV ad for Amendment 3,
Bradshaw makes his case from the inside of an operating room
, presenting himself as a surgeon while comparing his plan to cure cancer and legalize weed with the historic efforts that built the atom bomb and put a man on the moon.
Prior to the 2016 election cycle, Bradshaw had flirted with supporting a legalization proposal from Show Me Cannabis, which had already spent years on advocacy and polling. But when Bradshaw met with the group's organizers, he suggested that cannabis sold to patients should come with an 85 percent tax — which stunned the activists in the room.
The tax figure was a non-starter for Show Me Cannabis, says Bradshaw.
"They were like, 'Oh my god, that's too high.'"
Bradshaw also opposed any proposal that allowed patients to grow their own weed, since he feared that would lead to an explosion of recreational use and black market sales. Bradshaw broke with Show Me Cannabis. He now claims that he and the group came to a "gentleman's agreement" in which he would withdraw his proposal and allow Show Me Cannabis to focus on the 2016 election without competition.
But in November 2016, medical marijuana was nowhere to be found on the ballot. Despite years of preparation and millions spent, Show Me Cannabis' initiative (under the name New Approach Missouri) ultimately failed to collect enough valid signatures. (The group's failure was explored
in a 2016 RFT cover story story, "Up in Smoke."
)
For the 2018 election cycle, Bradshaw vowed he wouldn't stay on the sidelines again. And this time, his proposal would carry a fifteen percent tax — still higher than the other two measures, but far lower than his 2016 plan. Bradshaw says the annual tax revenue, estimated by the Secretary of State at $66 million, would still be enough to get his research institute off the ground.
Of course, that $66 million would come not from potheads buying recreational joints, but patients buying medically prescribed cannabis. Bradshaw doesn't view that as exploitation or burden.
"Imagine going back to when alcohol was legalized, and these people are making a fortune," he notes of the coming cannabis industry. "Putting a tax on this to find a cure for cancer — and we
can
find a cure for cancer — I think that is not unreasonable."
Bradshaw also found it reasonable to write language into his proposed constitutional amendment that essentially gives him the authority to select the institute's board of directors. Although the amendment also requires that he resign after appointing all nine members, it still allows him to hand-select a government agency with untapped power and a mandate to shape a brand-new industry.
Bradshaw acknowledges that the amendment does provide him broad authority, however short-term — not just in how the new agency is staffed, but where its headquarters will be built. (It's not just a research institute; it would also be tasked with regulating and licensing cannabis in Missouri.)
It's not a selfish takeover of a state agency, Bradshaw maintains, noting that his amendment doesn't give him unlimited regulatory discretion or the ability to fill his own pockets with weed profits. In fact, he says that despite backing the campaign through personal loans, he has no expectation of ever being paid back.
"If I gave every dollar I ever make and never see a penny for it back, and if we find a cure for even one type of cancer, I think it's money well spent," he says.
As far as appointing himself temporary head of the research board, Bradshaw argues that he simply wants to make sure the institute can quickly create a legal industry while avoiding delays by meddling politicians and bureaucrats.
"This idea that I'm going to be a czar that's going to be running this thing, is total bullshit," he says. "I want this to get rolling, and that's why I thought, 'I wrote it, I'm spending all the money on it, let's make this happen.'"
Unlike 2016, though, Bradshaw isn't facing a ballot bereft of cannabis competition. And for other cannabis activists, that's where things have gotten nasty.
In May, a
TV ad
that appeared on screens across southwest Missouri hinted at the lengths Bradshaw was willing to go to neutralize his competition.
"Don't sign another medical marijuana petition," urged a female actor in the ad, which was sponsored by Bradshaw's Find the Cures campaign. "We're already finished in your district with the
real
medical marijuana petition."
The ad was clearly aimed at dissuading area voters from supporting the two other medical marijuana proposals vying with Bradshaw's on statewide ballots.
Still, both eventually gathered enough signatures to qualify for the ballot. But that didn't halt Bradshaw's aggressive strategy. In August, he ratcheted up the pressure by filing dual lawsuits targeting Amendment 2, which is backed by New Approach Missouri, as well as
Proposition C, a proposed statutory amendment
also known as the Missourians for Patient Care Act.
See also: Missouri Has Three Marijuana Initiatives on the 2018 Ballot. Here's the Breakdown
Bradshaw's suits give different reasons for the two to be tossed from the ballot: For Prop C, the campaign's collectors narrowly met a benchmark in one of the congressional districts, gathering just 38 signatures above the minimum — and 39 of those signatures are invalid, Bradshaw argued.
As for New Approach's Amendment 2, Bradshaw's lawsuit alleges a system of "intentional corruption" and "voter fraud," which he claims allowed New Approach to collect valid signatures in a manner that nevertheless violated election laws.
Specifically, Bradshaw accuses New Approach of using absentee signature collectors who left stacks of petitions at set locations, only returning when the documents were signed.
"I had a private detective go talk to some of their own people," Bradshaw says. "We asked people, 'Your name is here as a circulator, did you witness these people sign this?'"
According to Bradshaw, the circulators responded, "No, because a New Approach person came in and told me I didn't have to."
The lawsuit against Prop C is ongoing. But last week,
a Cole County Circuit Judge ruled against Bradshaw in the New Approach litigation
. In the ruling, the judge wrote, "The only relevant issue at this point is whether the signatures are those of registered voters."
Bradshaw has already filed an appeal, and he says he's willing to take the case all the way to Missouri Supreme Court if necessary.
"Maybe it's the lawyer in me," he laughs, "But I think you should follow the law and do things legally."
Bradshaw's eleventh-hour attempts to sue away his competition
has only tightened the tension facing organizers of the other ballot initiatives. No one wants to get tossed off the ballot this late in the game, and the trauma of New Approach's narrow failure in 2016 is still fresh — especially for New Approach.
"Brad Bradshaw is litigious by nature, and he's filed a frivolous lawsuit in our case despite the fact that Amendment 2 qualified in every one of the six congressional districts, by at least a buffer of 5,000 signatures each," says New Approach spokesman Jack Cardetti. "He's really trying to get done in the courts what he's not going to get done at the ballot box."
And Travis Brown, spokesman for the Missourians For Patient Care Act, spares few words for Bradshaw and his lawsuits.
"Bogus," Brown says. "Bogus."
Both Brown and Cardetti attack Bradshaw's amendment on technical and ethical grounds, and they warn that his role in the election represents more than an annoyingly timed lawsuit. Brown notes that Bradshaw's research institute would conceivably be able to use the power of eminent domain to obtain land to build its headquarters; Cardetti argues that the amendment's high tax and self-dealing authority should set off alarm bells.
"He names himself as the chairman, he names all the board members to a new sort of state board that hands out all the licenses, he determines how the revenue is spent," Cardetti says. "It really is mind-boggling, and it just shows that Amendment 3 is about Brad Bradshaw, not about patients."
Bradshaw, though, accuses his opponents of trying to construct their
own
respective cannabis monopolies. He also maintains that his fifteen percent tax is in fact the
lowest
of the three proposals, as his amendment prohibits state and local taxes from being diverted from the state's medical weed revenue — the fifteen percent rate would be all-in.
On paper, Bradshaw's fifteen percent dwarfs New Approach's Amendment 2, which sets its sales tax rate at four percent. Missourians for Patient Care Act boasts the lowest tax rate of the three, just two percent. But Bradshaw maintains that his opponents are "scamming voters" with their stated tax rates; those proposals, he says, will actually charge marijuana patients "around 20 percent, as high as 30 percent" at the point of sale, as the cannabis tax is stacked atop local sales and use taxes.
In response, Cardetti says Bradshaw can't wave his hand to exempt medical cannabis from state and local sales taxes, and that Amendment 3, if passed, would immediately be challenged on constitutional grounds. The contentious dispute is enough to make the most mild-mannered observer reach for a joint.
But above the bad blood, lawsuits and political rhetoric, Bradshaw says he understands those with misgivings. But he's determined to set up the mechanism to cure cancer right here in Missouri — and do so by selling pot to patients.
"I want to find a cure for cancer," Bradshaw says, repeating a line that functions as a sort of chorus to his sales pitch. "I'm not some joker that's trying make money for myself, be a marijuana czar. I could care less."
It's going to take billions of dollars to cure cancer, predicts Bradshaw. The effort is going to need seed money, a base of research, a dedicated revenue stream. And the best minds of Earth.
Who those minds are, Bradshaw is still figuring out.
"I've talked to people who are interested in this," he says, though he declines to name those candidates. He says the discussions have generally ended with, "If it passes, give me a call."

Editor's note: A previous version of this story incorrectly stated the signature collecting deadline for ballot initiatives as July 31, 2018. The deadline was May 6. We regret the error.

Follow Danny Wicentowski on Twitter at @D_Towski. E-mail the author at Danny.Wicentowski@RiverfrontTimes.com