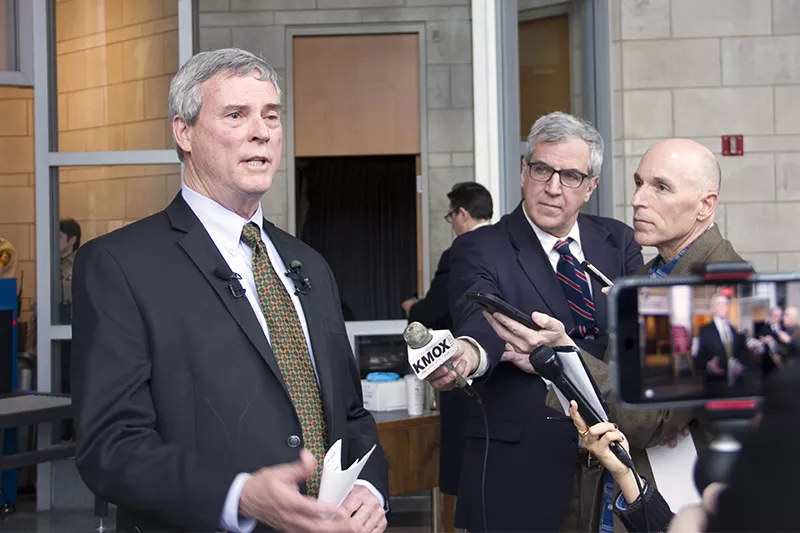 DANNY WICENTOWSKI
Bob McCulloch during a press conference in 2017.
Ever since the August 7 election, it's been Wesley Bell this and Wesley Bell that — how about we check in with St. Louis County's soon-to-be-former Prosecuting Attorney, Bob McCulloch?
McCulloch is just a few months away from concluding a remarkable 27-year career. Yet one of his final public appearances as St. Louis County's top prosecutor will go down as the time he delivered a speech so offensive to his audience that an entire county's worth of Oregon prosecutors walked out and later shunned his subsequent keynote address.
The brutal reception to McCulloch's speech took place August 16 at the Oregon District Attorney Association's summer conference.
According to the Portland alt-weekly Willamette Week
, McCulloch had been invited as the conference's keynote speaker.
McCulloch has become a divisive figure nationally due to his handling of the grand jury investigation into the killing of Michael Brown, which left Ferguson police officer Darren Wilson facing no prosecution. Yet McCulloch seems to have approached the Oregon event like he would a police union meeting in St. Louis County, rolling out his usual shtick — according to the
Week,
McCulloch "mocked the American Civil Liberties Union for the role it played in criticizing the local officials who investigated the fatal police shooting that killed Michael Brown" and reserved some jabs for Black Lives Matter and former U.S. Attorney General Eric Holder, who led the DOJ's investigation of Ferguson and the Brown shooting.
One audience member, a county prosecutor, told the alt-weekly that McCulloch "showed a photo of four or five young black people standing together and said: 'This is what we're dealing with.'"
It did not go over well.
McCulloch's remarks during the plenary session, conducted at the conference opening, shocked some of the audience members into leaving. Some told the
Week
they considered McCulloch's remarks racially insensitive.
That included Multnomah County District Attorney Rod Underhill, who criticized McCulloch's speech as "offensive and unprofessional," according to an email he later sent his staff.
And not only did Underhill walk out, but his whole staff followed him. Underhill then boycotted McCulloch's subsequent address that evening.
"Mr. McCulloch was the scheduled keynote speaker at the conference dinner that evening. I chose not to attend the conference dinner,"
Underhill wrote in the email
. "I am proud to say every member of the Multnomah County DA's Office who attended the conference also declined to attend the dinner and chose, by their actions, like me, to repudiate the offensive message to which we had been subjected to earlier that day."
In the weeks before his trip to Oregon, McCulloch also made remarks blasting the ACLU during his campaign and debate appearances. Perhaps, as one prosecutor suggested to the
Week
, the recent election loss made him "a little bit more candid than he would have been otherwise."
Maybe. Then again, this is definitely the McCulloch we've come to know. In St. Louis County, those "candid" remarks wouldn't just be fodder for a keynote speech; they underlie actual policies
promulgated by the prosecutor's office
.
And that speech the Oregon prosecutors found so offensive? In past years, it may well have won McCulloch a standing ovation at a conference of Missouri prosecutors. Come January, though, it will be McCulloch leaving the room.

Follow Danny Wicentowski on Twitter at @D_Towski. E-mail the author at Danny.Wicentowski@RiverfrontTimes.com